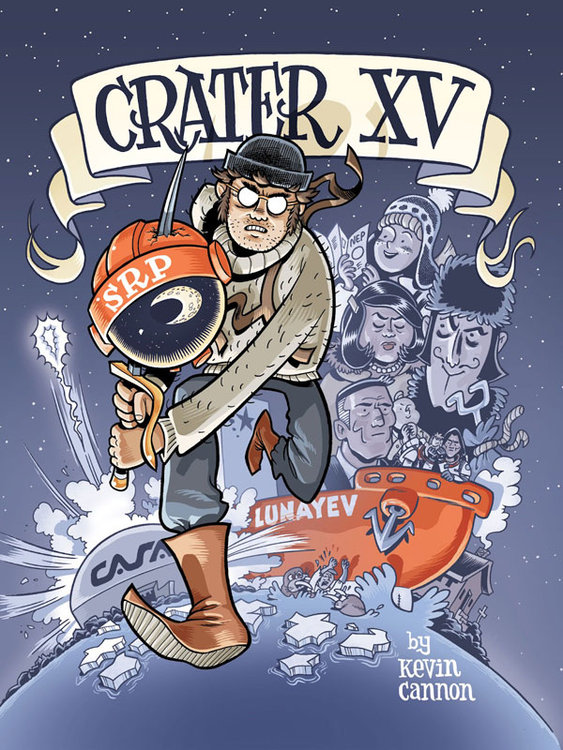 Crater XV
by Kevin Cannon
$19.95 (US)
ISBN 978-1-60309-100-8 - Diamond: FEB131140
"Completely ridiculous, in the most sublime sense of the word... But it's not all gags, as [Cannon] wrings tremendous tension, action, and intrigue out of his many-stranded plot, and the dozen-strong constellation of major characters each have deep emotional stakes on the line." -- Booklist (starred review)
"Cannon somehow manages to one-up himself... Crater XV represents one of the finest examples of storytelling via cartooning available." -- Under the Radar
"Cannon's enthusiastic and flexible art is well suited for both the comedic highs and the dream-crushing lows of his stories, whose epic scale is made intensely human by his strong characters. Few cartoonists know better the meeting place between grief, humor, and adventure like Cannon, and this second Shanks story is further proof of his abilities as a storyteller." -- Publishers Weekly
Straight from the pages of the hit digital series DOUBLE BARREL!
You've never seen a Cold War like this! In Crater XV, the follow-up to 2009's Eisner-nominated Far Arden, Kevin Cannon weaves together an intoxicating tale of swashbuckling adventure, abandoned moon bases, bloodthirsty walruses, rogue astronauts, two-faced femme fatales, sailboat chases, Siberian pirates, international Arctic politics, and a gaggle of horny orphans. Mixed up in all of this are Army Shanks, our salty sea dog still reeling from a devastating loss, and Wendy Byrd, a plucky teenager who wants nothing more than a one-way ticket off the face of the Earth. For mystery, thrills, and Arctic chills, set a course for Crater XV! -- A 496-page hardcover graphic novel, 5" x 6.5"
Also available in a signed & numbered edition.
Praise for Kevin Cannon's Far Arden:
"One amazing slice of storytelling magic." -- Junot Díaz, author of The Brief Wondrous Life of Oscar Wao
"Riotous, exciting, and ridiculous." -- New York Magazine
"Cannon has proved himself to be a riveting storyteller." -- School Library Journal
"What begins as a slightly silly lark becomes an engaging, even haunting story about desire and loss." -- Bookforum
"One of the best graphic novels of the year." -- The AV Club
SHIPPING JUNE 2013!
Reviews
---
Related Titles