Chris Sheridan
Chris Sheridan is a writer, illustrator & graphic designer living in the Great Northwest. Born east of the Rockies & west of the Atlantic, there was an arduous journey to the Pacific. Fueled by comic books at a young age he traveled the path from film, animation & illustration back to his first love, comics, and is now working on his creator-owned projects.
Reviews & Interviews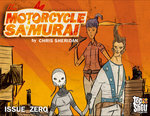 Get in on the ground floor of something spectacular: Issue Zero of Chris Sheridan's MOTORCYCLE SAMURAI!
This Comic-Con special release sets the stage for our saga: a grueling desert wasteland, a mysterious stranger bound and hooded on the back of a motorcycle, and a tough-as-nails warrior out to …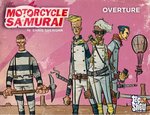 The madness and mayhem of MOTORCYCLE SAMURAI returns! Two prisoners have gotten fed up with the chain-gang life, and this hot-air balloon may be their ticket out... but somehow I don't think the Boss is gonna make it easy for 'em.
Chris Sheridan is back with more explosive action and dynamite …