July 27, 2011 / More →
has started a new art blog called The Daily Pocket Book on Facebook. I'm a huge admirer of Gregory's work, and it's awesome to see a place online where i can check his stuff out. Big ups, G!!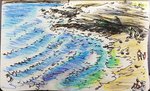 • David Walker and the guys at the Cort and Fatboy podcast spill some Top Shelf love!
---
July 25, 2011 / More →
is having a Kickstarter campaign for the new Superstitions issue of Crap Hound, and could use your support.
• Haven't had much time to read as of late, but of what i have read, here's what i can recommend:
-- The Death of Elijah Lovejoy, by Noah Van Sciver. A chapter that Noah excised from his forthcoming Abe Lincoln book. I can see why he cut it out in context of the larger narrative, but this is at the same time a terrific standalone story. [Read more here at Comix Talk.]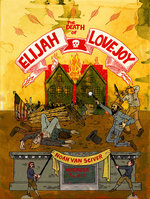 -- Goodness, by Mel Stringer. Sweet little mini with delicious pencil chops. Fine cartooning.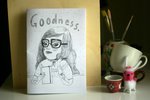 -- Papercutter #16. Edited by Greg Means, with contributions from Nate Beaty, Joey Allison Sayers, Liz Prince, and Alexis Frederick-Frost. Once again, my absolutely favorite anthology. This one's got a couple dark stories that really got under my skin.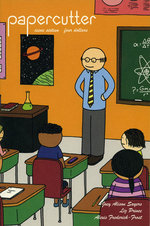 -- The wonderful Anne Koyama did a comics swap with me, and two books i finished were the anthology Root Rot, edited by Anne and Michael DeForge, and Cat Rackham Loses It!, by Steve Wolfhard. Both heaps of fun and candy for the eyes.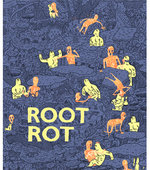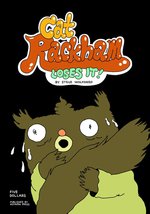 • Finally, there's Dan Clowes' recent Mister Wonderful. To be quite honest, Clowes is one of those creators who, to me seem preternaturally deft at the medium. A master if you would. And as such, there's this little itsy bitsy part of me who kind of wants to see a big fat turn drop one day, if only to show me that he's human. No such luck. Brilliant comics. (And sadly, as an absolute dork around girls i crush on myself, i can relate to the protagonist.) It's a quick read, but worth your time.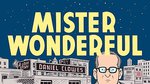 ---
July 21, 2011 / More →
and i'm not there! How weird. I've been in attendance 14 years in a row, as well as 91, 94, and 96. In any case, Top Shelf is there in full force, so make sure to swing by our booth and say hello to everyone there.
• Anyhoo, here's a terrific chalk-talk Nate Powell gave at Pulaski Tech College about comics storytelling. I love how much of a Michael Golden nerd Nate is. Good stuff!!

• And here's a new episode of Dusty McCord's Dumb Geeks. (Reminder, Dusty did our final edit of the Veeps movie, directed by me.

---
July 14, 2011 / More →
lots of cool stuff, so much to see and do...
Kagan Mcleod has crafted the most bitchin' comic book trailer i've ever laid eyes on, and everyone is (justifiably) raving about it.
• Wayne Shellabarger (Veeps co-author, with Bill Kelter) to a snap today at the Oakland Public Library. Some Matt Kindt love!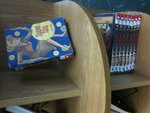 • Direct from the Brewmasters at Cartoon Brew, "Chief Serenbe" by Evan Curtis. This is wicked cool animation. I really dig the Kerouac reference. Truly outstanding.
"Cartoon Brew's Student Animation Festival continues today with the third film in our line-up: Chief Serenbe by Evan Curtis from the Savannah College of Art and Design. This stop motion short really stood out to us as we were watching the entries. The film isn't conventionally narrative, but engages the viewer by taking us into the world of a drifter. It is a surprisingly emotional piece of work and manages to create a distinctive sense of time and place. Curtis's cinematic approach and use of depth of field makes us forget the star of the film is just a small toy."
Chief Serenbe from Cartoon Brew on Vimeo.
• Wait... what?! Jennifer Hayden is making jewelry from her comics... she guessed it, a first for Top Shelf.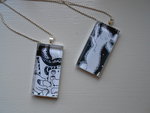 • Hey folks, our pal Conch over at KBOO's Words & Pictures program is airing his interview with Portlanders Jesse Reklaw and Lisa Magnum today (Thursday), two swell folks and part of the comics cognoscenti here in Portland.
"Thursday July 14th from 11:30 to noon, Words & Pictures welcomes local comics artist, publisher, and promoter Jesse Reklaw, creator of the long-running dream-chronicle strip Slow Wave. Jesse will be joined by Lisa Mangum, publisher and co-editor of Gazeta, the international comics anthology, and they'll talk about the new comics certificate program that they're launching this month at the Independent Publishing Resource Center.
"Words & Pictures airs the second Thursday of each month from 11:30am to noon (PDT) on KBOO Radio, 90.7fm. KBOO's real-time webstream via iTunes or Abacast. More info and links to recent Words & Pictures audio archives."
---
July 10, 2011 / More →
"Chips in Space," from my friend and old University of Oregon prof Ken O'Connell.
Ken writes, "It is based upon 512 chips of color. Each corner of the cube is a primary red, yellow and blue and cyan, magenta and yellow, and then black and white to form the eight corners.
"My friend, Terry Beyer, was a programmer in the computer science department and did all the programming on an Apple II computer."
Some great music, too.
---
July 3, 2011 / More →
over at Comic Book Resources.
• Greg Ruth rocks a sweet, FREE download called Logs I Have Known.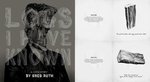 As a budding tree geek myself, as well as a big fan of Greg's awesome lush artwork, this is kind of blowing my mind.
• My pal Mike Baehr up at Fantagraphics sent me this screen-grab, from Conan O'Brian. He wrote, "Just caught this on my DVR. Every episode has a jokey episode title -- I don't know if this was a deliberate Kochalka reference, but it's pretty cool!"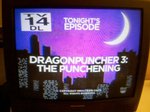 ---
June 30, 2011 / More →
a tres chic short film about him and his work. If you haven't read it yet, folks, Lucille is a wonderfully compelling and emotionally resonate graphic novel.
---
June 20, 2011 / More →
has a super fun blog post called Color Chart of Yore, explaining the relatively simple color charts used in the comics i grew up with, and commenting on the abuse of color in contemporary comics.
• I recently set up my friend Barbara [copy-writer deluxe, film buff, and furniture refurbisher] with a set of Top Shelf Kids Club comics and Owly plushie to give to her daughter Hayden. These adorable pics attest to her response, and can i just say, make the hard days in this industry worth it all.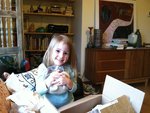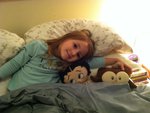 ---
June 16, 2011 / More →
is launching a new publishing house called Retrofit, "specifically to publish short, cheap, stapled ALTERNATIVE comics a la Drawn and Quarterly in the 90's." They're going Kickstarter to get this off the ground... learn more here.
Contributing authors include: James Kochalka, Colleen Frakes, Pat Aulisio, Josh Bayer, Corinne Mucha, Joe Decie, Tom Hart, Liz Baillie, Chuck Forsman, John Martz, L. Nichols, Nathan Schreiber, Noah Van Sciver, Ian Harker, Jason Turner, Sally Madden, Brendan Leach
---
June 12, 2011 / More →
is schedule for a September release, is featured on the Babeland website. That's awesome. Jennifer writes:
"Back story: I did this comic for my strip S'Crapbook on Only The Blog Knows Brooklyn. This one was about my reading at "Edgy Mom's Nite", which was organized in part by OTBKB (and where every scrap of paper I brought along--postcards, business cards, flyers, and minicomics--disappeared by the time I left!). The event involved some items from famed sex toy store Babeland, and OTBKB sent the comic to them, and they put it on their website. Ha!"
• Diana Schutz is interviewed by Patrick Rosenkranz at the Comics Journal. Diana and Bob Schreck are two of the most influential people in my comics career. Diana, you rule! XOXO.
• My pal Ben Saunders' new book, Do The Gods Wear Capes?: Spirituality, Fantasy, and Superheroes, is now up for pre-sale on Amazon.
And check out this swell Mike Allred cover!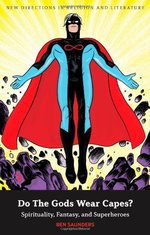 ---
June 5, 2011 / More →
has made his mini-comics oeuvre available in one fat tome, She's Not Into Poetry, and is selling it on Lulu for a mere 17 bones. This, dear readers, is truly seminal comics from "our" early/mid 90s Generation, stands the test of time, and is worth every cent. I own all of the original minis. Hey, now i can eBay those and take a trip to Tahiti! (I kid, of course... maybe i can get a cheap ticket to Cleveland?)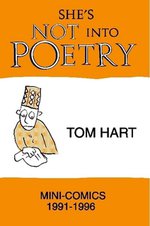 • PGC3′s Geek Olympathon Sets Schedule, Opens Registration. This is so freaking cool, i'm just going to copy & paste the awesome press release from the awesome Elisabeth Forsythe from TFAW.
The Portland Geek Council of Commerce and Culture (PGC3) is proud to announce that team registration is now open for the Geek Olympathon, June 11 and 12! Participants will form teams of up to five members and then take part in a weekend full of geeky contests and events held all over Portland. Entry is free and dozens of prizes are up for grabs, including the grand prize: a trip for two to the 2011 San Diego Comic-Con, donated by Things From Another World!
In addition to a multitude of geeky contests, there will be two awesome parties: the sure-to-be legendaryDrinkathon on June 11, from 6:30 pm to close at Vendetta at 4306 N. Williams Ave., and the Awardathon on June 12, at the Mission Theater at 1624 NW Glisan from 7:00 pm to close. There's no cover for either of these parties, but you must be 21 or older to attend!
The Olympathon will kick off at 9:00 am at Backspace at 115 NW 5th Ave. on Saturday, June 11 with opening ceremonies and a Geek Alleycat Bike Race sponsored by Old Town Computers. Backspace will provide free house coffee and facilities for last-minute team registration.
Other prizes include a night's stay at the Jupiter Hotel, two Club-level tickets to a Portland Timbers game from Centerplate, and a Nettop PC from Old Town Computers, so get your team together now! Register your team now and get the full details.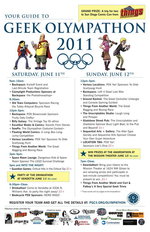 • Check out Andy Runton boss Indy Island poster for this weekend's Heroes Con!!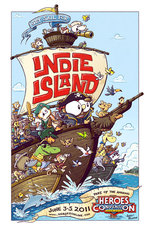 ---
May 28, 2011 / More →
Nate Powell has an art show going up for the month of June at The Owlery vegetarian restaurant — 212 S. Rogers St., Bloomington IN 47404. There'll be an opening on Friday, June 3rd from 10pm-1am. He'll be exhibiting work from Any Empire, The Silence Of Our Friends, and a few other things he's been doing from 2009 to now.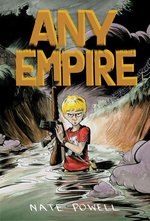 • Steve (Bughouse) Lafler just announced some excellent news! He's releasing NEW Dog Boy comics!! Head over to co2 Comics. Updates every Saturday. This is great news, to any cats out there who fancy themselves fans of mind-bending stories and terrific cartooning. (Or fans of Terence McKenna.) Steve describes it best himself:
"Dog Boy is pure Id, a lad with an enormous Golden Retriever head. He stands in for everyman and quests for the meaning of life, often with the aid of copious amounts of cheap beer. This singular series is wholly improvised by Lafler, with unscripted flights of fancy at turns running into dead ends, or courting the sublime."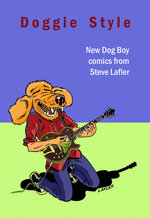 HIGHLY recommended!
---
May 19, 2011 / More →
make sure to hit Eric Skillman's release party at Desert Island in Williamsburg for his swell crime noir graphic novel Liar's Kiss.
And here's an interview with Eric at none other The Criterion Collection. (Where he works on staff as one of their ace designers.)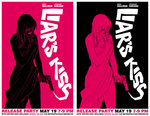 • Our editor on the Veeps film (which is nearing the final edit in post-production), Dusty McCord, has a hilarious new web series called Dumb Geeks, and Episode 1 just debuted on YouTube. This is funny f*cking stuff...
---
May 18, 2011 / More →
tomorrow, Thursday, May 19th, at Desert Island in Williamsburg, Brookyn, 7-9 PM. Free beer! [Not free] books and hand-pulled silkscreens!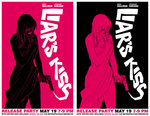 And check out these sweet banner ads he made.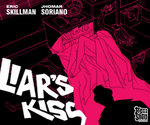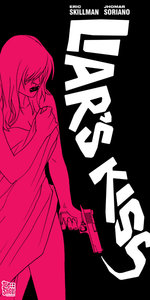 • Update to the Swedish Expedition... Andres Lundgren wrote in to help fill in some blanks, regarding the wild night of of mai tais and dancing:
"...some additional info for your excellent festival report: Linda "something" = Borgstrom.
"...two folks who's names i don't recall" = also present were Sara Israelsson, Ola Hellsten and Esteban Meiko (yeah, we drank quite alot so understand if some names slipped your mind.)"
Tack så mycket, Anders!
• Greg Means and Alec Longstreth kick out another winner from Tugboat Press, this time with the FREE Dragons! Comics and Activities for Kids!
I loved it and my kid did too!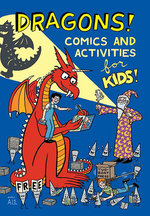 • Francois Vigneault released the second awesome issue of Elfworld, under his Family Style label. This is such a cool book. If you're half as big a fan as i am of indy cartoonists taking on superheroes or sword & sorcery, then you'll want to pick this up. PLUS it features a strip by the long lost Dylan Horrocks!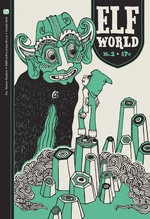 Props also to his bird-zine, Bird Brain. I'm an amateur naturalist myself, so stuff like this puts a big ol' smile on my face.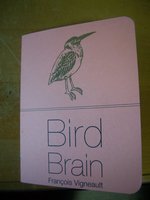 ---
May 12, 2011 / More →
Great to see our Swede pals Kristiina Kolehmainen, Johannes Klenell, Simon Gärdenfors, Kolbeinn Karlsson, Mats Jonsson, Joanna Hellgren, Fredrik Strömberg, Knut Larsson, and more at the Swedish SPX in Stockholm this last weekend.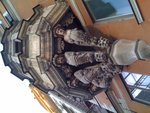 The Americans were out in force again, this year including Vanessa Davis, Trevor Alixopulos, Shannon O'Leary, MK Reed, Hope Larson, Bryan Lee O'Malley, Eric Reynolds, and Gabrielle Bell.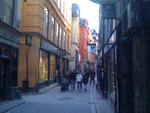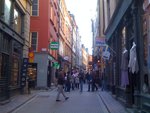 Non-Swedes i enjoyed seeing again or meeting for the first time included: Mari Ahokoivu (Finland), Bendik Katelborn (Norway), Nicolas Mahler (Austria), Kati Rickenbach (Switzerland) and Ulli Lust (Germany), and, well, that's all that comes to mind right now.
Mari gave me a boss little mini-comic, Batman #1: The Sad Issue [Adventures of The Batman including Bad Friends, Hipsters and other depressing things.] Nicolas Mahler gave me one of the comics from his new comics line called Kabinett Passage. (His own, titled Mahlermuseum.) Also met an expat named Brendan Monroe, who gave me an oversized mini titled Islands that both Eric Reynolds and myself were marveling over. Turns out he's a sweet painter too. (Evokes the fantastic realists Beksinki and Yerka, but with a more contemporary flavor.)
[From Mari's Batman]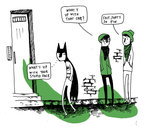 Friday night i ended up with most of the American contingent at, of all places, expat Austin English's girlfriend's (Clara Bessijelle) mom's house a short walk out of downtown for a civilian (i.e. not comics based) house party. Met another expat named Juliacks. Unplanned and unimaginable events like this are one of the things that make my job so awesome. Priceless.
[Austin and Clara]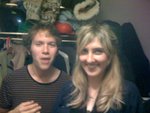 [Clara's mom Sonia and her boyfriend]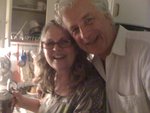 [Art by Clara]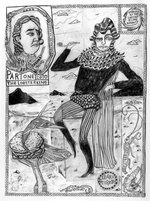 The Saturday night party was a hootenanny! Chris and i started the evening out with Anders Lundgren, Freddie Kaplan, Linda ("something," from the sci-fi bookstore in oldtown) and two folks who's names i don't recall, sucking down mai tais at a bitchin' Tiki lounge, then ended up dancing for four hours at the official festival party. I'm pretty sure it was Johannes DJ'ing no less! Gods, what a fun night.
[Chris, Anders, Freddie, and ?...]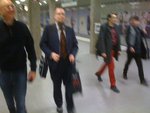 Our pal Anna Petterson took this snap of myself and Chris on the last day of the show. Great to see her!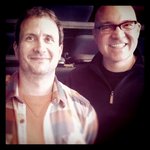 So i didn't have to carry extra weight, the single book i purchased at the show was Tour d'Europe ("The story of two aspiring yogis on a bike ride through Europe"), by Kaisa & Christoffer Leka. Kaisa produced my favorite pick-up from our last visit two years ago, On the Outside Looking In. And they're both in English! I'm not quite sure how to acquire it, but if you can, seek Kaisa's comics out... i love her work sooooo much.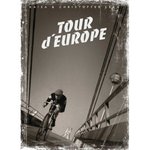 • The mighty Tom Hart is having a fund-raising campaign through Indie Go Go to launch his new comics school — The Sequential Artists Workshop — in Florida! Tom is a rock-star, and no doubt his school will be as important to the medium as James Sturms' outstanding Center for Cartoon Studies.
• Alex Robinson has a brief interview on MTV dotcom. That's rad.
• Jeffrey Brown's Change-Bots art show kicks off Friday, the 13th, in Brooklyn, at the Scott Eder Gallery. Hit it if you can.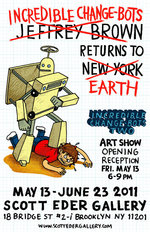 • Matt Bors has been cranking out some awesome strips called Idiot Box, that i think are up there with Tom Tomorrow's This Modern World and Lloyd Dangle's late Troubletown. Smartly written, gorgeously drawn, and funny as hell.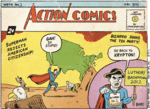 • Finally, back to the Swedes, our pal Simon Gardenfors is soooo close to their Kickstarter goal to fund a pilot episode of Paco the Judo Popcorn! Help them reach their goal, please please please?

---