March 18, 2006 / More →
As i mentioned a few days ago, i thought the blog would be a great venue for me to spill some thoughts on the second most recent Comics Journal; the one with the Eddie Campbell cover feature, #273. (They are releasing these way too fast for me to keep up.)
First, let me just say up front that i LOVE the Comics Journal. I think it's fair to call the Comics Journal, since the time that Gary Groth bought the Nostalgia Journal about a hundred years ago, was and is the single most important journalistic magazine about the comics medium and business that we've ever seen in North America. It's been coming out consistently for much longer than i've been reading (i started reading in earnest in about 1990 or so), and even when it was suffering its weakest and meanest incarnation (under Milo George, IMHO), with lame interviews, untimely news, and vitriolic reviews, there was still enough going for it to make it downright vital. And now, under the helm of Dirk Deppey, it's reaching towards heights i haven't seen since the Groth years. (Gushing done.)
Issue #273 starts with the ever-lovin' Blood & Thunder, the letters section. Tom Spurgeon (editor of the Comics Reporter), given a chance at the "last word" on a series of critical "report-card" overviews of various comics websites (by news editor Michael Dean) later on in the magazine, shows class by posting his "last word" up front in B&T so that in fact, Michael Dean can have the last "last word" in his own defense. An honorable decision by The Spurg, and indeed his response is very pointed.
(Just for some context; this series of articles were across the board absolutely brutal, accusing each of the websites [including Newsarama, the Pulse, the Comics Reporter, the Beat, and Lying in the Gutters, to name a few] as not living up to Dean's expectations of journalistic integrity as investigative news organs.)
Spurgeon comes out swingin' and in a nutshell blew a gaping hole in Dean's entire conceit (and one to which Dean himself freely admits); which is that not a single of the targets in his reports has ever laid claim to be "investigative" news sources in the first place. Dean then spins large amounts of fuzzy logic (isn't that called Bullshit?) in his defense, and as a result, his wrap up of the entire series has been entirely deflated and rendered all but meaningless.
And THEN, in his introduction to the final segment of "Online Comics Journalism: Does it Exist?," wherein he gives right to the "last word" to the website editors themselves, Dean has the temerity to take that "last word" away from them, by preemptively responding to their responses before the reader even has a chance to read them.
And THIS, in a nutshell, has been my big beef with the Comics Journal since the first issue i ever sat down to; no matter how long an issue may have been been debated (many debates lasting for several issues), and how absolutely wrong or misguided they have been proven to be, they ALWAYS throw in the last word, and NEVER admit to guilt. (It sounds like the Bush Administration, doesn't it? But that's an unfair comparison, since the Comics Journal has never been responsible for so much fuckery and death.)
Every single editor and/or story-writer (who's been the subject of debate) has done it, as far as i can remember. This bias has always left a bad taste in my all these years, beyond journalistic prerogative and leaning towards belligerent.
So anyway, my report card on this series of articles? C-
But then, on the flipside, Michael Dean's first article in the Newswatch section (a self-explanatory piece called "Comics and Corporations: Creativity Under Contract") is superb. A well-researched and well-considered examination of some recently leaked creator contracts, and a bit of reaching back in time to provide context. This is is why i do so love TCJ, in spit of my previous protestations.
And -- oh my!, it's past 2:00 a.m. So tired. Next, i'll start with discussing the Journal Datebook.
See you then.
---
March 15, 2006 / More →
Spent a long crazy weekend in Phoenix, visiting Aunt and cousin and family. Left cold and raining Portland on a 6:30 a.m. flight, looking forward to a pleasant 70 - 75 degrees in the desert, only to arrive, and it's unseasonably f*cking COLD & WET!! (The entire suburb i was in, called Gilbert, was flooding in the margins.) What gives?!
Then to make matters worse, in the middle of the weekend, seven out of ten of us got either a freakishly-timed 24-hour flu, or a nasty case of food poisoning; up all-night for a fun puke-fest, and/or, well, purging while NOT puking, if you get my drift.
And to top off the trip, a handful of outreach calls to the local comics shops (where i surreptitiously first ask if they have BLANKETS in stock), turned out horribly. Absolute bust. Makes me realize the continuous uphill battle small publishers face in reaching direct-market retailers. (To date, by far the best store that i've been to in the Phoenix area is Ash Ave. Comics [Tempe]. If anyone has information on any other really stellar comics shops in and around Phoenix, PLEASE let me know. I'll post it to the blog, and get in for a visit next time i'm down.)
On the plus side of our descent into March Madness in the Desert, i got to watch a couple Suns games (the second of which was a rare win by my hometown Trailblazers, the best underachievers in the league), AND i got to read the second most recent Comics Journal, #273: The Eddie Campbell interview issue.
I'll write about my thoughts on this issue over the next few days. (As my headline said a few weeks ago, I Love the Comics Journal, i Hate the Comics Journal... but mostly i LOVE it!!)
Lastly, GREAT post over at The Hurting about how much Marvel & DC play a sucka's game vying for direct-market market share with their big d*cks, er... i mean "events," but in so doing still manage to keep a boot heel on the neck of the fringes, and diminishing the reach of far too many intelligent, sophisticated, illuminating and beautiful works.
---
March 9, 2006 / More →
My hat is off to reader Chris Rice, who wrote in to inform me exactly who it was that published that fabulous Metropol hardcover i was gushing over while crashing Philip Simon's housewarming party a couple weeks ago. Many thanks, Chris.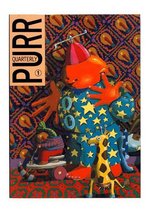 Chris writes:
I read on your blog about the Metropol HC you saw, thought you might like a little more info. It was published by a small company called Blue Eyed Dog in the mid-nineties, a company founded by English journalists Cathi Unsworth and David O'Sullivan. Igor Goldkind was involved as well (as he seemed to be in everything in London between the mid 80s-90s). They didn't last long, although they put out several issues of a wonderful magazine called Purr, a combination of words and comics, which had writing by Harry Crews, Hubert Selby, Henry Rollins, Iggy Pop and others, plus articles about McKeever, Dame Darcy, Edward Gorey, Crews, HR Giger...the list goes on. They put out records too, mainly a series of split 10" editions which included bands like Tindersticks and Gallon Drunk.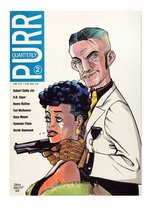 Metropol was their first colletion, with a Richard Kern book scheduled to follow, but something went wrong almost immediately after Metropol came out, and it was the last thing they ever published.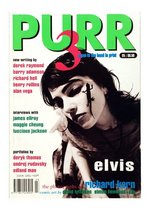 Brett writes:
Damn, i'd love to stumble across an issue or two of this Purr magazine. Looked pretty groovy.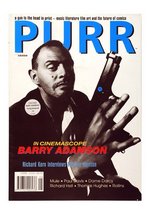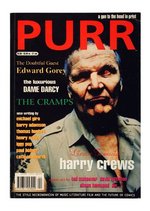 ---
March 4, 2006 / More →
...i love the Comics Journal, i hate the Comics Journal. But really, i do love the Comics Journal.
I've been more strapped for time than any person should be lately, but found some time in the last few days to read a couple issues of "TCJ," starting with issue # 271, featuring a fabulous interview with our own Renee French; including shop talk about her forthcoming Top Shelf graphic novel, The Ticking.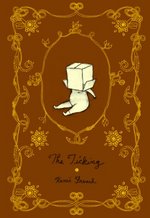 (And speaking of. Holy shit, people, i just got a handful of copies of The Ticking airmailed in from China -- the rest are literally on the slow boat coming across the Pacific Ocean -- and i must say, this is possibly the single most beautiful book we've ever published. The highest props possible go out to Jordan Crane, designer and cartoonist supreme. Seriously, you have to see this luscious, chocolate colored cloth cover hardback, with gold leaf ornament and an embossed central image, to believe it. And it's hands down Renee's magnum opus. Kudos to both Renee and Jordan. The book will be available in maybe a month or five weeks? Depending on when that ship comes in.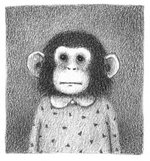 But getting back to the Comics Journal. First, let me preface this by saying that what has made TCJ essential again, is the stewardship of the relatively new editor-in-chief, Dirk Deppey. Yes, there is still an occasional starky tone, and loads of biased, self-righteous reviews, but the meat is back on the bone, and the magazine is vital again. Excellent!
The real reason i was compelled to write this though, is the absolutely delightful, 2-part interview (conducted in two issues, #271 and #272) Gary Groth conducted with Jerry Robinson, known mostly for his (uncredited) work with Bob Kane on the early Batman material. (Alongside the also uncredited Bill Finger.) Sure this is interesting stuff, but i had no idea what a Renaissance Man this dude really was. His illustration work; teaching with Hogarth at SVA; starting his own newspaper comics syndicate; drawing a long-running, six-days-a-week, syndicated comic strip; and, most presciently, as the President of the National Cartoonists Society, his challenging work to free a jailed political cartoonist from prison, for challenging his government in Uruguay.
What a freaking stud, I had NO IDEA!! Many many thanks to Gary and the Comics Journal for this MOST entertaining, enlightening, and inspirational interview.
Oh, and the most recent edition of TCJ has a spirited Blood & Thunder section (letters pages), like i haven't seen since i started reading this most important of industry publications almost 17 years ago.
Viva la Comics Journal!!
---
March 1, 2006 / More →
Drove a couple hours south to Eugene yesterday (with a dislocated rib burning in my back, no less), to see a lecture by Art Spiegelman, for the University of Oregon's Comparative Lit program, and needless to say, i was blown away. This Standing in the Shadow of No Towers / Comics History gig isn't anything people haven't been reading about for years, and i'm presuming this was a variation on the lecture he's given maybe a hundred times … considering the ease and wit with which he spoke … but the timing couldn't have been better, since he included as well a slideshow of, and a fabulous context for, the current and raging Danish cartoons controversy.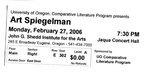 As he pointed out, there's been NOTHING reprinted here in the American (print) media, although it's not too hard to find them surfing around the web a bit. Heretofore i'd seen not a single of these twelve incendiary images. Art filled in so much background into this stunning development (right-leaning editors wanting to intentionally incite a negative response by the nation's Islamic population), that i now have a much greater appreciation for this whole affair, and its developing implications. It sure would suck to have a price on one's head by some angry fundamentalists.
I just checked out Tom Spurgeon's Comics Reporter, and he does indeed have a link to these cartoons.
(As an aside, he also described a similar controversy which happened in the U.S. about a hundred years ago, in which a dispute about political caricatures resulted in proposed …Â and failed …Â legislation that would BAN all political cartoons which casted a bad light on the politico in question, punishable by a year or two in prison, and a $1,000 fine. Wow. And the really crazy thing is how much the climate is tilting that direction again now.)
Art also showcased three cartoons which he banged out last week, just in time to appear in the current issue of the New Yorker* (Feb 27, 2002, cover title "Watch Your Back Mountain" starring Dick & W.). Said cartoons being Art's impulsive response to Iran's "Anti-Semitic Cartoon Contest." (All three using different technique and tones.) This is not a joke. But cooler still, he showed us an as-yet unpublished cartoon that he'd drawn less than a day later (but past the deadline), which responds to what he'd been told was an even more restricting edict for the contest; that the cartoon needed ALSO to refute the existence of the Holocaust.
This sublime full-page piece viewed from a perspective from inside one of the infamous concentration camps, piles of bodies everywhere, shows and a single man amongst many downtrodden prisoners lining up to the gas-chamber, a smile beaming from his happy face, saying something to the effect that, he's not worried, since this isn't "really" happening. Brutal freaking image. I think Art said this will be running in the Nation perhaps? (But don't hold me to it.)
Lastly, peppered throughout the presentation were snippets of Art's autobiographical, comics-form introduction to a forthcoming collection of his long out-of-print Breakdowns material. Can't wait for this!!
I've had so much respect for what he's done over the years (going WAAY back to my love of Wacky Packages), and while i knew that he was a respected comics historian, i was not prepared for such a truly dazzling intellect, nor did i suspect he'd be a real, charming, laid back guy. (I'll admit i was expecting more of the neurotic New York persona he can make himself out to be in his cartoons.)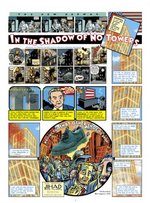 * (This new issue of the New Yorker also has a gorgeous full-page cartoon by none other than the revered Dutch cartoonist Joost Swarte.)
And on a totally different note, the new issue of Mass Appeal i recently picked up, has a tastefully laid out interview with the legendary Dan Clowes. Always nice to see comics bridging over into the mainstream.
Lastly, sad to see another one bite the dust. R.I.P. Speakeasy Comics. There's not much more i can add to this post-mortem, really, so i won't.
Good-bye.
---