In the current issue of the New York Times Book Review, Neil Gaiman gives Eddie Campbell big love for Alec and From Hell.
NYTBR: "What's the best comic book you've ever read? Graphic novel?"
GAIMAN: "Ow. That's hard. I think I love Eddie Campbell's ALEC: The Years Have Pants best of everything, but it's a hard call."
Um, yeah... that's pretty cool.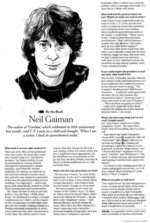 • And this just in! Jennifer Hayden Art on a T-Shirt!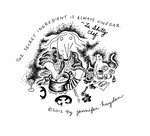 FROM JENNIFER HERSELF:
Today Comic Strip Tees introduced a t-shirt with my comic on it! This site just launched and offers a comic by a different artist each day, available on t-shirts you can buy for the next seven days... So you've only got a week to order mine! Oh my God! Available in classic black-on-white.
Last weekend I got out of the house to go to the Museum of Cartoon and Comic Arts Festival in Manhattan, where I got a chance to speak on a panel about memoir, but otherwise I've been pretty much under a rock. I'm on page 220 of my graphic novel, with 117 more to go, and I'm posting my monthly webcomic S'CRAPBOOK at Trip City, and my daily diary comic RUSHES (new this year) on its own blog. Today RUSHES was spotlighted in the "Go, Look" column at Comics Reporter.
And just this month, Underwire got this nice review.
Feel free to drop by my blog if you want to follow my adventures. And thank the Goddess for my friends!
All the best,
Jennifer
---
---
Stumptown Comics Fest and MoCCA are both this weekend, and Top Shelf will be representing at BOTH! Come see us if you can. Jeff Lemire and Nate Powell will be guests of the show at Stumtptown. I'm stoked to have these cats gracing us with their presence right here in my hometown. (My 7-year old son Carter — a budding capitalist — will also be present here in Portland, selling action figures from his collection at our booth as well. Good stuff, too!)
If you can't make it to Portland or New York, it so happens that we're having a bitchin' digital comics sale across multiple platforms too… so don't gimme no excuses, come get your Top Shelf on!
Oh, and David Chelsea [one of comics' foremost formalists and an outright excellent cartoonist] will be at Stumptown as well. Here is a link to his Stumptown Preview 2012.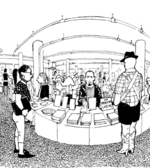 If you want to check out just how smart and cool his comics are, buy his Top Shelf book, 24 x 2!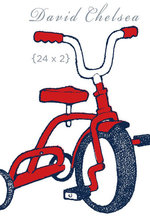 ---
Hi kids! Bartender Brett here... it's been pretty crazy around these parts. A $15 part on one of my toilets sprang a leak on Monday, and when i got home from a day of working on the Veeps movie score with our sound designer, Drew, and my collaborators Mike and Wayne, i found my basement flooded, and upwards of $30,000 of damage done to my house. Whoo hoo! That said, besides the (fairly major) disruption, no one was hurt, and none of my vast libraries of books and movies, or computer or widescreen HD tv or anything else was damaged. Only stuff that needs replaced are structural: floors, walls, ceilings, paint etc.
• Moving right along. As our Director of Digital Programming Chris Ross readies himself for his nuptials this weekend, let me show off a terrific collaboration between him, Jeff Lemire and myself. I'm kind of a nut-job as an art director, and when the time seems appropriate, i like to see some funky designs. Case in point, something as minor as the indicia page (where all the fine-print credits and copyright information goes) for Jeff's forthcoming graphic novel, Underwater Welder. I wasn't happy with a straight-up version, given Chris Ross' otherwise fancy book design, so i asked Jeff to whip up some illustrations of bubbles and water ripples.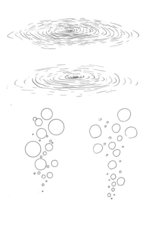 After a little back & forth with Mr. Ross this is the result. Sweet. (And wait until y'all read the book! It's outstanding.)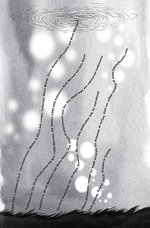 • Meanwhile, former Top Shelf intern and force of nature, Hazel Newlevant is rocking her (metaphorical) balls off at SVA this year. Check THIS shit out!...
Announcing the release of INK Spring 2012 issue
Founded and edited by cartooning students at the School of Visual Arts
Bringing SVA's comics community to the forefront of digital comics!
New York, NY– April 12, 2012 – INK, an entirely student-run digital comics magazine, is proud to present you with our Spring 2012 issue, now available online and on all iOS devices (iPad, iPhone, iPod Touch). The magazine has been designed for the new iPad's high resolution Retina display, allowing the content within INK to come to life on the screen. Published by the cartooning students at the School of Visual Arts, INK has established itself as a place for emerging artists to showcase their work and connect with the SVA comics community at large.
The magazine has placed itself at the forefront of the comics industry by embracing digital publishing and new technologies. The current issue features a selection of work by SVA students and alumni, along with interviews with Christopher Hastings (Dr. McNinja), Drew Friedman (Any Similarity to Persons Living or Dead is Purely Coincidental), and an article focusing on WFMU's Lowest Common Denominator magazine.
Follow us on Twitter: @SVA_INK, or on Facebook: http://facebook.com/svaink
---
April 11, 2012 / More →
Yikes, it's been a while, eh? O.k., true believers, settle up to the bar... lots to catch up on.
• Some reviews of Ed Piskor's (older, self-published) first couple issues of Wizzywig, which we'll be collecting this Summer. Keep in mind, these are old reviews for only a small fraction of the compete story. This book is gonna blow your minds, kiddies!
From, the Totally Rad Show.

From iFanboy.

• Here is a sweet sweet process blog by our old friend and comics brain Matt Madden. After almost 15 years at this gig, and lot's of wonderful memories, to this day editing the Top Shelf anthology was my favorite part of the job.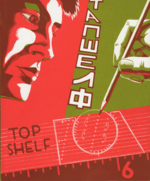 • Emerald City Con was this last weekend, and it was a blast. Kudos to Jim on the crew for another great show. Best part of the show for me was seeing Tom Spurgeon, from the Comics Reporter, who was looking extremely dapper. Plus, he did the best recap of the show to date here.
• Um, fuck yeah!

Oh, and speaking of Jeffrey Brown, i was digging through some old files i had set aside for this very blog, and here are three terrific promotional illustrations Jeff had done for his awesome Incredible Change-Bots books. You know, just because they're cool as hell.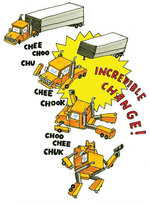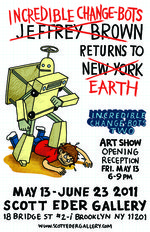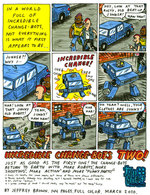 • Nate Powell continues to be one of the hardest working men in comics i've ever known... and he's a new dad! He has a solo exhibit of comic art called CROSS SECTIONS that's going up this week at the Historic Arkansas Museum in Little Rock-- the opening reception is Friday, April 13th from 5-8pm. 53 pieces are represented from 1998-2012, with focus on the graphic novel work of the last five years. All pieces are for sale, as are the books of course, and the show will be up until June. Here's the Facebook event page. And his blog-post about the same.
On Saturday, April 14th from 12-2pm, he'll be signing at The Comic Book Store (9307 Treasure Hill Rd.) in Little Rock, which marks 20 years since they provided shelf space for his very first published comic!
• How cool is it that Chris Staros is now a professor!
• Finally, boy oh boy do i wish i could attend any of these stops on the Caravan of Comics, a U.S. tour by a super-talented gaggle of Aussie cartoonists, including Ben Hutchings, Gregory Mackay, Mandy Ord (all whose work i've been reading and enjoying for over a decade) and Pat Grant, whose book Blue we just helped release in North America.
April-May 2012. New York, Vermont, Toronto, Chicago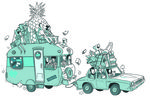 In April-May of this year a group of Australian comic creators are coming together for a tour of North-Eastern USA and Canada. Encompassing the Museum of Comic and Cartoon Art (MoCCA) in New York, the Toronto Comics Festival (TCAF), the Centre for Cartoon Studies, in Vermont and Quimby's Bookstore in Chicago
Nothing like this has been attempted before by a group of Australian cartoonists, and it could be the furthest a group of cartoonists has ever travelled.

---