• And in other news, Minneapolis-based collective Paper Darts is releasing the 4th swanky issue of their gorgeous magazine! "More than double the size of Paper Darts' previous print magazines, Volume Four is obscenely huge, featuring a swelling handful of authors, artists, and musicians who have made a blood oath vowing to explore nonconforming perspectives of art and culture."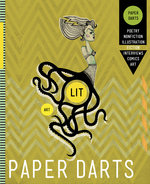 These folks are full-up with enthusiasm, their previous issues blew my mind with killer art and writing, and... I'M IN this new issue! Whoo hoo! (Full disclosure: I have a super crush on the founders of this magazine. But let not this dissuade you from tracking down the new issue.)
They're having a swell launch party October 11. Learn more here. Wish i could attend!
I heart Paper Darts!
---
Diana Thung's graphic novel August Moon is headed to press, and while it's been a long time coming (thank you for your patience, Diana), this is a book i'm very very proud to be associated with. I've been a fan of Diana's work ever since i saw her debut, Captain Long Ears. (Published by Slave Labor.) There's something about her art, ideas, and stories, a wonderful magic realism that speaks to me. I'm reminded of Miyazaki especially.
Also, big ups to Diana and Chris Ross on a gorgeous cover. This is a real beauty.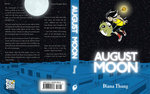 • And now, for you Kochalkaholics! One terrific review of two Dragon Puncher books.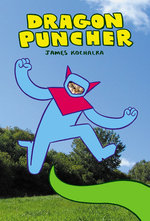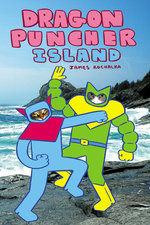 • And check it; with SPX looming, and the digital release of Tom Hart's Hutch Owen: Let's Get Furious imminent, we'll be doing a swell protest poster to help spread the word. Tom designed the front, and Chris Ross did the back (with all the text).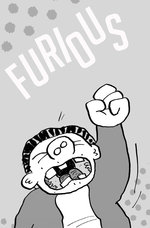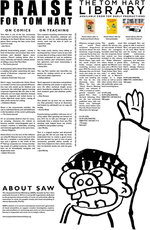 ---
Oh, yeah... Veeps are all the rage right now, as the internet is all aflutter with Paul Ryan's bullshit acceptance speech, riddled with lies and mistruths, last night at the RNC. Yeesh, what a douchebag. (Don't get me wrong, i'm equal opportunity in my loathing of 99% of our politicians... but man, those GOP types are extra special douchy.)
Check out this Bill Kelter / Wayne Shellabarger interview on the Unnamed Sources podcast, available at iTunes.
Meanwhile, man, we are totally closing in on finishing our Veeps film, fours years later... more to come.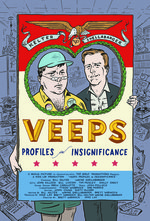 • Stephen Theaker gives James Kochalka's Monkey vs. Robot some love (for the digital edition) at Theaker's Quarterly. Now, i'm one of Kochalka's biggest fans, and for my money, Monkey vs Robot sits up there in my own pantheon of favorites, alongside Pinky & Stinky (all-ages), SuperF*ckers (decidedly not all-ages), and American Elf. So if you have some sort of digital reader and a few bucks burning a hole in your pocket, give this terrific, timeless parable a chance.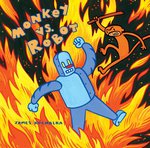 ---
August 24, 2012 / More →
That would be here in Portland, OR. Veeps author Bill Kelter is interviewed in the newest issue of the Portland Mercury, to be more accurate, courtesy of Alison Hallett. (Thanks Alison!)
Bill talks a little about GOP Veep candidate Paul Ryan. "We're early in the game, but Paul Ryan could seriously disrupt our entire franchise. Teddy Roosevelt and Walter Mondale were fairly sober and serious men, but there was just enough to glean from their regional affects to support the two centuries-strong thesis of the peculiar nature of the American vice president. Like [Ryan] or not, even many Democrats concede that he's smart, articulate, and fit. It's very un-vice presidential."
They also briefly discuss the Veeps movie. (It's SOOOOO close to being in-the-can.) Meanwhile, here is Veeps artist Wayne Shellabarger's sweet poster!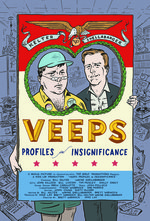 ---
One month later... oh, Summer time! The heat has finally reached the normally temperate climes of the Pacific Northwest, and so there's been much hibernating in air-conditioned coffee-shops and trips to the river. I hope all y'all out there are doing what you can to stay frosty.
• Nate Powell is (no surprise here) one helluva busy man.
Follow this link to see a bounty of penciled pages galore on his forthcoming books! What a treat!
Also, digital-fans, Nate's mammoth comics collection Sounds of You Name is slated for release on September 19th!
• Craig Thompson is selling the original cover art to his recently remastered and reformatted edition of his epic classic graphic novel Blankets, to benefit people hit hard by monsoons in the Philippines. Learn more here.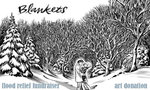 • Finally, Jess Smart Smiley's forthcoming Upside Down: A Vampire Tale has been nominated for an Arty Award... kind of a big deal in Utah. Check out a preview of his terrific all-ages book here. Learn more and vote here at Salt Lake City Weekly.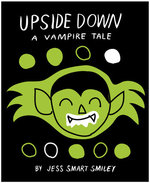 ---