October 21, 2006 / More →
•Â Addendum to the fun at SPX. The Sunday picnic was canceled this year, because no parks could be found that had toilets. Clearly, this is problematic. So the organizers used the budget to rent out space and food at a place called (I think?) Dave & Busters, sort of a Chucky Cheese without the seizure-inducing lights and colors, and with a full sports bar for the grown-ups. Personally, i REALLY hope SPX will be in September again next year (as it usually is), and will have the picnic & softball game on Sunday.
That said, Chris, Jacq, and myself walked over to Dave & Busters, and ended up having a blast in the arcade. We met up with Chris (AdHouse) Pitzer, and cartoonists Scott Morse and Rob Ullman. Just when i thought i was the King of the air-hockey table (with a sore arm for days to prove it), along came Pitzer to put me in my place. Damn you, Chris! Standouts for me were the basketball game (i loves me the hoops), the shooting gallery, and the snowmobile race.
•Â I also forgot to mention a stunning art/comix coffee-table book called BLAEK (in league with the likes of the recent volumes of Kramer's Ergot), given to me by Paw Mathiasen, a Danish publisher, and editor of the anthology Farenheit. This is a real gem, which may or may not be available in the States, so if you stumble across a copy, it's truly worth picking up. (Paw, coincidentally, will be publishing the Danish version of Blankets soon.)
•Â Meanwhile, i recently wrapped up a zine that had been sitting on my bedside table since Carter was born almost two years ago, called Journal Song #6, by a Portlander named Steve Gevurtz. His writing is extremely personal, quite infectious, and REALLY good. I'd rank this guy's writing style up there near the prowess even of the almighty Aaron Cometbus. (Though i'd love to see him try some longer form work in the future, as each pice here is anywhere from 2 - 6 pages on average.) Journal Song was published by punk-rock distro juggernaut Microcosm.
•Â We got Corey Lewis' Stumptown poster back from the printer, and it looks sweet! Thanks to Randy at Oni for scanning this.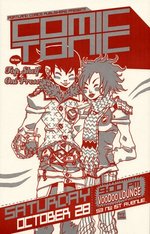 • If you get my blog (god help you) on an RSS feed, then make sure you check out the new comics that are up. There's some great shot by Gregory Benton, Brecht Evens, Lode Devroe, James Hindle and Will Dinski. Oh, and there's also a big-ass sale going on at the Top Shelf website as well.
•Â Finally, i saw Tom Galambos at SPX (Tom did a phenomenal comic years ago called All the Wrong Places), and he told me about a piece he did that sounded pretty kick-ass, so i asked him to send me a link or a photo... and viola! I don't know much behind this, but it certainly looks interesting. Thanks, Tom!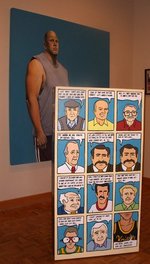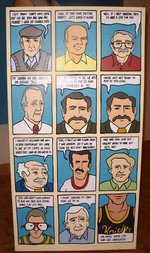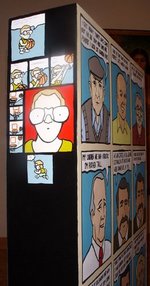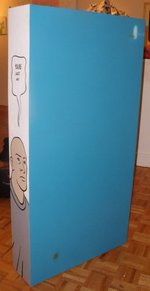 ---
October 19, 2006 / More →
• SPX found itself in a brand new location this year, at one of the several Marriotte Hotels in the burbs of Bethesda. And except for the fact that this newish hotel had some of the most appalling decor in the history of the world, and that getting a cab was next to impossible (literally... what the fuck?!), by the end of the day, i'd say the show was a success.
Kudos to outgoing administrator Steve Conley and incoming administrator Karen Flage, Ignatz Awards maestro Jeff Alexander, and the man on the ground, Warren Bernard.
Fun things. 1) Attending the Jules Feiffer panel, moderated by Tim Kreider. Feiffer is still razor sharp, and his tales were inspiring. Props too to Tim for excellent questions. 2) The bar scene was pretty hopping. In fact there were two bars. The booze was flowing. 3) Staying two nights at Greg and Laura Bennett's house. Their generosity is beyond reproach. 4) Hanging out with Bob Schreck and Paul Pope at Chez Bennett the night before leaving for home. 5) Seeing our intern Jacquelene really rock at the table. She was definitely our best earner. 6) Winning more Ignatz Awards. Congrats to Andy Runton (Outstanding Series) and Alex Robinson (Outstanding Graphic Novel) for two big wins. 7) Fancy Chinese food at P.F. Chang's with Lilli Carré, Jeremy Tinder, and intern Jacq. 8) Being on a panel on the State of Distribution in Comics, with Gary (Fantagrahics) Groth, Dan (Picture Box) Nadel, and guest panelist Lauren Weinstein. Thanks to Bill Kartalopoulos for inviting me onto the panel in the first place. 9) Selling out of all 100 copies of Nate Powell's new Top Shelf book, Please Release. 10) Wide Awake 666, the new horror anthology edited by madman J. Chris Campbell, from Wide Awake Press. 11) New books by Brian Ralph (Daybreak) and Kaz (The Mourning Star) at Bodega Books. 12) Yet more insanely beautiful books from Drawn & Quarterly, including the new Kevin Huizenga (Curses) and Gabrielle Bell (Lucky). 13) D&Q employee Rebecca's super kick-ass, rock & roll haircut.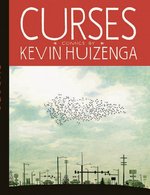 • And on a different note. Word out for a killer cause, as Portland's own Excalibur Comics hosts an event on Sunday, October 29th, the day after the Stumptown Comix Fest, and coinciding with "Wonder Woman Day," the proceeds of which go to two shelters for women and children. They're doing a silent auction with some incredible original art, including the likes of Alex Robinson, John Romita, Colleen Coover, Ryan Sook, Mike Allred, and many many more. The event runs from 2 - 6:00 p.m. If you're in Portland that weekend, check it out.
---
October 9, 2006 / More →
•Â Off to Small Press Expo in just a few days, and getting fired up. This is hands-down my favorite con of all the cons. It'll be interesting to see what the vibe is like at the new hotel. It's been such an interesting year in comics, i have a feeling it'll be jumpin'.
•Â Corey Lewis, mastermind behind the Oni books Sharknife and Peng!, just completed the poster for the first ever Top Shelf/Oni Press co-hosted party for Stumptown Comics Fest, which we are calling (thanks to intern Jacq), Comic Tonic. (An official announcement will hopefully be on both our sites soon.)
In the meantime, here is Corey's first rough sketch, followed by the first treatment of the finished poster. Cool stuff.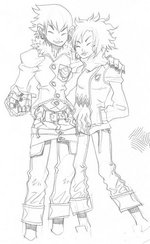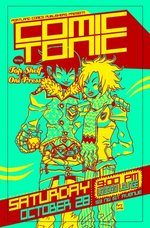 ---
October 6, 2006 / More →
Went out to Pushdot Studio (generally a photography studio), to see a group show called ONE SHOT, featuring cartoonists showcasing a single panel, culled from a longer narrative. The intent being to show the power that even a single panel might have, whether it be in context, or separated from the narrative, on its own level. The results were mixed, formally (a few examples simply didn't hold water on their own merit), but the artwork itself was for the most part, really gorgeous. Jenn Manley-Lee curated, to nice effect, and Colleen Coover's piece for the show, was also used as the promo art.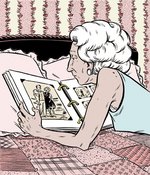 Graham Annable and his studio-mate John (with whom he worked, at gazillionairre Phil Knight's new animation studio, whose name i forget), were the first guys i bumped into, and it was just fun from there on out. I has some good conversation with folks like Steve Lieber (and his lovely wife Sara), Kip Manley (husband of the curator), Jesse Hamm, and Zack Soto. My intern Jacq showed up too, bit about 20 minutes late, so we and her roommate Bowen walked across the street to legendary brewpub, Bridgeport Brewery for some suds. On tap tonight? First their award-winning IPA (literally my favorite beer in the world) and a seasonal Belgian-style summer lager call SÅ«pris that kicked ass.
Good times.
---
---
September 25, 2006 / More →
John Weeks lets fly with another fine addition of Comics Lifestyle.
Also, here's the cover for one of Jeffrey Brown's forthcoming books with Top Shelf, Feeble Attempts. Nice work, Jeffrey.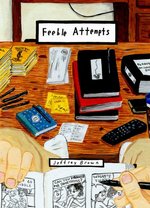 ---
September 18, 2006 / More →
Jesus mama, it's been over a week since i blogged. Sadly, it looks like my dream of writing lengthy, thought-provoking essays on comics business and culture …Â ala the likes of Steven Grant or Tom Spurgeon …Â is really just a pipe dream. I have no idea how these guys have the time to write such insightful and considered work, but huge props to them and their ilk.
Oh well, i can still point the magic wand towards some really cool stuff written by other people, and i can still post fabulous art from various sources, a lot of which you might not see anywhere else! So yeah, put that in your blog and smoke it!
•Â From Cambodia, Mr. Comics International John Weeks writes:
"Hi Brett!
Happy birthday! And there's presents for all! After six months a surprise package from Top Shelf arrived via seamail! (Maybe someone was busy reading the books before it got to us?)
Pic 01:
Artist Soeung Makara (holding Owly), Lim Santepheap, Sim Sisuvathara, John Weeks.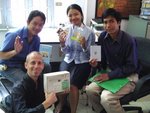 Pic 02: Superfast sketch artist Moeu Diyadaravuth and Photoshop whiz Try Samphos check out the goodies.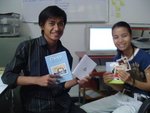 Carnet de voyage went to Khmer filmmaker Rithy Panh, and the other books are circulating pretty fast. Interesting to note the different reactions. For most the English is tricky, that doesn't stop 'em.
Proper site to follow in another few weeks. You're welcome to repost the photos. We are busting a hump on an anticorruption/teen romance comic, due mid-November! Artist is Nhek Sophaleap."
•
Meanwhile, after raving about Tim Leong's smashing Comic Foundry web magazine, i hit their archives and checked out the few issues i had yet to read, to find not one but two Top Shelf cartoonists interviewed in their pages. Who hoo!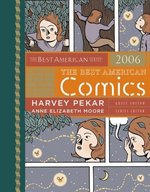 (Lilli's beautiful cover for the forthcoming Best American Comics anthology.)
Lilli Carre' plays 10 Questions with Tim, and Brett Weldele (artist of The Surrogates) talks with Andrew Avery about his gorgeous work on the prequel graphic novel series to Richard (Donnie Darko) Kelley's new film, Southland Tales.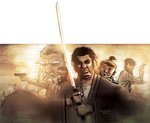 (One of Brett's insanely fucking cool freelance pieces … this one for the Portland Grindhouse Film Fest.)
• Heaps of praise to Alex Robinson and James Kochalka for their recent victories at the Harveys!
•Â Jason at Floating World Comics here in Portland turned me onto an incredible Spanish magazine called Rojo, which fans of the old school Fort Thunder crew, or the newer Buenaventura gang, would go apeshit for. It's essentially a collective of work by artists in various mediums, but it shares a sensibility for that loose new school of hipster art. The magazines are pretty pricey at $30, and hard to find as well, but oh my, what amazing work is to be had therein.
•Â Finally, if comics are starting to bore you right now, go read this interesting article in Market Watch, called "Ten big news stories you aren't hearing
Traditional media ignore or downplay significant events." It's great to see this in a decidedly capitalistic publication.
---
September 9, 2006 / More →
Renée sent me a link to an Aussie (rhymes with Ozzy) podcast all about Rabbits, on which she also appears. It also features the amazing art duo known as Kozyndan.
http://www.abc.net.au/rn/radioeye/stories/2006/1716068.htm
Renée also sent me these drawings to run. (I think i may have ran these before. Oh well. Can't get enough Renée.)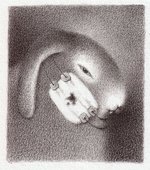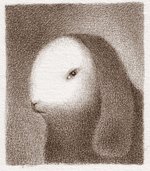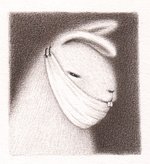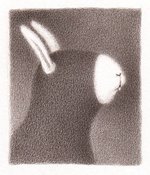 ---
---
September 2, 2006 / More →
...well, actually ME in just a few hours. But i started this post to mention the one year anniversary of swanky new comics retailer Secret Headquarters, in L.A. I've met one of the two Davids who run the place, but big heaping congrats to both of you cats. The world desperately needs fine retail establishments like this. Here's to a long healthy career. Cheers!
Rama Hughes did this fancy flyer for the event.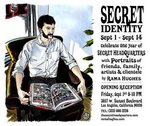 Meanwhile, i'm still plowing through the Ulana Zahajkewycz sketchbook. Ulana will be doing out main Top Shelf Ten Year Anniversary poster for next Summer, so keep your eyes peeled. It's gonna be sweeeeet!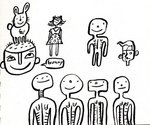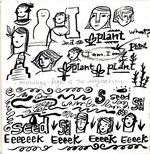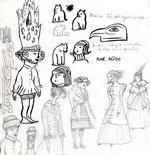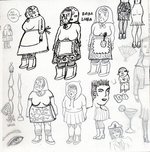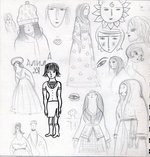 I'm off to my mom-in-law's lakehouse in the morning for holiday. Y'all have a good one, and be safe!!
---
September 1, 2006 / More →
After much delay, Lost Girls FINALLY landed in stores yesterday, and today we just placed a RUSH order on the THIRD printing!! That's because we're all but wiped out of the second printing. At one point yesterday, i found it listed at #27 on the amazon.com rankings. Do, no doubt in part, from props in Wired, Village Voice, and USA Today.
One day after the book hit stands.
O.k. Enough glee.
Aaron Renier wrapped up his work on the poster for this year's Stumptown Comics Fest, here in Portland in late October. (With a sublime color palette by Alec Longstreth.)
This is one to frame. I can't believe how cool this is. Great work, Aaron.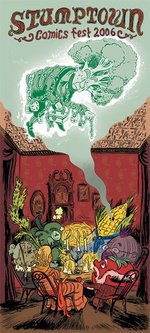 Also, more Ulana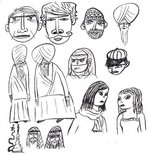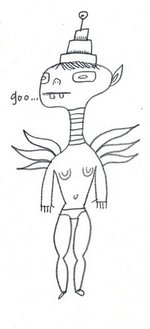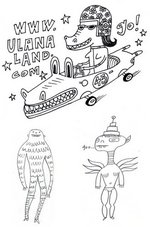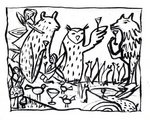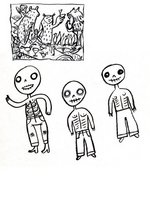 ---
August 26, 2006 / More →
So i bumped into Tim Leong and Christopher Butcher on the floor in San Diego, and Tim handed me a couple of printed promotional magazine editions of his excellent website, Comic Foundry.
Tim also designed these "simple" throwaway promotional efforts, and the results are two of my favorite printed mags in comics over the last year plus. (What with our own lack of a new CBA, or the absence of new issues of Robert Young's fine Comics Interpreter.)
The contents of these two issues of Comic Foundry had so much to offer, including features on: James Jean; R. Kikuo Johnson & Pablo Rivera; Ex Machina art team Tony Harris, Tom Feister, and JD Mettler; Kevin Huizenga; Arthur Suydam; Joe Quesada; and Japanese Import publisher Vertical. Plus crazy shit like an interview with a plastic surgeon on how realistic the body types of super-heroes may or may not be.
Thus inspired, i headed to their website, only to find the "cover" feature on Lost Girls. This cover rocks! Brilliant, in fact!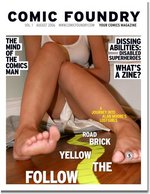 Do check this out.
And meanwhile, for your pleasure, more Ulana Zahajkewycz.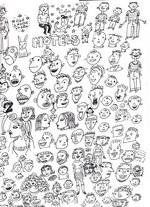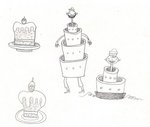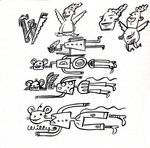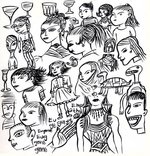 ---
August 21, 2006 / More →
Ulana Zahajkewycz. Sketchbook drawings. Part 1.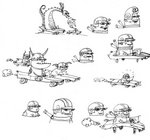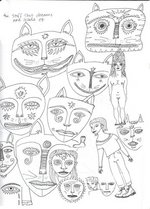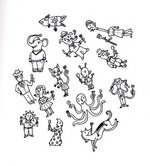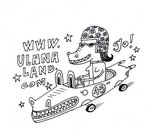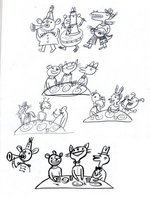 ---
August 19, 2006 / More →
• First, some pics snapped by Alex Robinson's fabulous wife Kristen, at the Eisner's this year.
Andy accepting his award for Best All Ages Comic, for Owly.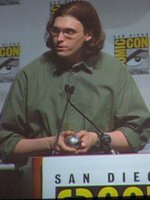 Aaron Renier running onstage to stop Chris Staros from accepting his award for him. (Aaron and myself showed up a little late, and Chris didn't realize we were there!)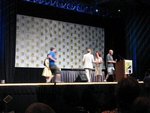 Aaron's drunkenly awesome acceptance speech, for Talent Deserving of Wider Recognition. (That's presenter Anina Bennett, standing behind him.)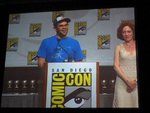 Rob Venditti, our one employee, and writer of our sci-fi book The Surrogates, enthusiastically enjoying the ceremony.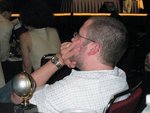 •Â And now for a few more books i've read, starting with editor Robyn Chapman's superb zine devoted to eye glasses and the people who wear them, Hey, Four-Eyes! Actually, this is the second issue, featuring a great wraparound cover by none other than Aaron Renier.
In addition to fine comics and/or drawings by Leela Corman, Cole Johnson, Nicole Georges, Aaron Renier, Kazmir Strzepek, Liz Prince, and Robyn Chapman, there are many stellar essays, overviews, and even a pictorial history of Antique Safety Glasses by Mr. Jeff Sharp. Plus, there's a totally unexpected, and yet fully deserved interview with zine legend Sean (Craphound) Tejaratchi.
If you wear glasses, you will LOVE this zine.
•Â Next up: the newest issue of POX, by the cheeky duo from Australia, Carol Wood and Susan Butcher. Their comics are almost zine-like in layout and attitude, channeling National Lampoon, classic undergrounds, and the Church of the Sub-Genius. Stories range in length from 1 - 5 pages, and combine bathroom humor with a scathing and astute intellect. These girls are VERY smart.
My favorite strip in this ish? Easy... Bizar-O-Christ. Best line, "Blessed am those who do, um, the opposite of all earthly things! Blessed am those who hate beauty! Blessed am those who love ugliness!" Sadly, i don't see a url listed, so i'm not sure you can track this down. Sorry.
•Â Ganges, by Kevin Huizenga. This is one of the volumes in the newish Fantagraphics/Coconino line called the Ignatz Collection. And it is so brilliant, that i almost thought my brain was going to explode while reading it. I've mentioned in a past blog how Kevin treads the razor's edge between formalism and commercially viable comics. What i may have forgotten to add to that, is that it's really actually irrelavant. His ability to convey the inner thoughts of humankind, to literally use comics to take us places in our hearts & minds, borders on shamanistic. I'm not kidding. Really. Stylistically, Huizenga hasn't particularly raised his own bar or anything, but that's because he's been a fully-realized cartoonist for years now.
Kevin Huizenga is arguably amongst a very small handful of North American cartoonists under 30 years old (i think he's under 30?) whom i would consider "world class." He's really that good.
•Â Finally, a nod to the newest volume of the Finnish anthology, Glomp #8. This anthology began modestly enough, and looked rather "normal" in earlier volumes. (We even did a little sub-distribution with them.) But with this newest volume, it seems as if the editors have been sucking down large bong loads of Kramer's Ergot for inspiration. Not a bad thing, actually. And this volume is ALL Finnish artists. Super duper cool stuff. (Images all ripped from their website, which has ordering info.) I picked my copy up at Portland's newest comics retailer, Floating World Comics. Thanks, Jason!
---
August 17, 2006 / More →
•Â Not sure if i've mentioned my current interns who've really been busting ass for me here in P-Town. Only my very first real intern, Carlos, has been of this much value to me, and it sure is nice; almost like having actual employees! (Carlos, by the way, is still doing production work and design for us, and occasionally shows up to work the Top Shelf table at a convention here or there. In fact, we had a blast together at the Emerald City Con earlier in the year.)
Intern Chris (Ross) was found through the Portland State University's Publishing Program, headed by Dennis Stovall, via Bernadette and Gretchen from Bakers Mark, whom i met at last Fall's Stumptown Comics Fest. (Whew.) Chris knows his way around a Macintosh like nobody's business, and is a production whiz. Man, if only i could do a Vulcan Mind Meld on this guy...
Anyway, Chris' last official intern gig for us is doing production on Austrian ink stud Nicolas Mahler's new book for Top Shelf, Lone Racer …Â the story of a down-on-his luck, has-been race car driver, who makes a move to come back in a newfound glory. Not unlike a shorter version of the classic James Garner race car flick Grand Prix.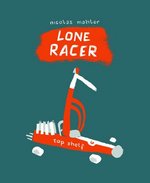 Chris rocks and will indeed be doing some more work for us, in freelance production and design.
My newest intern, Jacquelene, is the hardest working intern i've ever had, working full-time doing sales & publicity, events & promotions, and not a small amount of Personal Assistant stuff, like running errands, post-office runs, retail delivery, and what have you. (Which is particularly awesome, since this frees me up to have more time hanging with Carter. See fig. 001.)
Fig. 001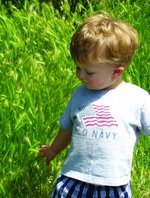 Jacq came to Top Shelf via an author signing we did with Jeffrey Brown, Renee French, and Alex Robinson during APE this year, at Joe Ferrara's classy comics shop Atlantis Fantasyworld, in Santa Cruz. Needless to say, as much help as she is, Jacq is one intern i don't want to see go anytime soon.
• Jacquelene's background is in music (managing bands, concert promotions, etc.), but a newfound love of comics has her considering comics as a possible career, so i'm introducing her to as much of the local comics world as possible. Last Friday we met up with Joe, James, and Randy (and intern Doug!) for a tour of the Oni Press offices, then off to lunch, where we discussed a (keeping fingers crossed) joint party we're hoping to throw here in Portland in the not too distant future. And as we usually do, we did a big ol' comics swap. I picked up some excellent new books, and actually already read a few, including:
•Â Scott Pilgrim vol. 3, by kid genius Brian Lee O'Malley. I think i've mentioned earlier volumes here on this blog, with large amounts of fanfare. In case you missed the memo … this is one of my favorite funny books ever! Brian's manga-influenced chops deliver on tasty young-punk fight-comics, which supposedly incorporates a lot of video game culture. I really wouldn't know, because i haven't played video games in almost 20 years, but it doesn't matter, because i'm hooked enough as it is. Scott Pilgrim is THE bomb, and O'Malley is THE complete package.
•Â Gray Horses, by Hope Larson. Hope Larson is Brian Lee O'Malley's wife, and the odds that two cartoonists of very high caliber hooked up like this are astronomical. And yet, it's true. Larson's first book, Salamander Dream (AdHouse Books) was a delicious little treat that hinted of great things to come, and Gray Horses continues that trend. Both books use the formal language of comics in a way that adds non-linear layers to her narrative, which require a little thought, and can benefit from a second read. There's a bit of metaphorical poetry happening here that is mysterious and magical. And her artwork is lush and beautiful. Hope is doing amazing work, and is one to keep your eye on.
•Â Next up, Banana Sunday, by Colleen Coover and Root Nibot. This is the most recent collection of material by one of my all-time favorite cartoonists. (I raved about Colleen's strip in the smashing new Tugboat Press anthology Paper Cutter #2, in a past blog too.) Banana Sunday is a delightful teenage romp of a book, that reads like an Afterschool Special as conceived by Joss Whedon. Talking monkeys, intrepid reporters, Alpha Female uber-bitches, and lots of flirting. Oni has this book labeled for 7 Years Old, plus, but honestly, i'd say it's skews more towards early teens. While not quite up to par with Coover's sublime Small Favors (very few things in life are, for that matter) Banana Sunday far exceeded my expectations... kudos Paul and Colleen for yet another fine piece of work.
•Â So much to catch up on, but for later. Including more reviews of recent reads, plus a few pictures of the Top Shelf crew at the Eisner Awards a few weeks ago (as taken by Kristen Siebecker), and some sketchbook pages from my old pal Ulana (ulanaland.com/) Zahajkewycz. Here's a Ulana teaser.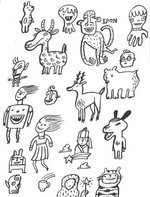 ---