Off in the morning for a short family vacation, to central Oregon. Bend, to be precise, sagebrush and pine on the wind, the high dessert. It's been a long time. Looking forward to it.
•Â Last night i read a neat column by Robin Etherington at Comic World News, about BD Fugue, a comics shop in Lyon, France.
Check this shit out... they have a full bar!! And they also have one of the best blogs ever.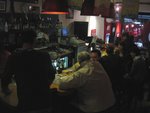 This is the first post of his new column, "Comics Have Never Been So Much Fun." Robin, you're off to a great start! This is a phenomenal feature.
• Jim Mahfood event.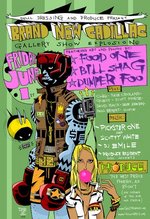 • One of Wayne (I'm Totally Helpless) Shellabarger's pals, RW Hessler adapted and directed a radioplay of Robert Bloch's Notebook Found in a Deserted House. I listened to this on the drive home from APE a few months ago, and i will say it was spectacular. A superb adaption. Oh, and Wayne did some killer cover art for the disc. Check out The Hermetic Order of Arcana for more information.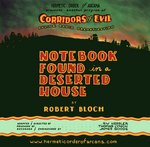 • I finally had some time to dive into the Comics Issue of Nerve. Full confession, i loath reading comics on a computer screen. Really. It's nails-on-the-chalkboard to me. I can't stand waiting for a page to slowly load, little by little, like a curtain descending. That said, there is some seriously excellent work here. Kudos to the editors, and of course the creators.
Stands-outs were the Paul Pope strip, excerpted from his forthcoming book through the brilliant AdHouse Books. And an outstanding new piece by Andi Watson. Good god, Andy just keeps evolving in front of our very eyes. In this particular strip, "Haunted, "the story is vintage Andy and a delight, as always of course, but his art takes a loose, Euro turn, with a real cartoony style a la, la Ligne Claire, and 50's-ish blocky colors via Photoshop. Man, this is a masterful treat.
Plus the likes of Chynna Clugston, Jim Mahfood, an insanely wicked page by Leah Hayes, and interviews with Alison Bechdel, Peter Bagge, and Evan Dorkin. There are essays, articles, and in the archives section, a Lost Girls interview with Alan Moore.
In fact, there's so much great content here, i'm going to have to bookmark this, and keep dipping into it as time allows.
My secret desire though, is to have a printed version of this in my hands. Feel the pulp in my hands, breath deep the intoxicating ink... a guy can dream.
---
I'm currently building our house ad for Diamond Previews this month, and while we're listing the long-awaited Elfworld anthology, i don't have as much room as i'd like to run more information on it. So what i'm doing here is lifting this info straight from the Family Style website.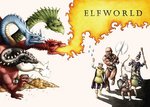 Family Style is proud to be publishing the long-awaited Elfworld Vol. 1 in Fall of 2006!
Elfworld is the brainchild of indie-comics superstar Jeffrey Brown; an anthology of fantasy-themed comics by a wide range of alternative, independent, and self-published cartoonists. Although there was a lot of interest in the comics community and tons of submissions poured in, Brown found himself deluged by his more pressing assignments, and unfortunately Elfworld was put on the back burner for what promised to be an indefinite time.
At last year's Alternative Press Expo, young cartoonist (and member of the Family Style artistic collective) François Vigneault bought a copy of The Basilisk by Kazimir Strzepek. "He told me that he had originally drawn it for Jeffrey Brown's anthology, which was actually the first time I had heard of it," says Vigneault. "My first thought was that I wanted to contribute to it, but then Kaz told me that Jeffrey wasn't ever going to do it, so I had the audacious thought of editing and publishing it myself. I approached Jeffrey and asked him if he was planning to finish Elfworld, and if not, if I could have it. "˜What's your address?' was his response!"
The first volume of Elfworld consists almost entirely of submissions created for Jeffrey Brown's original anthology and selected by François Vigneault. The 96 page, black-and-white book features fantasy-themed stories from over a dozen artists from across the indie-comics spectrum: Jeffrey Brown, Martin Cendreda, Erik Nebel & Jesse Reklaw, Matt Weigle & Sean T. Collins, Ron Regé Jr. & Souther Salazar, Grant Reynolds, Liz Prince, K. Thor Jensen, Jason Overby, Ansis, Dalton Sharp, Jason & Jody Turner, and Dave McKenna. It sports a new, fully-painted cover by Jesse Reklaw, and is designed by Jonas Madden-Connor (another member of the Family Style collective).
The stories range from lyrically beautiful to absurdly funny, and each author approaches the fantasy-inspired subject matter in a unique and often unusual manner; the overall result is a book that is sure to please those who love the fantasy genre outright, those for whom it's a guilty pleasure (old D&D manuals hidden away in their closets?), and anyone with an appreciation for independent comics. "It seems like the perfect time for this kind of project," says Vigneault. "Jonas [Madden-Connor] and I have been working on our own fantasy collaboration for almost a year now, and I feel like I keep seeing new work that has a sort of fantastic bent, everything from Basewood by Alec Longstreth to Crickets by Sammy Harkham. It's like everyone's on the same wavelength."

François Vigneault is currently soliciting submissions for Elfworld Vol. 2 (currently planned for 2007), and Family Style intends to publish another book annually thereafter.
• Rob Vollmar and Marvin Perry Mann are nearing the end of their FREE serialized webcomic, Inanna's Tears, at Modern Tales. It's a tautly written, beautifully drawn period piece set in ancient Sumer. Word is, the free online strip won't be free for much longer, before moving to print with Archaia Studip Press. Now is the chance to read it for nadda, before they start charging for it.
Like Rob said, "if you are interested in religion, women's issues, goddess worship, feminism or ancient history," this story is something you might want to check out.
• Tom Spurgeon just posted the single best San Diego ComiCon Guide of all time, over at The Comics Reporter. Excellent!
•Â More nifty DC fanboy art by Jeff Lemire.
• Last week i read X-Men First Class Special #1, written by Jeff Parker. There's a short story and cover art by the almighty Kevin Nowlan, who, like Michael Golden, i take what i can get, because he's not what one might call prolific. Plus shorts by the fab team of Nick Dragotta and Mike Allred, and one drawn by classic X-Men alum Paul Smith. Best of all (and maybe a hint of things to come when Marvel puts out it's indy-creator anthology), Colleen Coover draws a series of snappy daily-type strips that are a real hoot. If you're as disgusted with the current state of lame X-Men mythos (Peter David's X-Factor notwithstanding), then this is a nice little snippet of old-fashioned fun. I'll totally buy the tpb of the regular series when it comes out. Jeff Parker is on a freaking roll, what with this and his just completed Agents of Atlas hardcover. Go, Jeff, go!
•Â Even though is i've mentioned several times before in this very blog, that George Lucas has turned to the Dark Side in the last 15 years or so, i still worship the original trilogy, and you can bet your ass i'll be watching this on Wednesday night.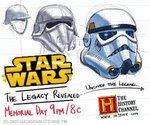 • Finally, check out the nice start-to-finish cover Steve Lafler made for his next comic book, Cat Suit. I assisted as art director, and let me tell you, this was fun to work on. Nice work, Steve-O!!
---
In the recent Hutch Owen comic strip, author Tom Hart begins an exploration of his recent time in France. This is a supremely funny comic strip.
"Hutch Owen in France" (running in the New York and Boston METRO and online) has Hutch landing in France in the middle of the recent presidential election over there. Strips about France will run at least four weeks and later will explore the French cheeses, learning the French language and just how darn beautiful and gracious it is over there. Which is harder to deal with than it sounds...
Tom's written a few elaborations, explanations and apologies on his blog.
• Jeffrey Brown has a neat comics contribution at the Poetry Foundation.
• Jeff Lemire did these two JLA drawings just for fun. I love it so much when indy cartoonists draw super-heroes. It's as good as peanut butter and chocolate.
• Lego-freaks rejoice! How cool are these custom legos of Neil Gaiman, Grant Morrison, and Alan Moore. I nabbed this image from The Ephemerist, and Johanna Draper Carlson (she of Comics Worth Reading), informs me that the creator of these mini-masterpieces is one David Oakes.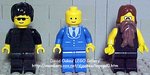 • Click here and check out the super swanky digs where we're throwing out 10-Year Anniversary Party, on Saturday, June 23! It's a place called Gstaad, at 43 West 26th. Hot damn! I can't wait for this! Odds are, if you show up at this party after, say... midnight or 1:00 a.m., i'm going to be well and shitfaced.
• The Hickee gang is doing a gallery show here in Portland. Whoo hoo! These guys kick ass.
"The Hickee Trunk Show"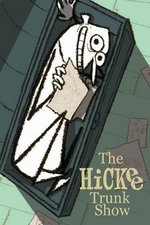 "The locks come unclasped and the lids are lifted, as the Hickee crew, expose the treasures of their trunks this June 7th! The bizarre, humorous, sensibilities of the long running Hickee comic series get a chance to air out on the walls of Pony Club in Portland, Oregon. Hidden wonders from Scott Campbell, Graham Annable, Joe White, Razmig Mavlian, and Nathan Stapley will be on display from June 5th to June 30th."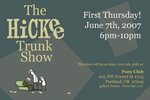 Opening Reception: 6pm-10pm Thursday, June 7th, 2007
June 5th-June 30th, 2007
Pony Club
625 Everett Street #105
Portland, Oregon, 97209
Gallery hours: Tues-Sat 11-6
• Recently watched The Proposition on dvd. Damn, this is one fine film. It's an Australian made film, which explores the Aussie version of Empire Building, as bleak as our own history. In this case, the native inhabitants are the Aboriginal peoples. I'd heard lot's of comparisons to Peckinpah with this film, but to be honest, i just don't see it. (And i LOVE Sam's work.) This movie is as unique a Western as Jim Jarmusch's sublime Dead Man, and the extras on the dvd are super. This comes highly recommended. Guy Pierce and all the actors kick ass, and with screenplay AND music by Nick Cave, i mean, come on!
• Political junkies check THIS out... investigative journalist (who U.S. newsmakers shun, because he's a "real" journalist), Greg Palast, scored Rove's "missing" emails, and found evidence of the 2004 Election theft, which DOJ Liaison Monica Goodlin actually slipped up and mentioned in her testimony this week. Congressional Committee members however, dumb-asses that they are, completely missed the reference. How many of you know what "caging" means? If you want to learn more, it's worth checking out.
•Â And basketball junkies, while The Suns lost in six to the Spurs last week, all is not lost in my own hoops world, my actual home-city Portland Trailblazers (the very best underachievers in the NBA) beat the odds with a 5% chance, and WON the NBA Draft Lottery. And the top two players are absolutely future hall-of-famers, in Greg Oden and Kevin Durant. This is great news... BUT
Don't forget that this is the same team who twenty-three years ago picked a center named Sam Bowie ahead of some young phenom from North Carolina named Michael Jordan, with the second pick. (First pick being Houston's monster center Hakeem Olajuwon. Now, Sam "who?," you might ask? Fucking EXACTLY!!! "Nuff said.
Know this, almighty powers that be, the most dominant and championship-winning teams in NBA history (excepting of course, the one exception of Jordan himself), have been centered around Big Men. Most recently it's been Kareem Abdul-Jabbar, Shaq, and Tim Duncan. And when the Blazers won their single title, it was around the presence of UCLA Deadhead and stoner, Bill Walton. (One of my favorite announcers out there currently.) The Big Man is the core of any defense, he protects that hole at all costs.
Two words, please:
Greg Oden.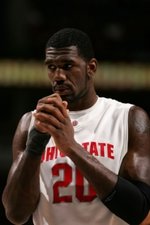 ---
May 18, 2007 / More →
Let's talk about Matt Kindt. Matt is a personal favorite of both Chris and myself, and we feel that he's yet to be recognized as the amazing cartoonist and storyteller he is. His forthcoming, full-color book Super Spy is simply stunning. It's a great read, and is highly recommended.
Here's more information about the Marvel Comic show, of which Matt is a part.
Four-time Eisner Nominee Matt Kindt is bringing the new interactive art show and book release party, Enigma Machine, to Subterranean Books on July 13th at 7 pm. Mirroring the mystery of last year's successful show Dead Drop, Kindt is back with more art, more mystery and more clues. The show will feature over 1,000 panels of original art as well as new pieces designed specifically for the Subterranean space. But come prepared with paper and pencil and disguise because the exhibit is more than it seems. Hidden within the art and the exhibit and throughout the store are coded messages and hidden correspondences that will lead the careful observer to personal rewards.
In addition the art and paintings, the show will also premiere Matt's new graphic novel Super Spy "" a 300 page full-color epic that interweaves the every-day lives of several spies during World War II. The show begins July 13 and will run for a month, with an opening party and book signing at 7pm on July 13th. The location of the show: Subterranean Books, 6275 Delmar, St. Louis, MO 63130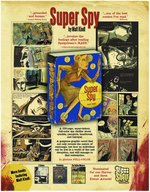 • Julia Wertz who does a funny comics zine called Fart Party has also edited a fun little mini-comic anthology called I Saw You.... It's a collection of "missed connection" ads from Craig's List and other papers, as interpreted by a plethora of cartoonists, including the likes of Peter S. Conrad, Joe Sayers, Elijah Brubaker, Shannon Wheeler, Greg Means, and many many more.
Brand new to me, is the work of Laura Park... this is gorgeous stuff. I love her art.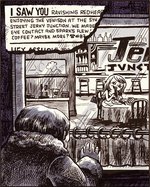 he original plan was to make two mini-comics versions, and hope to find a publisher, but it seems like she'll be able to maybe skip the second mini, and go straight to book form, as SF-based publisher Manic D. Press has expressed interest in publishing it already.
Julia tells me she's still looking for contributions, though. To learn more check out her Missed Connections blog.
• Others, by Will Dinski, is a sweet little package.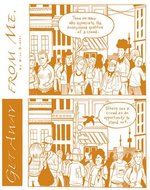 • Tomasz Kaczynski's 3-issue mini-comic series (Trans-Alaska, Trans-Siberia, and Trans-Atlantis) is an excellent treatise on modern philosophy, with existential inner-ramblings not unlike what often keeps me awake.
The cartooning and the read is truly excellent, but it's the blissfully cool series trade dress that caught my attention in the first place, near the end of APE, as i made my way on a quick trip around the convention floor.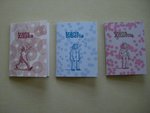 He's also got a pretty damn cool blog, called Trans-Atlantis.
• Lucha Noir is an artbook by Rafael Navarro, storyboard artist and comic creator (Sonambulo), and Keith Rainville's, editor of the zine From Parts Unknown.
I met Rafael waaay back in 1996, when we were table neighbors in the Small Press Ghetto at the San Diego ComiCon. I've seen him throughout the years, and said hello at this con or that, but to be honest, back when he was getting started with Sonambulo, i had ZERO idea what "lucha" was, as so while his comic was really beautifully drawn, i simply didn't get the concept.
At APE this, when i went asking for Rafael to do a drawing in my Kirby's Fourth World sketchbook, i bought Lucha Noir, which collects the collaborations between he and Keith Rainville in From Parts Unknown; ringside sketches from actual lucha wrestling matches, character designs, spot illustrations, book covers, and the like. Rafael's stunning animation chops (in the Bruce Timm school), are on fine display throughout, and now, armed with some context for this age-old Mexican tradition, i'm scouring Portland comic shops looking for the first Sonambulo trade paperback.
Lucha fans and animation junkies alike should love Lucha Noir. (Oh, and BIG props for such a cool title.)
• I tracked down a copy of Comics International #201, the first under new management and editor Mike Conroy. I listed my beefs with the previous incarnation of the mag [too many cut & pasted press releases, thin content, etc.] and i'm happy to report that the new mag is a marked improvement. There are noticeably more feature articles, interviews, and what have you; but what strikes me as a real strong new addition is their running of lots of sample art, and even more cool, pencil art and developmental sketches from current comics. There's a beautiful section of art by Alberto Dose with work for the Desperados book he's doing with Jeff Mariotte.
It also enjoyed the short feature on writer Jason Aaron, and his series called Scalped. Now i'm intrigued, and depending on final reviews, might seek out a trade paperback, if one ever appears.
Granted, it's not perfect; a lot of the smaller news items are uneven, and by today's instant-news-on-the-internet, already dated. Plus the reviews section is so heavily weighted towards spandex... but then again, i'm just an indy guy, of course i'll grouse about that.
In the end, there's enough solid, entertaining and informative content here in this new issue, that i'll keep reading. Kudos to Mike. Good work.
• Just read one of the new mini-comics by Nick Mullins, called Holiday Funeral. It's actually two strips thrown together in one book, but they aren't paired together without intent. In fact, read together the two parts in the book create a somber and affecting story. Nick has always been one of the more formalist-thinking cartoonists i've known, with his long-running Litmus Test, and with this book he's taken an enormous leap forward, by using this formalism at the service of a truly beautiful narrative. Wonderfully drawn in a 2-color pallet (black & blue) tackles the subject of death and dying, and how younger people are affected by it. About how those who are dying (in this case, a grandparent) are reaching out, and yet how oftentimes younger family members are unable to relate, or the tools to deal. At least in our culture, it seems like anyone under 30 or even 40 years old has a difficult time grappling with this situation, and in Holiday Funeral, Nick explores this with sublime elegance. Excellent. Nick's best work to date.
• And... what's up with this French book, Sept Psychopathes. (Which i believe means, Seven Psychopaths.) From the mammoth French publisher Delcourt, i occasionally receive a current catalog, and in this most recent, the plug for this book. The writer is Fabien Vehlmann (who i've never heard of) and art is by, quite possibly, my absolute favorite artist working in comics today, be it indy or mainstream, Sean Phillips. Now, Sean can make even a lame script sing and dance because of his skills, but fortunately for us, he's been working with some great talents like Ed "the Brube" Brubaker (on books like Sleeper and Criminal) and Robert Kirkman (Marvel Zombies).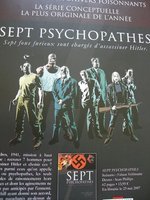 Here it looks like he's drawn a story in the same vein as the classic war film, the Dirty Dozen. Here though it looks another standard WWII setting mixed with a fair dose of X-Files weirdness, as Churchill recruits a gang a crazy assassins to take out Hitler. Please please please, someone tell me that Dark Horse or Wildstorm or somebody will publish this here in the U.S. Please?
•Â Finally, check out this cover Aaron Renier did for Ariel Schrag's anthology Stuck In The Middle. I guess there's a launch party for this at Rocketship tonight!.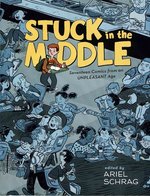 ---
I'm now in the strange Twilight Zone between having readied and sent new books to the printer, and holding them in my hands. On one hand it's a relief to have the production behind me, only to now have the new anxiety of waiting to see if there are any snafus at the printing plant roll down the line. Missing fonts, corrupted files, out-of-order pages, et al.
So meanwhile, i'm catching up on all of the little things that had piled up while my efforts were focused on a handful of books to build. The emails, art requests, submissions, rough-drafts, publicity planning, convention prep, data archiving, news-reading, blogging, retail restocking (at least for me here in comics savvy Portland), and keeping up with my reading pile. Said pile including mini-comics, magazines, graphic novels, fiction, non-fiction, more blogs, newssites, local weeklies... cereal boxes, etc.
(Favorite new right-before-bed reading is the mammoth new artbook, The Making of Star Wars. Yeah, i think Lucas is the devil … i mean, Darth Vader … with the way he's destroyed the mythology with the new trilogy, but this book is drawn from photo and interview archives from the early days, many from before the film was even released. Before George turned to the Dark Side. It's a record of how the film came to be, and as a true kid of the Star Wars Generation, it's like reading the behind-the-scenes of the Book of Genesis.)
Oh, and somewhere along the line, i found The Venture Bros. (Maybe on Heidi MacDonalds, The Beat?) Anyway, i love to watch an episode on dvd every fews days. Great stuff.
• Jeff Lemire, who has just completed Book One (Tales From the Farm) of his Essex County trilogy, wrote:
"I'm doing a big outdoor art festival in Windsor, which is the largest city in the real Essex County. It's called Art in The Park Windsor. I will basically have a booth displaying my originals and I'll be selling copies of Tales as well. It's a very large show, with tens of thousands of people coming through, from the county and from Detroit as well. There are no other comic artists or anything resembling that there, so I should draw a fair amount of attention. And the comic shop helping me out is called Rogues Gallery."
• City Dwellers by Henry Chamberlain is one of the art works you will see at this year's Henry Bash at the Henry Art Gallery, May 18, Friday, 8pm to midnight. University of Washington.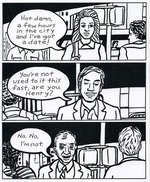 • As i alluded to in my last post, i recently read a couple minis by Josh Frankel, which i picked up at APE last month. Both are a delight … each one a sort of Naturalist chapbook. Twilight of the Sea Cow features the story of the Stellar's sea cow, and animal hunted to extinction by 1768, in a tale which humanizes the sea-faring mammal to great effect.
The other book is a title-less mini about the prehistoric Trilobite. There's some crazy shit in this one, including crustaceans, flatworms, and a battle between two really trippy-looking squid.

Fan's of nature tv shows will love these. I was a devout junky of Jacques Yves Coustau and Mutual of Omaha's Wild Kingdom as a kid, which set me on the path of armchair naturalist for life. I wish there were more comics like these around. There might be, if there were a larger place for comics in the wider entertainment culture. Books like these might flourish in the education world, but for a lack of awareness as to the prowess of the medium as a teaching-tool within the industry. This could be a lack of imagination, but i'd wager it's more or less lack of knowledge and distribution.
• Press release:
"An organization has been founded to study and promote comic books as a legitimate artform: Sequart Research & Literacy Organization.
"While comic books and graphic novels have increasingly been taken seriously in recent years," according to organization founder Julian Darius, "we still have a long way to go. To many people, comics are still silly kids' stuff or something that spurs hit movies. This organization intends to study the medium and make it accessible to new readers.
"The organization maintains its extensive website, and will be launching a line of books on comics later this month.
"The organization, based in Edwardsville, Illinois, is the successor to Sequart, a popular website devoted to the study of comic books. That site has been represented at several comic book conventions.
"The organization's initial Board of Directors consists of Julian Darius, Mike Phillips, and Peter Bukalski."
... NOT COMICS … WARNING!!
• At the moment, i'm pretty damn happy. My favorite basketball team, the Phoenix Suns, just made a miraculous come-from-behind victory over the San Antonio Spurs in Game 4, evening the series to two games a piece, and sending the next game back to Phoenix, where they now have a homecourt advantage.
They pulled out all the stops at just the right time, playing tough and with purpose. This has been the best battle of the playoffs so far, and might just be the best of the playoffs, period. One of these two teams will advance to the actual Finals, and then win in 6 games. (Against the Detroit Pistons.)
Meanwhile, the high-flying Golden State Warriors … my new second favorite team in pro hoops … seemed to have stumbled in the last few days, and found themselves down in a 3-1 hole against the much more disciplined Utah Jazz. And Game 5 is back in Utah now, where they might just finish it off. Mind you, i think the Warriors might win the next game, or even two, but it would take more than a miracle to win the next three.
Back East, the Cleveland Cavaliers have crushed the hopes of the once mighty, and now seemingly rudderless New Jersey Nets, and lead the series 3-1, going BACK to Cleveland. This in spite of Jason Kidd continuing to elevate his game to new historic levels. Tonights big game-losing brain-fart was committed by The Net's Vince Carter, as he fumbled the ball out of bounds with mere seconds left in the game, and down by two points.
The Pistons (as i alluded to earlier) will dismantle the young Chicago Bulls and eventually advance to the Finals, after their lock-down defense learns to contain contain Lebron James to human output levels, and winning over the Cavs in five games. That said, The Bull's will be a contender sooner than later, as they learn from some playoff losses and find their identity... and as guys in Detroit begin to slow down. Look for them in the Finals within the next five years.
So, anyway, i can't wait for Game 5 Suns vs Spurs back in Phoenix on Wednesday. The Suns might be down a player or two because of the bench-clearing flagrant foul Robert Horry picked up when he flattened Steve "man-of'-fucking-steel" Nash, but this is the type of game where as often as not, a couple other players who may have only played average ball thus far, erupt for career nights. Look for Raja Bell, Shawn Marion, and/or Leandro Barbosa to step it up two or three notches.
---
May 15, 2007 / More →
One of the coolest comics magazines to roll out in years, looks to be facing a serious uphill climb. Tim Leong's Comic Foundry kicks ass, plain and simple. This is an open letter to Tim Huckelberry, of Diamond Comics. Diamond has rejected Comic Foundry for distribution through their Previews catalog.
Hi Tim,
Just a quick, friendly note to let you know that, for whatever it may be worth, i think Tim Leong's Comic Foundry is an excellent magazine, that really deserves a chance at finding an audience. Besides that there's just too few good comics magazines in circulation as it is (and the more magazines there are, the more medium gets talked up, the better the sales of comics, which is goof for for all of us), i feel that Comic Foundry is the only contemporary comics magazine that successfully rides the middle-ground between the elitism of magazines like the Comics Journal and Comic Art, and the entrenched fanboy mags like Wizard, or even our own Comic Book Artist. (All of which i personally love, and devour with equal glee.)
Tim's content and design feel more to me like a "real-world" magazine, with sharp, staccato content mixed with a handful of lengthier articles and interviews, ala Wired magazine. And his editorial tastes are superb. This is the ONLY magazine on comics that i feel would appeal to the nascent populist comics readers, new to the medium. They might buy the magazine at a Border's and then pick up a graphic novel there as well. But if and when said reader evolves into a passionate fan, they will eventually find their way to a full-service comics shop (one supplied by Diamond), where the product selection is far-superior than a chain bookseller.
In fact, i'm such a fan of this magazine, that Top Shelf actually gave serious consideration to publishing it. In the end, the main thing holding us back, was our commitment to Jon Cooke's Comic Book Artist, and we felt we couldn't give to the proper support to two mags at once.
Comic Foundry, i think, fills a much-needed niche: a magazine that reaches out to new fans, and is neither too snooty and a turn-off, nor too entrenched in old-school, hard-core, fan-boy mythology, overloaded with confusing continuity. One with the perfect balance of mainstream (by comics' terminology), and indy sensibilities, in a gorgeously designed package. The perfect mag to root out the single most important niche that comics needs now more than ever... NEW READERS.
Comic Foundry makes good business sense for the health of the marketplace, please reconsider listing it in Previews.
Sincerely,
Brett Warnock
Top Shelf Productions
---
May 11, 2007 / More →
Holy crap... i've just been so freaking busy, i can't even think straight. Getting books "to bed" for the convention season has me working my ass off. Here's the massive number of books we have on press now or on route to the printer:
Super-Spy
Death By Chocolate: Redux
Seasonal Sampler
Fox Bunny Funny
Incredible Change-Bots
• Meanwhile, i have read a few items worth mentioning as of late. First, and one of the most highly recommended prose books of the year, is by my pal Willy Vlautin, of the band Richmond Fontaine. His first novel, titled The Motel Life is heartwarming and heartbreaking in the same breath. Willy gave me the British paperback version by Faber and Faber, and i also bought the U.S. version by Harper Perennial, after i saw Willy do a reading at Powell's City of Books here in Portland.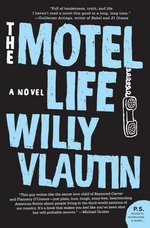 Both versions of the book have beautiful illustrations and covers by Top Shelf webmaster Nate Beaty. I like the package of the UK version better, but the US version has an extra section in the back called "P.S.," which features an interview, song lyrics, and the like, so that version is cool too.
The book has been receiving incredible reviews, with comparisons to the likes of John Steinbeck, Raymond Carver, Denis Johnson, and Nick Cave.
When i met with Willy a few weeks ago to swap books with him, he also gave me an advance copy of the new Richmond Fontaine album, 13 Cities. Now, i know this sounds like a "but he's my friend" gush-fest, but in all seriousness, this new record by Fontaine is an aural masterpiece. Hands down their most layered and textured record ever. I've probably listened to this 50 times in the last month,
• Based on a recommendation at Cartoon Brew, i went and bought the new 150th Anniversary issue of DC Comics' Looney Tunes.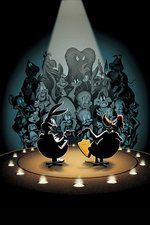 Among others this fun little gem features contributions from (writer) Joey Cavalieri, Stephen Destefano, Peter Bagge, Bob Fingerman, Aaron Renier, and Chynna Clugston.
Also new from the all-ages DC imprint, is the new issue (#33) of Justice League Unlimited, written by Jason (Pistolwhip) Hall. It features a classic polar-opposites turned friends buddy story with the elder Crimson Avenger, and hipster youth Star Girl. Art chores by Carlo Barberi and Bob Petrecca do a superb job of capturing the best of the "animated style," while retaining a unique style all its own. I dig the occasional issue of the DC animated books, since they often showcase some of the indy peeps.
• Somehow i was sent this nifty piece of art by Art Adams (with Nick Bradshaw), from the story Seven Seas, in a book called Dream Compass, by Chris Stevens. The book also features art by Farel Dalyrmple, Jae Lee, Stephen Gilpin, Nate Powell, and James Jean.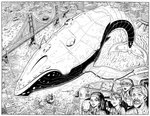 • There's so much more to write about... reader (and cartoonist, about whom i shall blog more on at a later date) Josh Frankel asked me wherefore mine own basketball thoughts. Ah yes, the second round, what fun it is. Again, more later.
I'm going to have to do just this quick update, since i'm just too buzzed to write more … having just returned from a few rounds of beers with Steve Lafler, Garret Izumi, and Scott Mills … and i need to get SOMETHING up before i leave town this weekend.
---
May 1, 2007 / More →
Pretty sick right now, playing leap-frog illness with The Kid, who swims in a cesspool of germs five days a week at day care. Well, that and all the road-tripping has me pretty beat down too.
• Meanwhile, here's some news from both Matt Kindt and Jason Hall, co-creators of the tres fabu Pistolwhip universe.
MATT KINDT
EISNER NOMINATION!
Kindt received his fourth career nomination from the Eisner judges. He was nominated along with Brett Warnock for their design of Alan Moore's controversial book Lost Girls for Top Shelf. For a list of all the nominees click HERE.
LIVING EXHIBIT!
Matt will be appearing every Wednesday and Thursday from 9:30 - 4:30 at the St. Louis Science Center at the Marvel Comics Exhibit through September. He will be on display (along with Peter Pranschke and Dan Zettwoch) for all onlookers as he works on his new comic book projects. Come by for a sketch or chat or just to climb the awesome rock wall that is directly behind his drawing table. For more information on times and admission prices click HERE.
SUPER SPY WEEKLY TO BE PUBLISHED BY TOP SHELF!
Matt Kindt's weekly on-line graphic novel is being sent to the presses as this is being written! It will be in-stores by July and is a whopping 337 pages of full color art and story! It retails for $19.95 and can be pre-ordered (and previewed) HERE!
SUPER SPY WEEKLY FINISHED!
Matt Kindt's year-long weekly comic is now complete! There are two more weeks to come involving a giant flash animation and a making-of video and documentary. Go here to read the rave reviews and read the entire 50 episodes HERE!
APPEARANCES
Matt Kindt will be appearing at several conventions this summer including:
MoCCA in New York (June 23-24)
San Diego Comicon (July 26-29)
Chicago Wizard World (August 9-12)
Art show and book release party: Subterranean books on July 13th
KINDT WORKS WITH HARVEY PEKAR!
Matt finished a short story with Harvey Pekar over the summer that will be appearing in the anthology Postcards published by Random House. He also did the cover illustration and interior design. You can preview and order it HERE. In stores in June.
INDIE SPINNER RACK ANTHOLOGY
Matt has completed an 8 page series of stories called "The Misery Index" for the new Indie Spinner Rack Anthology. The stories are all true and accurate accounts of Kindt's friends' "most miserable stories". To see a list of all of the contributors to the book, click HERE.
MATT KINDT WRITES/DRAWS THE TICK!
Kindt has fullfilled a life-long ambition to write and draw a Tick story. To read more about it go HERE. It's in-stores in June.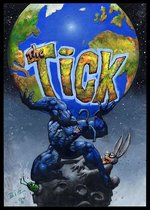 JASON HALL
"Who am I? I co-created Pistolwhip Comics, and have written Pistolwhip: The Yellow Menace and Mephisto and the Empty Box for Top Shelf; Beware The Creeper and Trigger for Vertigo; Star Wars stuff, Hellboy stuff, Crush, and The Escapist for Dark Horse; Batman/Gotham Adventures, Justice League Adventures, Justice League Unlimited, and Detective Comics for DC; and some other stuff... And here's what I'm up to now..."
ITEM #1: My DC Animated Universe body of work continues to grow with this week's release of Justice League Unlimited #33. It's features Crimson Avenger and Stargirl and has appearances by a slew of other JSA-related characters. I'm really happy with how it turned out and I think readers of all-ages will enjoy it. Solicitation information can be found at DC Comics:
You can read an in-depth interview, with behind-the-scenes revelations about the issue with Toon Zone and World's Finest here.
I also did a short interview about it with Pulse, which will run soon
ITEM #2: I did my first "in person" live interview with STUN! Listen to me ramble on about a variety of topics (for almost thirty minutes!) here.
ITEM #3: After an unprecedented nine stories in Star Wars Tales, I return to the Star Wars Universe with a story in the upcoming Clone Wars Adventures Volume 8, which features the return of a character I originally created in an issue of Tales. Solicitation information from Dark Horse here.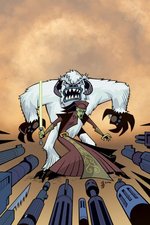 ITEM #4: I have also written what will be the third volume of the Hellboy Animated series of graphic novels! Entitled, "The Menagerie," it should be out sometime in the latter half of the year from Dark Horse, featuring artwork by returning artist Rick Lacy.
ITEM #5: Speaking of Hellboy, I am co-author on the upcoming Hellboy Companion, having written the expansive official timeline section of the book. Solicitation information from Dark Horse here.
ITEM #6: And in case you missed it, I wrote the graphic novel adaptation of the Sam Raimi produced horror movie The Messengers, featuring artwork by the legendary Kelley Jones. Solicitation information from Dark Horse here.
ITEM #7: I've added a new section to my website called When the monkey speaks... in the WHEN? section. There you can read the most recent stuff I'm up to. Check it out at the link to my website here.
---
April 26, 2007 / More →
APE was a righteous blast again this year.
Too busy for a longwinded, detailed travelogue, but it went something like this.
THURSDAY: Drove down with Bwana, landing in Oakland in the early evening. I dropped Bwana off at a BART station and got lost finding Scott Morse's pad in the Oakland Hills. Arrived and spent a little time playing with wee little Finn Morse, before he was off to bed. Threw down a beer or two and stayed up shooting the shit with Scott before crashing hard.
FRIDAY: Woke up in the morning, talked about raising boys with Scott's wife Danielle, and then Scott and myself left to pick up Chris (AdHouse) Pitzer at the Oakland airport, and a trip to the swanky Pixar campus. In a word, wow! What a freaking playland, and seeming killer place to work.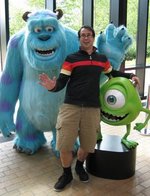 (Picture by Chris Pitzer.)
Scott and three other gents at Pixar produced an AMAZINGLY beautiful art book called The Ancient Book of Myth and War, which Scott and Chris co-published. We met two of these cats, Lou Romano and Don Shank. Both these guys have blogs that shatter the senses. I'm really not sure if i can post any of their art here, so i HIGHLY recommend you check this stuff out. Two absolute fucking masters at work.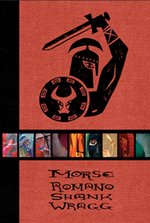 Then, Scott, Chris, Don and myself went out to lunch at the original Trader Vics. The food was fabulous (seared Ahi on my plate, please), and we all sucked down a couple bitchin' mai tais, putting a fine glow on the afternoon. Supposedly, Trader Vics invented the venerable mai tai, and as a connoisseur, i can tell you that i wouldn't doubt it for a second. These were some seriously tastey cocktails.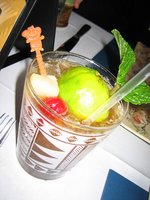 (PIcture by Chris Pitzer.)
Back to Scott's for a little down-time and more play with Finn, then i drove across the Bay Bridge, into downtown, checked into the Beresford Inn, and met up with old buddy Patrick Jodoin for some suds, nachos, hockey, and a nightcap beer at one of my favorite SF watering holes, The Toronado on lower Haight. They have a jaw-dropping beer list.
Mmmm... beer.
SATURDAY: Woke up, and drove down to the Concourse with my roommate for the weekend, Jeffrey Brown. Ex-intern and Top Shelf goddess Jacquelene joined us, and they set up the table, while i went to the diner across the street and nursed a hangover with some corned beef hash and eggs, over-easy of course.
Jeremy Tinder and Renee French showed up to work the table as well. (Lilli Carre, Nate Powell, Scott Morse, and Derek Kirk Kim were also in the house, but were all tabling on their own.) Jeremy was selling oodles of his neat little paintings, plus a number of adorable stuffed animals he made.
The show started out fairly slow. Maybe it was the competing Earth Day activities going on, but nonetheless, by early afternoon the joint was jumpin'. Sales were brisk, and the vibe was groovy.
That night i harveled down some grubbin' mexican food with Rob and Georgine Goodin (they of Robot Publishing), after which i worked my second annual bartending gig for the Isotope Mini-Comics Award After-party. Along with Kirsten and Adrienne, we rocked the house. I mixed mostly margaritas until i ran out of ingredients, and i didn't even have bartender's elbow (similar to "tennis elbow") the next day.
Once again, i got a little ham-boned. Luckily Georgine was kind enough to drive me back to the hotel. (Thanks, G!)
SUNDAY: Woke up and walked down to the show with Jeffrey. A nice little 30-minute walk, sun shining and the fresh air working away at this new hangover.
Again, the place was alive. We did some wholesale with a handful local vendors (Comic Relief, Lee's Comics, Needles and Pins, Giant Robot, Nuclear Comics, and one or two more), and by the end of the day, this turned out to be one of the most successful and fun APEs in memory.
I picked up lots of loot, saw some old friends and made some new, and was out the door no more than 30 minutes after the show closed to the public. Kudos to the organizers, and the folks who worked the table.
That night for dinner i hooked up with my excellent old comics pal Josue Menjivar, and his lady Anastasia. We met at some funky old Irish restaurant near our hotels, and got to catch the eighth-seeded Golden State Warriors spank the one-seed Dallas Mavericks. It was a glorious game, and along with the company was an ideal way to end the weekend.
MONDAY: Tired. Picked up Bwana. Drove home. Stayed up well-beyond when i should have gone to bed, and watched a replay of the Suns/Lakers game one on ESPN.
• Top Shelf stalwart Jacquelene took some choice photos, which you can find here on a Flickr page. I think she's going to post the whole set on our MySpace page. This one is Jeffrey, Renee, and Jeremy.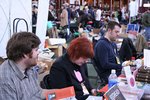 • I snagged this photo of the Kochalka-Corner from The Great White Snark blog.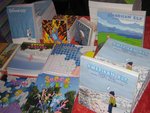 • This one of Renee and myself from Lee Hester's blog.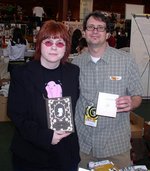 • Like i said, i scored some great shit at the show...
• Nick Mullins continues to quietly produce beautiful comics, and gave me his two recent outings. Nick's work is really sublime. He's a real interesting, formalist-minded cartoonist, who is criminally under the radar.
• Robbie Robbins at iDW hooked me up with the second Dick Tracey volume and the first two editions of his stunning new series of artists books in a line called SPARROW, these first two featuring Ashley Wood and Phil Hale.
• Talked all-too-briefly with super-sweet Rebecca from Drawn & Quarterly, and walked away with the mammoth new tome, King-Cat Classix, a MUST-HAVE hardcover which features excerpts from the first 50 issues of John Porcellino's seminal punk-rock zine mini-comic King-Cat. Besides that i've been a raving and loud lunatic for John's comics over the years, this handsome collection will surely be known as one of the greatest collections of contemporary cartooning know to man-kind. This is not hyperbole. I kid you not... buy this book. It's truly remarkable.
• Stuart Ng was on hand and sold me the new issue (#9) of Animation Blast!, Amid Amini's vital animation-arts magazine, after a four year hiatus. The wait was SOOOOOO worth it. This new edition is the first in a line of annuals, which makes the jump from a more regular magazine, to a fat, perfect-bound bookshelf item.
If you like animation and its history, this book is indispensable.
Amid also created a new animation website called Cartoon Brew, and from all accounts, it's already one of the more widely respected a highly visited sites on the web.
---
April 19, 2007 / More →
I had to wake up with the kid this morning, so i went to bed "early" last night (i'm usually up until about 3:00 a.m.), and of course, i was unable to fall asleep until hours and hours later, as the sun was coming up.
And now, i'll be getting up early again for the annual APE road trip with my pal Bwana Spoons, down I-5, across the border and into Northern California and the truly awe-inspiring Mt Shasta wilderness/lake area. We'll head down past Redding (home of the Liquor Bar …Â it's huge, like Home Depot huge, but it's ALL booze!), then eventually cut across diagonally on the 505, and then onto the I-80. I-80 is great for me on this trip. It's like one long strip mall, with a highway running through the middle of it, and after i've been behind the wheel all day, it's a total adrenaline rush, what with the blinding speed of people obviously with places to be. The slow lanes cruise at 60 - 65 MPH, and the fast lane hovers usually between 85-90 MPH.
I'm staying the first night in Oakland, with Scott Morse. Whoo hoo!
• Dave K. has a new 20-page comic, about girls hanging out at the mall, up on his website.
• Received this shameless self-promotion in my email in-box, from some students at the Center for Cartoon Studies. How can i turn THAT down. Glad to, in fact. There's some good stuff therein.
"My name is Adam Staffaroni and I'm currently a student at the Center for Cartoon Studies in White River Junction, Vermont. A group of other students and I got together to create a collective website to showcase all the work we've been doing. The site is titled I Know Joe Kimpel.
"We have a minicomics store which, in addition to student work, has work from CCS Fellow Ken Dahl and artist/sometimes professor Rich Tommaso. We've just added a blog to post artwork samples, updates on our projects, and about all the visiting artists constantly coming to the school. Also, some students are already receiving very good reviews from The Comics Journal and Indie Spinner Rack.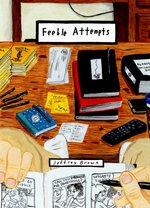 • In the same vein, Jeffrey Brown wrote to tell me about the new Holy Consumpton blog where he'll be posting about upcoming events and signings. Speaking of which, Jeffrey will be signing copies of his new book Feeble Attmpts this Friday night at Giant Robot in San Francisco. (Off upper Haight, around the corner from Amoeba Records.)
---
April 17, 2007 / More →
I'm guessing there might be a few Top Shelf fans out there who tire of my fanboy ramblings. Several months ago i ranted on and on about what i think i one of the single greatest men-in-tights collections ever, the X-Men Omnibus, collecting the bulk of the infamous Claremont/Byrne run, so fondly remembered by aging geeks everywhere.
Well, for those elitist snobs who poo-poo on the idea of legitimacy of spandex comics as an "art form," along comes one of the most gorgeous hardcover collections ever to grace American shores. From Dutch publisher Oog & Blik (the same folks who did those wonderful Waiting for Food books by Crumb), comes The Complete Universe of Dupuy & Berberian.
Now granted, this really isn't comics. But this two-man team extraordinaire, who together created the great Monsieur Jean stories in French (and partially collected in North America by Drawn & Quarterly), are such amazing illustrators, that this hodgepodge of miscellaneous freelance jobs, sketchbook drawings, wine labels and whatnot, is so mouth-wateringly stunning, that you won't care that, A) it's not "really" comics, and B) it comes with a $55 price-tag.
Seriously, this is the art-fag equivalent of the fanboy's X-Men Omnibus. It might be hard to find (since 90% of the North American comics retailers wouldn't recognize great work like this if it bit them on the leg), but if you happen to live near one of the few stellar comics shops around, then track this down. It's THAT good.
FEB073684 COMPLETE UNIVERSE OF DUPUY & BERBERIAN TP
From the Previews solicitation:
A beautiful retrospective of the work of Phillipe Dupuy and Charles Berberian, best known for their Drawn & Quaterly publication Monsieur Jean. Over tewnty years of collaborations are featured here including their portaryals of everyday Parisian life, homages to Billie Holiday and Jacques Tati, and their commercial art for book jackets and CD covers.
You can read part of the Comics Journal interview with Dupuy & berberian here, but you'll need to track down the actual issue to read the entire thing. And it's well worth the effort.
The only image i could find was this tiny cover i nicked from Christopher Butcher's sublime blog. It's enough to give one an idea of what to look for... meanwhile, i've also pulled an image from Dupuy and Berberian's official website.
• Graham Annable writes:
Show: Music of Hickee Mountain
Location: Red Bird Studios, 135 Avenue Van Horn, Montréal, QC, Canada
When: Thursday April 26th, 2007 8pm
(Brett writes: These Hickee cats are all incredible ink-studs... i really wish i could hit this gig.)
• And here is the fourth set of theater ads Chris Ross did for us, these featuring Owly, in a set we co-opted with Guapo Comics.
•Â Oh, and i'll be down at APE this weekend, so if you're in San Francisco, you should swing by. It's still one of the most important, energizing, and fun conventions in comics. More like one of the many fine festivals you might find in Europe (which are all about celebrating the art form), than the plethora of crappy flea-market cons here in the good ol' USA.
Renee French's new book Micrographica will be there (as will Renee herself), plus i just received a handful of advance copies of James Kochalka's SuperF*ckers #4. It's a hoot.
Also appearing from Top Shelf will be Jeffrey Brown, Lilli Carre (i think...), Jeremy Tinder, Nate Powell, and long-lost pal and fabulous cartoonist Josue Menjivar.
Rock!
---
---
April 7, 2007 / More →
Back from Emerald City in Seattle last weekend (which is, unfortunately becoming more a "hot-creator" mainstream show, and less indy friendly) and already i'm gearing up for my annual trip to APE, back down in San Francisco.
(The Fantagraphics party was a hoot, though; hosted at their store, it's located in some seedy industrial neighborhood in South Seattle, chockablock with cool bars and even some goats tied up on the sidewalk. Also great fun was hanging out with former intern Carlos, and his delightful girlfriend, whose name i suddenly can't remember.)
Tonight, the family heads over to cartoonist extraordinaire and great pal Garret Izumi's place, to be guinea pigs sampling his mole´, which he plans to enter into a Betty Crocker contest. Who said comics people only eat mac & cheese for dinner! (Well, certainly not Matt Wagner, who's cuisine i've had the pleasure of sampling. Mmmm... he's REALLY a great chef.)
Anyway, moving right along...
• Webmaster Nate has updated the comics section of our site.
There's some really fine work up there, featuring Steven Dhondt (Stedho), Brecht Evens, Zeno Sworder, J.D. Wilkes, and Jeff Zwirek.
• Tom Hart's syndicated comic strips is loads of fun. Don't believe me? Then check out this, this, and this.
Here's a sample.


• More YouTube fun... two absolutely freaking wingnuts … O'Reilly and Geraldo … going toe-to-toe. And weirdly enough, even though he's become a huge joke in recent years, i love how Geraldo held his ground here. An epic battle of talking heads.
• James Kochalka continues to send me weird links, and i'm glad, because it's often quite interesting, ergo fodder for the blog!
And speaking of Kochalka, WIRED magazine's blog posted a neat plug for his "monster Mii" diary strip.
• Dave K. recently posted some comics that he has in recent/upcoming publications.
The color comic will appear in the next issue of Meathaus (summer 2007)
The black and white piece appears in Syncopated #3 (out now)
(Here's a cool image i nicked from his blog.)

• The Daily Cross Hatch has a nice piece about ink-stud Alec Longstreth.
•Â IÂ can't recall if i posted UIana Zahajkewycz's final poster design for our 10-Year Anniversary or not, so here it is again. I can't wait to see this in print!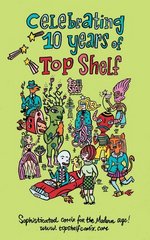 •Â Finally, here is another round of ads that Chris Ross put together for the co-opt ads we made with Portland-area retailers (this one with Counter Media), which run at the Laurelhurst Theater.
---
March 30, 2007 / More →
• Off in the morning to Seattle for the Emerald City Con.
If you too are in Seattle this weekend for the Emerald City Con, don't miss this event on Saturday at the Fantagraphics store. The Fanta gang are trying to rectify the lack of parties at this show, and i for one am stoked! There will be a Jim Woodring show up in their gallery, plus there are bars and restaurants galore in the vicinity. Whoo hoo!
• How cool is Portland City Commissioner Sam Adams? So cool, he's hosting a First Thursday event at City Hall, featuring work by local cartoonists and illustrators 5th, from 5 - 7p.m. Artists include Bwana Spoons, Martin Ontiveros, Carson Ellis, Jenn Manley-Lee, Steve Lafler, Shannon Wheeler, and more.
• Here, here! Howard Zinn on why i think that for as loathsome as GOP ideology and policy is, so are most Dems a bunch of weak-kneed wussies. I dream of a day when we have real, people-powed human beings leading our country. Ah, some day...
• Fanboy ALERT!! Indy snobs, read no further. In case you missed it, the recent Anniversary issue of Fantastic Four (#543) has two fabulous back-up stories, neither of which have ANYTHING to do with this whole stupid Civil War bullshit. The first story, "If This Be... Anniversary," is penned by none other than Stan The Man Lee himself, with bitchin' art by some dude named Nick Dragotta and inks by Mike Allred. It's a load of fun, as is the next story, written and drawn by Paul Pope, with colors by super-stud Jose Villarrubia. With "A Day at the Races," Pope proves that he really truly "gets" the Marvel Universe, in which Johnny Storm and Spider-Man compete for attention.
(The feature story is in current continuity, and thus i just couldn't get into it at all. To be fair, i liked the initial concept and ideas behind Civil War, and actually loved the Illuminati one-shot... but after that, it lost steam and simply didn't live up to the hype.)
• Things you should check out and buy, from the new Diamond Previews.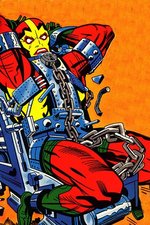 P. 080 Jack Kirby's Fourth World Omnibus vol. 2
P. 257 Elvis Road Hardcover. Buenaventura Press
P. 300 The Black Diamond Detective Agency, by Eddie Campbell (:01 First Second)
P. 342 Mantlo: A Life in Comics, edited by David Yurkovich
P. 366 Modern Masters Vol.12: Michael Golden. (TwoMorrows)
This last item especially makes me tremble with joy.
• Anthology whore that i am, i'm surprised it took me as long as it did, to give a new kid on the block, C'est Bon, a chance. I think i was maybe turned off by the magazine format at first. In any case, the cover for the recent issue #2 kicked my ass, so i picked it up, and am glad i did. I went and rooted out issue #1, and i'm officially a convert.
Details are skimpy, but this is an English-language anthology out of Sweden. Lot's of great material by familiar faces and emerging stars from North America and Europe, with contributors like Martin Tom Dieck, Ho Che Anderson, R. Kikuo Johnson, Daniel Zezelj, Vincent (King Mini) Stall, and Dash Shaw. But there are plenty of new faces too; favorites for me were standouts like Arne Bellstorf, Jimmy Jonsson & Maria Fredriksson, Daniel Savovic, Chiu Kwong Man, Jessica Khane & Pedro Nore, and Jyrki Heikkinen.
It's one of the best anthologies i've come across that effectively blends a decidedly sophisticated European aesthetic with a North American strut. Kudos to editor Mattias Elftorp and staff on a delicious comics feast.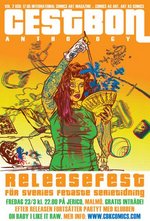 • I recently received an interesting seeming newsletter, that, unfortunately i couldn't read, as it was in Spanish. But this attachment came with it. A beauteous illustration by Brais Rodríguez.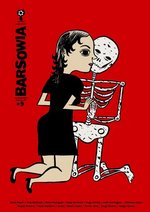 • Another one of the Renee French pieces which will hang in a group show at some two-bit museum, in Europe maybe? What was it called...? Oh yeah, The Louvre.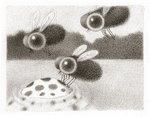 • Here's a neat piece by Matt Kindt. (Matt, i hope you don't mind that i post this... it's just too cool.)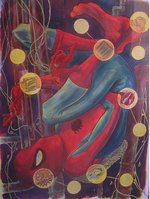 • Digging through some old emails, i found this cover design and paper-doll illustration by kick-ass German cartoonist Markus Mahwil.
---
March 26, 2007 / More →
Marvel isn't the only publisher with a Civil War on their hands. Today, my alma mater Oregon Ducks faced Rob Venditti's repeat champion Florida Gators. A great battle it was, but in the end, the Gator's just proved too big and powerful to handle.
No shame in advancing as far as the Elite Eight in the NCAA Tournament, however. A tip o' the hat to the players and coaches for an amazing season.
• Here's the first in a series of ads our production guy (and former intern) Chris Ross made for my favorite local pub-theater, mere blocks from my house.
• Xeric Award Winning cartoonist Jeff Lemire (Lost Dogs) has launched a new web comic entitled SOFT INSTRUMENTS. The science-fiction/steam punk strip will be serialized regularly on Lemire's new blog. The new project's launch coincides with the release of his new graphic novel Tales From The Farm published in March by Top Shelf Comix.
THE STORY SO FAR...
Welcome to 1997, in a world much different from our own. The rise of the steam age prevented the industrial revolution as we know it from ever having occurred at all. As the world's only steam powered juggernaut, Great Britain spread out and assimilated the rest of Europe into the Anglo-centric super power The Union of European Allies. The cultures and languages of these occupied countries were eventually forgotten or pushed far underground, as the Victorian way was cultivated and held onto as the dominant and accepted culture.
As our tale begins, fabled explorer, scientist, adventurer and Gentleman, Dr. Elezear Zednik is sent to Union Territory #617-03 to investigate a rash of mysterious disappearances among the city's factory workers. As he arrives he is met with hostility and mistrust by the local constabulary...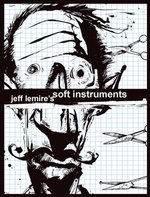 For more details check out Lemire's website.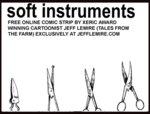 • I'll be attending the Emerald City Con next weekend (March 31 & April 1), and while the show has not developed into the indy-friendly type of show i was hoping it might, based on a fabulous first con, this year they'll have in attendance one of my all-time favorite comic artists EVER. In fact, if he had been more prolific over the years, he probably would have eclipsed the likes of John Byrne and Art Adams for that top spot, not that Art Adams is the picture of prolific. I'm speaking of none other than artist extraordinaire, Michael Golden. This guy's touch is so fucking sweet, he's one of the only artists i'm so hot for, i'll buy a comic he did the cover for, just so i can rip it off and put in in a portfolio. (Two others fit that bill... the afore-mentioned Art Adams, and Mike Mignola.)
As luck would have it, Mr Golden did this year's Emerald City Con poster. Check it out!!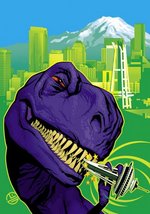 • A bitchin' looking show coming up at Gallery Nucleus, called featuring work from The Ancient Book of War. It's art by Scoot Morse and some of his pals from Pixar.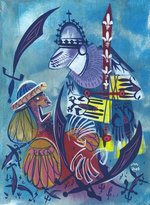 Morse is a freaking genius, and his buddies in animation are pretty much mind-blowing artists all around. As Tom (The Spurg) Spurgeon would say, "If i were in L.A., i'd go to this."
• Farel Dalrymple sent a link to an event here in Portland featuring Jonathan (Fortress of Solitude) Lethem ,with whom Farel is working on Omega Man.
Jonathan Lethem
April 12, 2007
Portland Arts & Lectures
• Meanwhile, two hours south in Eugene, old professor and friend of mine, Ken O'Connell currently has some work hanging at Jacobs Gallery in the Hult Center. He writes:
"Here are some images from the show of my sketchbooks from ITALY and the large, sometimes huge (2 feet by 4 feet) prints, that I have made from the sketches. I scan them at 1200 dots per inch and then enlarge and work on the image in photoshop. Then I printed on Summerset velvet rag paper with pigment archival inks. The paper is hung with eyelets soyou can see the paper without glass or plexi in front of it. The Show is up until April 21."
•Â Finally, feast your eyes on another Renee French piece for the Paris show she''' be in, with Jim Woodring, among others.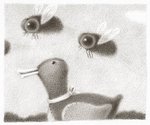 ---