Cheers to Nate Powell and his wife Rachel! They are now that proud parents of beautiful wee little Harper Powell, arrived on this world at 8:59 p.m. on the 5th of December. Nate writes: "She's healthy, well-adjusted, and ludicrously cute. I'll start her off on basic inking skills and then move to more advanced photoshop techniques soon..."
---
Hey kids! Harvey Pekar's Cleveland is listed in the brand spankin' new issue of Diamond Previews — order code DEC111207 — and not only that, but Joyce Brabner has a giant-sized interview in there as well! You can read it right here.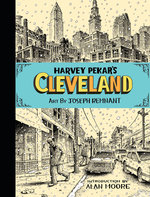 I've said it before, and i stand firmly by it, but i think this is one of Harvey's best books ever, and the art by Joseph Remnant is outstanding. A perfectly complimentary pair!
• Meanwhile, check this!... Kevin O'Neill is selling his original artwork for LXG! Read more about it at Paul (The Man at the Crossroads) Gravett's blog.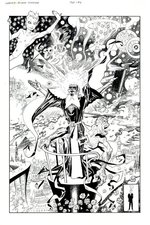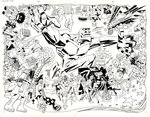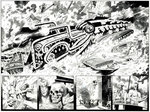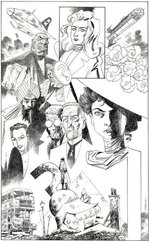 ---
November 28, 2011 / More →
I feel like one of those late night cable access car-salesmen! But really, this is totally good stuff we're offerin' up here, kids! Seriously, if you're ahead of the curve and are buying comics for the digital device of choice, it don't get much better than this. Hell, it makes me want to get an iPad for myself!
Top Shelf Cyber Monday Sale: 30% off everything!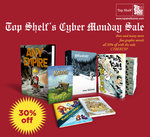 • "A Bit Amish" Comics Legend Alan Moore Goes Online To Honor Harvey Pekar at Fast Company!!
That's really cool!... they even provided a hyperlink to the Cleveland graphic novel on our website!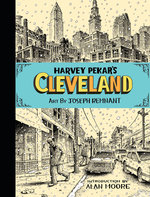 ---
As my partners on the Veeps film and myself find ourselves on the home stretch, i thought this would be a good time to showcase some more work by one of the two key players in our drama. As you may have read in last week's Hey, Bartender blog, Bill Kelter recently took a transformational road-trip. Meanwhile, Wayne Shellabarger too has been busy. Pretty soon (come on now!) Wayne is supposed to have his own website up, which will feature tons of rarely seen comics, posters, and miscellaneous art. Stay tuned.
Here's a 7" record cover Wayne did for San Francisco band Born Petrified. Subtle. Understated. Beautiful.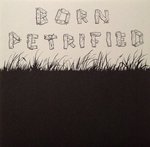 Wayne also did the film poster for a little comic-book short called, Souls of Splendor. It was filmed at Amazing Fantasy in the Sunset District... terrific shop. Check it!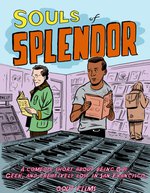 ---
Veepster Bill Kelter waxes nostalgic on "The Cradle of Insignificance," in his new Veeps blog post. Some tasty travel writing and veeps history.
• Steve Lafler's swell new music video!

• Nate Powell -- On The March!! Does this guy ever sleep? From Nate himself:
My site has been totally redesigned! It also features links to the new digital versions of both graphic novels.
I just did the cover for the band Good Luck's new album, Without Hesitation. It's out on No Idea Records, and the artwork was a collaboration with photographer Ben Rains.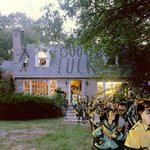 My forthcoming graphic novel The Silence Of Our Friends (written by Mark Long and Jim Demonakos, published by First Second Books) is "Certified Cool" in this month's Previews, and will hit stores in January!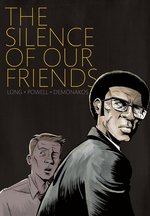 I'll be going on a two-week tour in February, doing discussions, presentations, and signings for The Silence Of Our Friends-- dates aren't set yet, [stay tuned].
I also finished a novel/graphic novel hybrid with writer Cecil Castellucci called The Year Of The Beasts, to be released in May 2012 on Roaring Brook Press.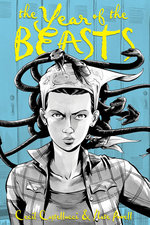 ---