March 1, 2006 / More →
Drove a couple hours south to Eugene yesterday (with a dislocated rib burning in my back, no less), to see a lecture by Art Spiegelman, for the University of Oregon's Comparative Lit program, and needless to say, i was blown away. This Standing in the Shadow of No Towers / Comics History gig isn't anything people haven't been reading about for years, and i'm presuming this was a variation on the lecture he's given maybe a hundred times … considering the ease and wit with which he spoke … but the timing couldn't have been better, since he included as well a slideshow of, and a fabulous context for, the current and raging Danish cartoons controversy.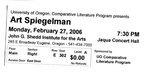 As he pointed out, there's been NOTHING reprinted here in the American (print) media, although it's not too hard to find them surfing around the web a bit. Heretofore i'd seen not a single of these twelve incendiary images. Art filled in so much background into this stunning development (right-leaning editors wanting to intentionally incite a negative response by the nation's Islamic population), that i now have a much greater appreciation for this whole affair, and its developing implications. It sure would suck to have a price on one's head by some angry fundamentalists.
I just checked out Tom Spurgeon's Comics Reporter, and he does indeed have a link to these cartoons.
(As an aside, he also described a similar controversy which happened in the U.S. about a hundred years ago, in which a dispute about political caricatures resulted in proposed …Â and failed …Â legislation that would BAN all political cartoons which casted a bad light on the politico in question, punishable by a year or two in prison, and a $1,000 fine. Wow. And the really crazy thing is how much the climate is tilting that direction again now.)
Art also showcased three cartoons which he banged out last week, just in time to appear in the current issue of the New Yorker* (Feb 27, 2002, cover title "Watch Your Back Mountain" starring Dick & W.). Said cartoons being Art's impulsive response to Iran's "Anti-Semitic Cartoon Contest." (All three using different technique and tones.) This is not a joke. But cooler still, he showed us an as-yet unpublished cartoon that he'd drawn less than a day later (but past the deadline), which responds to what he'd been told was an even more restricting edict for the contest; that the cartoon needed ALSO to refute the existence of the Holocaust.
This sublime full-page piece viewed from a perspective from inside one of the infamous concentration camps, piles of bodies everywhere, shows and a single man amongst many downtrodden prisoners lining up to the gas-chamber, a smile beaming from his happy face, saying something to the effect that, he's not worried, since this isn't "really" happening. Brutal freaking image. I think Art said this will be running in the Nation perhaps? (But don't hold me to it.)
Lastly, peppered throughout the presentation were snippets of Art's autobiographical, comics-form introduction to a forthcoming collection of his long out-of-print Breakdowns material. Can't wait for this!!
I've had so much respect for what he's done over the years (going WAAY back to my love of Wacky Packages), and while i knew that he was a respected comics historian, i was not prepared for such a truly dazzling intellect, nor did i suspect he'd be a real, charming, laid back guy. (I'll admit i was expecting more of the neurotic New York persona he can make himself out to be in his cartoons.)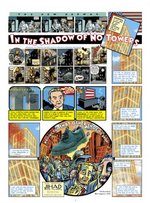 * (This new issue of the New Yorker also has a gorgeous full-page cartoon by none other than the revered Dutch cartoonist Joost Swarte.)
And on a totally different note, the new issue of Mass Appeal i recently picked up, has a tastefully laid out interview with the legendary Dan Clowes. Always nice to see comics bridging over into the mainstream.
Lastly, sad to see another one bite the dust. R.I.P. Speakeasy Comics. There's not much more i can add to this post-mortem, really, so i won't.
Good-bye.
---
February 25, 2006 / More →
Well, not me, but Staros is in NYC right now. As soon as i hear back from him i'll post a brief report. I see mention of this New York show on the newsites already, with lots of the "buzz" announcements that Marvel & DC are fond of doing at established big shows. You know, "This guy goes exclusive...," and "The fifteenth relaunch of that [franchise super-hero] debuts by such & such creative team." Clearly it seems they're hoping to make their home turf work to this advantage as well. While i certainly value using conventions for their publicity value, i'd like to see the Big Two (and the larger mid-size companies) do something a little more creative at these shows. Follow the European vibe and create exhibits which celebrate what we have, in the moment. Ah well... it's late, and i'm rambling nonsense. Must... finish.. blog.
At any rate, tonight was also fun me too, as i got out of the house and met my sister Nicky at Biddy's Irish pub for happy hour, and enjoyed some tasty music by local legends (in the hillybilly/folk/roots scene), Billy Kennedy and Lyne Conover. Haven't seen these folks for a long spell, and it sure was nice to do a little dancin'. These cats can really get down.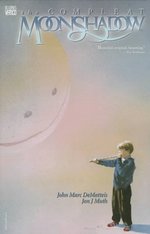 Then it was off to Dark Horse editor Philip Simon's pad (along with his girly Kate), for a smallish housewarming party. One of my favorite things about visiting friends in comics is checking out their bookshelves, anticipating the chance of finding some beautiful treasure i've never seen. Tonight was no exception... the first thing i laid my eyes upon was a fabulous 10-year old hardcover edition (in b&w) of Ted McKeever's Metropol. I never even knew this existed, and didn't catch who published it. He also had a luscious hardcover edition of DeMatteis & Muth's Moonshadow, which … based on the stellar production …Â had to be an older Graphitti Designs edition.
(* Side note, right next to that was an older softcover edition of Frank Miller's Ronin. I Freaking LOVED that book when it came out [and still do, of course], but it got me wondering if DC, or anyone else ever did a hardcover version of that. Anybody ever heard of this?)
Anyway, present at the shindig were a few folks i know, including Mark, the ex-proprietor of the old Dr. Tongue's toy store; Shannon Stewart, current proprietor of the new toy store Missing Link (over on Belmont, across from the old dairy); Craig Thompson and his new gal Julie; and Andy, owner of the portland comic shop Cosmic Monkey.
Philip is from New Orleans, and in honor of his bruised & battered hometown, the hoedown was a full-on cajun affair. He made a homemade gumbo that kicked my ass!! I had already eaten dinner, but it was all i could do to not eat more than the two bowls i harveled down.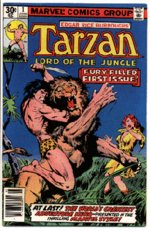 Philip is one cool cucumber, and was recently promoted at Dark Horse. Well deserved, i might add. He's been working on the Joe Kubert Tarzan archival books as of late, and for some reason had a spare copy (which he graciously gave to me) of a French edition, oversized hardcover of the first eight issues of Tarzan, John Buscema drew for Marvel, back in the early 80s. I wouldn't say it was his most enthusiastically drawn comics overall, but the first two issues, which he inked himself are absolutely inspired …Â especially in b&w. Really gorgeous material, rooted in the Milt Canniff / Hugo Pratt school of expressive realism. I did a quick search and found a website that had a couple preliminary sketches John did on this run. Buscema is vastly underrated, i believe. Perhaps he gets flack for How to Draw Comics the Marvel Way. Myself, i love this book.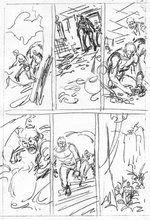 That this book is in French is even better. I cracked it open, to read (in a chest-beating pose), "Je Suis Tarzan!!"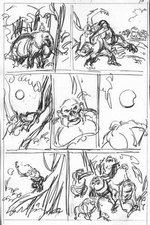 Magnifique!!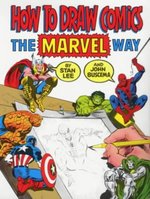 ---
February 22, 2006 / More →
Too freaking busy to write a real post right now. At any rate, let me at least post a few more sketches that Aaron Renier whipped up for two different postcards. One is a general promotional image for his graphic novel Spiral-Bound, and the other is for our Christmas card, due out in 10 months. These are the final round choices, but i'm not telling which ones are the actual final images.
Thanks, Aaron! I hope you don't mind me showing your work-in-progress: )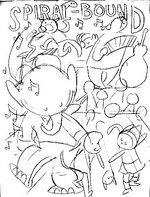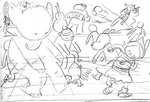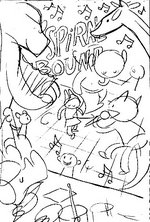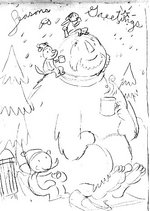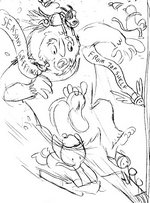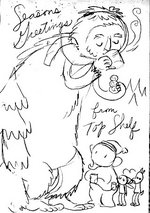 ---
February 18, 2006 / More →
Wow. I have been so pummeled since returning home from San Francisco. (Last of the WonderCon notes to follow.) I thought maybe folks might be interested in knowing exactly what the hell i actually do here at Top Shelf, so i'll make a laundry list of stuff i've done since i woke up Tuesday morning (in addition to being a full-time stay-at-home Dad with a sick kid), or things i am currently wrapping up.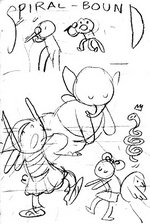 •Â Assembled and emailed out all of Craig Thompson's book covers for the 2007 editions of Novel & Short Story Writer's Market and Artist's & Graphic Designer's Market.
•Â Formatted and emailed Jeffrey Brown's new cover (Every Girl is the End of the World for Me) to Wizard, for inclusion in an upcoming installment of the "Secret Stash" column.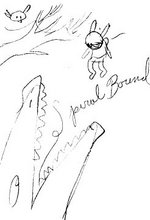 •Â Sent art and cover for Max Estes' Coffee & Donuts to Neil Figuracion, for a review over at Broken Frontier.
• Worked back & forth several times with Rob Venditti, Brett Weldele, and (designer) Jim Titus on finalizing the cover for the trade paperback edition of The Surrogates. (It's gonna be sweet!)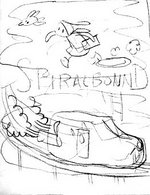 •Â Responded to interview questions from Mark Nevins, for the outstanding Swiss comics magazine, Strapazin.
•Â Formatted and emailed out 10 pages from Alex Robinson's Tricked, for inclusion in the Anne Elizabeth Moore edited Best American Comics anthology.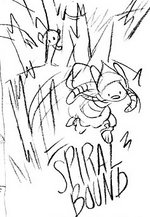 •Â Finalizing details for a big pre-APE signing at Joe Ferrara's Atlantis Fantasy World in Santa Cruz, including Renee French, Alex Robinson, and Jeffrey Brown.
•Â Reviewing and responding to Aaron Renier's preliminary designs for two postcards. One general postcard promoting his book Spiral Bound, and the other, our Christmas card for 2007.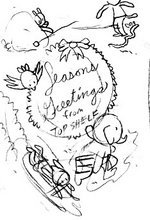 • Brokered a little swap with Arts Editor Natalie Nichols from L.A. City Beat, for a couple copies of their recent all-comics issue.
• Formatted and emailed the inside covers of Derek Kirk Kim's Same Difference and Other Stories to his Italian editor Laureanno Dominguez, at publisher Astiberri.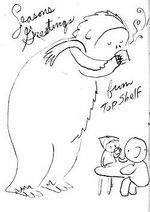 • Putting final touches, writing printers notes, and getting Jeffrey Brown's Every Girl is the End of the World for Me, and Jeremy Tinder's Cry Yourself to Sleep off to our printer Lebonfon in Quebec.
•Â Was invited to Eugene (2 hours south) for a conference featuring art spiegelman at the University of Oregon (my alma mater), and planned for this overnight trip. (Have to clear stuff like this with the wife, after all.)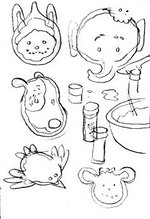 •Â Cried in my beer upon hearing that the Senate Intelligence Committee is trampling our Constitution by rejecting a probe on the "wiretapping" scandal, at the same time that the full Senate voted to re-up the Patriot Act, with it's Orwellian language allowing innocent Americans to be spied on, records searched and the like, for no probable cause.
•Â But then laughed my ass off when i read that Harry Whittington APOLOGIZED to Dick Cheney for the trouble he caused the VP. For, you know, getting shot in the chest, neck and face.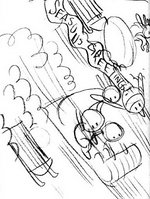 • Working to assemble the new edition of From Hell (AND a new hardcover edition!), and get that sucker back in print.
• Working with my intern Alan on production for Nate Powell's comic Please Release.
• Watched last night's stellar Smallville episode, with the debut of Cyborg. (Which more than made up for last week's super-stinker.)
* Much discussion with Jeffrey Brown and Chris (Staros) on specs for Jeffrey's forthcoming, expanded edition of I Am Going to be Small.
•Â Did several loads of laundry and two shopping trips.
•Â Received and responded to several submissions.
•Â Sending a galley of Jeffrey Brown's Every Girl is the End of the World for Me to Byron Kerman at Playback.
Whew!!!
Wrapping up the WonderCon notes:
Have i mentioned how freaking much i LOVE San Francisco? Well, it's true. That city kicks ass, plain and simple. Better yet, this was the first trip i've ever taken to SF where i didn't use my map once. At the con itself, i was set-up across from Brett at Alias comics. We're two very different publishers, but it was fun comparing notes. Real nice guy. Met new CBLDF hire Greg Thompson on the same night i hung out with a bunch of the cool peeps from Image. Had a REALLY swank dinner, courtesy of my pals Patrick and Jean Guy from Lebonfon. Stayed at my pal Wayne (I'm Totally Helpless) Shellabarger's pad, across the street from Golden Gate Park. (Man, we geeked out big-time on comics. Spent lots of hazy time pouring over that incredible, oversized edition of Windsor McKay's Little Nemo in Slumberland.) Had an amazing BBQ brunch on lower Haight (across from The Toronado.) Met and talked with Swamp Thing scribe Josh Dysart. I can't afford Marvel or DC Comics, so the only issues i have of this run (two of which are written by Will Feiffer) are the ones drawn by Richard Corben. Good stuff.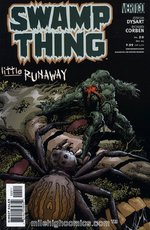 Speaking of not being able to afford Marvel and DC comics, a copy of the deluxe signed & numbered LOST GIRLS by Alan Moore and Melinda Gebbie (as well as comps for ALL our books), to the DC editor who steps up and gets me on their comp list. Schreck? Cavalieri? Dunbier? Any of you guys reading this?
---
February 16, 2006 / More →
... so i can post while i'm away from home. I've certainly lost any momentum i had going on this blog gig. Sorry for the delay, friends.
Back from WonderCon a couple nights ago, only to arrive home to find wee little Carter sicker than a dog, throwing up and, well... that other thing one might encounter when battling a stomach virus.... Yeesh. Poor little guy. Few things are more sad than helplessly watching a 14-month old in this much pain.
So yeah, WonderCon.
The show was certainly well attended. So much so that on Saturday, the Fire Marshall was keeping people from entering at one point. (Rumor was too, that same Fire Marshall was monitoring CO2 levels? What the...? I know comics fans can be geeky as hell, but this wasn't a porn convention!)
That said, for Top Shelf, sales were just o.k. sale. For a company that really relies on convention sales to pay some bills, Friday was a near-disaster. This seemed to be similar for other exhibitors as well. (Of course, the back-issue bin dealers seemed immune to this.)
Saturday was a good day, but it was also a grueling nine hours long. Ouch.
Sunday was looking grim, until i scored some wholesale sales with Last Gasp, Lee's, and Isotope. Love ya!
Theories abound as to why San Francisco comics shows don't seem to generate the kind of sales we see elsewhere. (Even APE -- which you might think would rock for Top Shelf -- is teeming with locals low on the cash flow.) And the truth is, they all have a point to be made. WonderCon in particular though, like San Diego, is as much a multi-media event as it is a consumer comics show. We had Bryan Singer and Brandon (Superman) Routh commanding long lines. (So i heard.) Kevin Smith was on hand, signing... hmmm, i'm not sure what he was signing, but that line sure was long. And on the comics front, the big guns really stole the show, including Grant Morrison, Frank Miller, and Jim Lee. The DC news-machine also seems big at WonderCon.
Another posited explanation for mediocre sales is that San Francisco is still reeling from the post dot.bomb bust a few years back. There's no doubt it hit the local economy square in the jaw, but would it still be this damaging? Any locals have any thoughts on this?
The best theory as i see it, is that the Bay area in general is serviced by no fewer than close to a dozen exceptional comics shops. (Heck, even the book stores kick ass in San Fran. I NEVER make a trip to SF without a visit to Green Apple Books in the Richmond District. Second only to Powell's here in Portland for the selection of new AND used graphic novels.) And so the line goes, that given the availability of not just Top Shelf books, but a wide array of comics overall, any fan of our books will most likely have already picked them up.
This makes sense. It also makes sense when you consider that (oddly) in San Diego, to my knowledge (sorry if i'm mistaken), there's not one single marquee, destination comics shop in the whole of San Diego.
I've got more WonderCon report stuff to cover.... but holy mama i'm so tired. 3:00 a.m... must go... to bed... more on the... flipside.
---