May 17, 2006 / More →
I've been so lame at this blog thing, as of late. How do some of these cats put in so many hours on a non-paying gig like blogging? I've gained a huge new respect for the folks who put in the time writing considered thoughts on the comics medium and the industry through which it flows.
Moving right along, if you don't dig hoops, then move on to the pretty pictures up ahead.
Now, i'm a Phoenix Suns fan, first & foremost. I have been for three years or so... since they picked up Steve Nash at point guard, to be exact. Seriously, i love this team. I like the style of ball they play. I like their players. Guys like Boris Diaw, Raja Bell, Leandro (The Brazillian Blur, fastest guy in the NBA) Barbosa, and newly acquired Tim Thomas are all great loads of fun to watch. Game Five is starting right now... gotta run.
(And imagine how they would be playing if they had the injured Man Child and Kenny Thomas playing in their line-up!)
But at any rate, if there is one thing this series has done, it's also made me a fan of the Los Angeles Clippers. With old-school, smack-talkin' leadership by Sam Cassell, the inside presence of the studly (and likable) Elton Brand, young kids like Shawn Livingston, and vets like Catino Mobely... they are a team of the future, and one to watch.
In the end though, neither one of these teams will beat the Juggernaut that is the Dallas Mavericks in the Western Conference Finals. Mark ("i'm richer than most 3rd-world countries combined) Cuban has finally put together a real contender. And kudos to Avery (The Little Tyrant) Johnson for whipping these guys in defensive hound-dogs.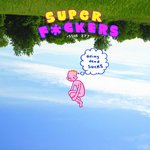 O.k. On the comics front, last week i sent two new books out the door... keep your eyes peeled for James Kochalka's SuperF*ckers #3 and Lille Carrè's Tales of Woodsman Pete.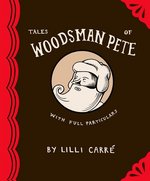 And in a day or two i'll have the expanded reprint of Jeffrey Brown's cartoon tour de' force I Am Going to be Small, also heading out the door to our friends at Lebonfon.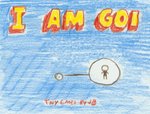 (Jeffrey's cover rough)
* Now for some fanboy goodness. Here's a listing of books DC is listing for Fall release. The one's i have my eye on picking up are listed in italics. To which i say, curse you DC Comics! I love this archival work coming out right now, but alas, it's all maybe too rich for my blood. I might be able to score half of these.
Re: Archival work. At this moment, DC is simply shredding Marvel (and Dark Horse as well) in the category. DC's Showcase series has allowed them to re-release some seriously wacky and cool comics. Metamorpho? Yes!
• INFINITE CRISIS HC
• ENEMY ACE ARCHIVES VOL. 2 (Kubert, Russ Heath, Neal Adams, etc.)
• JUSTICE VOL. 1 HC
• SHAZAM FAMILY ARCHIVES VOL. 1
• SHOWCASE PRESENTS: BATMAN VOL. 1 (Infantino at his artistic peak)
• SHOWCASE PRESENTS: CHALLENGERS VOL. 1 (Kirby, Bruno Premiani, Wally Wood, etc.)
• ABSOLUTE NEW FRONTIER (Darwyn Cooke's epic masterpiece)
• ALL-STAR SUPERMAN VOL. 1 (Sublime)
• NEW TEEN TITANS ARCHIVES VOL. 3 (Part of my personal Holy Trinity)
• SHOWCASE PRESENTS: PHANTOM STRANGER VOL. 1
• ADAM STRANGE ARCHIVES VOL. 2 (More delicious Infantino and Murphy Anderson)
• BATMAN: DARK KNIGHT ARCHIVES VOL. 5
• SHOWCASE PRESENTS: SHAZAM VOL. 1
• SUPERMAN: MAN OF STEEL VOL. 5 TPB
• SPIRIT ARCHIVES VOL. 20 (I've got everything post-WW2)
• GOLDEN AGE DR. FATE ARCHIVES VOL. 1
• NEW TEEN TITANS: TERRA INCOGNITA TPB
• SACHS & VIOLENS TPB
• SHOWCASE PRESENTS: THE UNKNOWN SOLDIER VOL. 1 (Kubert, Doug Wildey, etc.)
Finally, several weeks ago, i posted some rough sketches that Aaron Renier had done, one set for a promotional postcard pimping his excellent graphic novel, Spiral Bound, and the other, the Top Shelf Christmas card for later this year.
Here are the two finals, for your eyes only. Can this guy draw, or what!?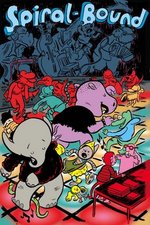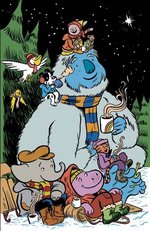 ---
---
May 8, 2006 / More →
Finally got a chance to read a few things i picked up on the early-season convention circuit:
Soft Smooth Brain #7, by Bwana Spoons. This is one hella kick-ass book. I've been a fan of Bwana Spoons' comics and zines going waaaay back to his seminal Ain't Nothin' Like Fuckin' Moonshine. But this issue of S.S.B. represents a monumental leap in his stylings, reminiscent of Ron Rege or some of the old Fort Thunder peeps. Really solid stuff, and highly recommended. For more info check out www.grasshutcorp.com.
Paperdummy, by Peter Conrad. A mini-comics collection of short autobiographical one-page strips. Ironically, Top Shelf helped spawn a glut of really truly horrible auto-bio comics, with the release of James Kochalka's Sketchbook Diaries. (Which i feel have yet to be bested in this genre.) That said, Pete Conrad has done a wonderful small body of work, which has tons of charm and very witty insight. I'm really impressed with this mini, and hope to see more. I'm reminded of Sean Bieri's Jape comics. Nicely done.
Things Fall Apart. This is the third collection of miscellaneous drawings by Mike Huddleston. Holy fuck, this guy can draw!! Mike did The Coffin (with Phil Hester) with Oni Press a few years ago, Deep Sleeper (also with Phil Hester), Mnemavore (with Ray Fawkes), and is currently drawing a Manbat mini-series written by Bruce Jones. Amazing chops on this cat, all of which is worth tracking down.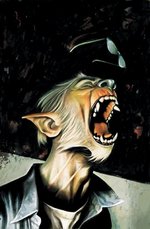 Captain America 65th Anniversary Special. We've got the Brub (Ed Brubaker) writing, with Javier Pulido and Marcos Martin crafting spectacular art on an espionage story that goes back to WWII, and a team-up with Sgt. Nick Fury and his Howling Commandos. I haven't read the first collected edition of Ed's run on the regular series yet (though it is in my to-read pile), but if it's half as much fun as this, then i can't wait to dive in. This is a great example of mainstream comics that rock.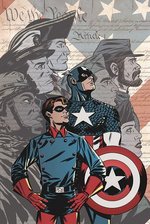 Meanwhile, how about those Phoenix Suns, coming back from a 3 games to 1 deficit against Kobe Bryant's L.A. Lakers!! What a killer series this has been. (I LOVE to see the Lakers lose.) Next up, Suns vs. the other L.A. team, the Clippers. Should be good.
---
May 3, 2006 / More →
First of all, with the news that Lost Girls is at the printer, we're starting to get some buzz. The first 2-part interview that rolled out was conducted by Kurt Amacker over at Cinescape, and it is awesome. Alan really explains how and why this book is so important. Check it out.
Second, as per his usual excellence in blogging, Steven Grant throws in some fabulous insight into the history of comics culture in his new column, and how that has affected scheduling. And i mean that in a not-so-good way. He uses Grant Morrison's 7 Soldiers of Victory as a current example, but this is a widespread problem in mainstream comics;Â announcing and soliciting comics before the work is done, only to lose big face when the book is due, and it's not ready for consumption.
Actually, this is the very same reason why Chris and myself decided, almost a decade ago, that we wouldn't serialize comics at all. In fact, in a sense, we sort of broke the mold, with the decision to not serialize the mammoth Blankets. That (coupled, to be fair, with the phone book Cerebus volumes that Dave Sim has been releasing for forever now), has lead to the current trend for releasing anything and everything in the comics-brick mode. (Maybe i'm talking out of my ass, but i think not. Readers feeling i am talking out of line are welcome to write in, and i'll post their response here.)
Lastly, in the better-late-than-never category, here are the few pics i snapped at APE a few weeks back, before my camera battery died.

Aaron Renier, Liz Prince, and Jeffrey Brown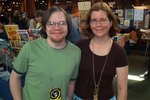 Jon Lewis and Jennifer Daydreamer (two members of the seminal Seattle Scene from the mid-90's, including Jason Lutes, Ed Brubaker, and Tom Hart.)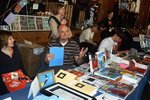 Kelley Seda, Chris (AdHouse) Pitzer, and Scott Morse.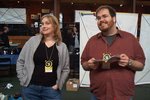 Kristen Siebecker and Alex Robinson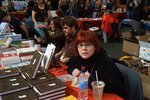 Renee French (Wha..?)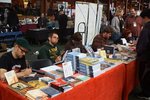 There's Top Shelf Webmaster Nate Beaty, on the left, pimping his truly excellent comic book BFX.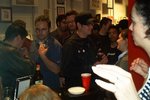 This was my view, mixing margaritas as guest bartender at Isotope. Their new digs are much more spacious than the one in the Sunset, but true to form, it still got PACKED.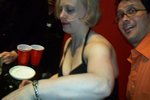 The lovely Kirsten Baldock (and yours truly), who so graciously shared her Sacred Bar Space. (Inside bartender thing.)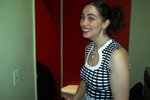 Sequential Tart Adrienne Rappaport … Queen of the Beer Taps.
---
May 1, 2006 / More →
Well i still haven't had much time for extracurricular entertainment, and i haven't been able to keep up with juicy comics industry developments either, but i did read just now a very inspirational (if somewhat depressing) essay by the great investigative journalist Bill Moyers, A Time for Heresy. If you have any interest in reading more about the real world in which we live, this essay might open some eyes. Especially as it pertains, given Moyers' professed and upstanding Christian Values, to the hypocrisy of the movement of the modern religious right to marrying church and state, all the while acting against the very values they profess to hold.
Oh, and i suppose, in all fairness, i can't say i haven't seen anything... during this final stretch of pre-production on the New & Improved edition of From Hell, i found myself rather enjoying a 48-Hour Nickelodeon Marathon of Miami Vice. I know, i know... i'm dating myself (hey, i am 40 years old, after all), and yes much of the trappings of this show are dated as well. But that said, if you can get over the pastels and Phil Collins tunes, it holds up pretty well. You can see where Michael Mann cut his teeth on this tv show, and episodes from the early seasons especially have plenty of gritty goodness. (Including the offing of Crockett's original partner, Jimmy Smits, the sacrificial lamb, whose death was necessary to bring in the laid back Tubbs.)
Plus, in just the several episodes i caught, there was a plethora of guest stars (who at the time i originally watched these, back in college, i had no idea who they were), including: Frank Zappa, Pam Grier, Steve Buscemi, Willy Neslon, and the latino crew-member from the second-to-last (and lame) Star Trek spinoff. Oh, and Edward James Olmos as Lt. Castillo was just a supreme bad-ass.
I really can't believe i liked watching these again as much as i did. So sue me.
---