June 26, 2006 / More →
The entire family here at Casa de Warnock has been sick like dogs. A freaky virus that has every one of us exhibiting different symptoms, in addition to a few shared. Add to this our old house (with NO air conditioning) and 100º days, and it's the outright Portland Misery Festival right here. Whoo hoo!
That said, i have been working with Chris to wrap up the new edition of From Hell and get it to the printer. So not all is lost.
I did read a new(ish) comic a couple days ago, and it's a doozy. I'm talking of course of Kevin Huizenga's OR ELSE Vol. 4, published by the great Drawn & Quarterly. And it's yet another gem, from one of the most under-rated cartoonist working today. Kevin is (or was... maybe he's moved?) part of a thriving comics collective in St. Louis, which includes a number of stellar talents, including Dan Zettwoch and Ted May.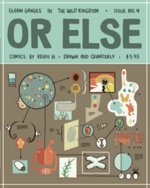 Where most reviewers focus on Huizenga's command of his formal skills, and how he applies them to the stories he tells, i'm actually more drawn into his work for his ability to capture small moments; his ability to convey a palpable mood and setting that feels like you've been transported right there. He's been doing this for years, going way back to his formative mini-comic, Supermonster.
In other news, i must say my inner geek is totally fired-up to find a postcard at MoCCA announcing the release of the long-awaited, previously defunct fantasy anthology edited by Jeffrey Brown, called Elfworld. The buzz around this book has been big for years, and knowing that it's coming out warms the cockles. It's being published by a newer outfit called Family Style.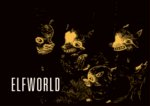 ---
June 21, 2006 / More →
Down two breezy games to none against the Mighty Mavericks, and down by 13 points in the third quarter in Game 3, the underdog Miami Heat, under the dominating will of Dwayne (the clear MVP) Wade, have won four in a freaking row to win the NBA Finals. And in Dallas no less.
I would have liked to have seen either team win (since the Suns weren't there), but in the end, the better team won. Miami stepped up their defense like were amped on crank, causing the normally in-control Mavs to scramble, lose their rhythm, and miss shots.
This has been the best Finals i've seen in years. (Though my favorite playoff series in the Modern Era was the Western Conference Finals a few years back between the Lakers and The Sacramento Kings.)
I loves me some hoops, but i'm breathing a heaping inhaler blast of relief right about now, knowing that i won't have to watch any more sports for at least a few more months. (Well, except for the World Cup.... and maybe Grand Slam Tennis.)
And moving onto some comics news, i must say what a surprise it was to take my weekly trip to one of my favorites comics websites, Ninth Art, only to read that this was to be their last issue. Andrew Wheeler was the guy i knew personally involved with the effort (though i did meet Antony Johnston at SPX a few years ago), but there were a lot of people who made this site what it was.
This last ish includes an interview with the quite talented Ed Piskor, whose comics grace the comix section on our own site, in collaboration with Underground legend Jay Lynch.
Also in this volume, their annual Lighthouse Awards, with the Publisher of the Year category going to the well-deserved Oni Press. (Two words. Scott. Pilgrim.)
What i loved about Ninth Art was that it had interesting, well-considered (if not stubbornly opinionated) content, excellent interviews and reviews, and most importantly, a Unique Voice. It had super simple design, but was more than effective. I HIGHLY recommend that readers traipse on over and check this out.
Kudos on a great run, folks. I'm truly going to miss ya. I hope that you're able to leave the site up for archival purposes, as did my last favorite, now-defunct comics weekly site, Savant. Best of luck with the next gig, for all of you.
---
June 18, 2006 / More →
Shoot... so hard getting back on the horse when i've been away. To recap the last ten days.
MoCCA. good. Sales were down a little from last year, but hey …Â the crowd was steady, the vibe was groovy, and we were in New York, so that's o.k.
Good times at the Top Shelf booth. We had Alex Robinson, Tony Consiglio (whose 110Per¢ debuted), Lilli Carre (Tales of Woodsman Pete debut), Rob Venditti, Andy Runton, Jeremy Tinder, Chris Duffy (from Nickelodeon) pimping Grampa & Julie, the aforementioned Liz Prine and Aaron Renier, and of course, Papa Chris.
Publisher's Weekly wrote:
"...Lilli Carré was in Top Shelf's booth to sign the biggest debut of the show, Tales of Woodsman Pete…and they sold 125 copies of it over the weekend." (Subscription required, i think.)
Saw lot's of friends, partied pretty hard (the Barcade party by Sparkplug fucked me right up), played foosball at the Fantagraphics party, ate some lame and some great grub. Walked a lot. Rode the subway more times than i can count.
Stayed two nights at Aaron Renier's pad in Brooklyn (as did Liz Prince, in from Boston), and my last night at Gregory Benton's beautiful place on the Upper West Side.
I visited a plethora of bitchin' comics shops (Rocketship, Forbidden Planet and Jim Hanley's) and bookstores (The Strand and Virgin Megastore), and amazingly only spent $30!! I'm shocked and amazed. (The big ticket item, volume 2 of The Times of Botchan manga reprint, by Jiro Taniguchi [author of The Walking Man] and published by Potent/Fanfare.)
Meanwhile, once again my amigo Gary Butler asked me a couple geeky questions recently, and i thought the communique worthy yet again some bloggity fun.
***********************************************
On Jun 16, 2006, at 11:25 AM, Gary Butler wrote:
I am not a fan of Grell's writing at all. I enjoyed LONGBOW HUNTERS at the time that he did it, and felt that it evinced a (dare I say) maturation in his style. But I can't say that it aged well at all. (Still own it, mind.)
Brett responds:
As i mentioned in an earlier email, when i was 15 i was a HUGE fan of Warlord, but i just never liked his superhero stuff. In fact, i hated it. I'd totally lost it for him with Sable (The assassin who moonlights as a children's book author? What the fu.?), and never even picked up on Longbow Hunters when it came out. (Although i bought it a few years ago after i'd read a seemingly enlightened review of it, on how much deeper it runs than it's credited for. Bullshit. I sat down to read this thing and literally couldn't get past the first 10 or 15 pages. Just horrible stuff.)
Gary Butler wrote:
You a CONAN fan at all? Me, not so much. Never read the Howard. Hated the Arnold movies. Never got into the Marvel stuff. I have the entire Dark Horse run and have read maybe a third of it; it's clearly top-notch stuff, but consistently fails to make me want to immerse myself, so I have to figure that Conan's just not m'man...
Brett responds:
HUGE Conan fan, starting with the paperbacks with the Frazetta (and a few Boris) covers when i was but a wee lad. Those were great, especially the visceral writing of Howard himself. Hated the Conan movie... yeah, like this wimpy kid was forced into slave labor pushing this wheel around for ten years, and now he's a freakishly buff fighting machine... god that's so lame.
Anyway, i LOVED the long Marvel run by Roy Thomas and John Busceme (inked by Ernie Chan). Really beautifully drawn and well written fantasy. In fact, it's some of the tiny amount of fantasy i have in my library at all. The Dark Horse reprints of these are awesome, and well worth picking up. All the way through the first ten volumes. (And up until they reach issue #100, after which the magic flame burned out and quality plummeted.)
If you try any more Conan ever, go straight to the source and read the originals by Robert E. Howard.
Gary Butler wrote:
Now, early Cerebus, *there's* a charcter...
Brett responds:
Waaaay late on this bandwagon, and at about the time i was about to dive in, he launched his screed against womankind (i think it was called Reads?), and now i have no desire to ever read Cerebus.
***********************************************
---
June 9, 2006 / More →
New incredible work by Martin Tom Dieck in Strapazin. If you don't know this guy's work, i highly recommend seeking it out. Strapazin is a comics anthology /review magazine out of Germany and/or Switzerland. (I think they have offices in both, but i'm not exactly sure where the World Headquarters are.) The focus being what we call Lit Comics... sort of a polar opposite of our own Wizard magazine (which my inner fanboy loves quite enough, thanks).
Very happy with Jeffrey's cover painting for I Am Going to be Small.

Off to New York. Thanks for the ride, Steve Lafler!!
---
June 7, 2006 / More →
two fabulous links.
Melinda Gebbie in the house at Suicide Girls. Interview by Daniel Robert Epstein.

Review of Jeffrey Brown's coda to the Girlfriend Trilogy, Every Girl is the End of the World for Me.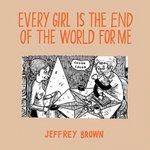 ---