---
I know a cool game!… let's play How Many Top Shelf Books Can You Spot in this article "Pray For Rain: Perfecting the Parka Look," in the new GQ magazine. First person to send a correct answer to me via Twitter or email wins, um… any in-print graphic novel in our catalog.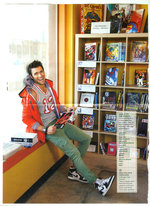 This, by the way, is none other that Portland's own Bride City Comics in the Mississippi neighborhood. Portland has lots of great shops, but for whatever reason this small store sells more Top Shelf books that the rest combined. Worth checking out if you find yourself in the neighborhood.
• Chris Elipoulos too is featured in a fancy mainstream magazine, Saveur, in an article titled "Hungry Heroes" by Helen Rosner.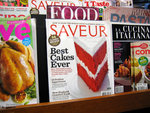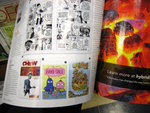 Chris also had this recipe for fried smelt published in Saveur.


• Dark Horse editor Diana Schutz's 'Manara Library' volumes are flat-out gorgeous. Nicely done, Diana!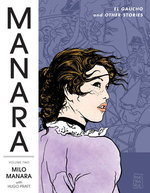 • New art by Gregory Benton.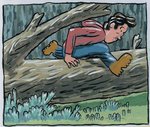 ---
Verily, i am returned from a meeting of the minds, and the Top Shelf Summit at Chris' pad in Atlanta. Good times. Plans are afoot for the year and beyond.
• Nice. Jess Smart Smiley's nifty Valentine's Day card.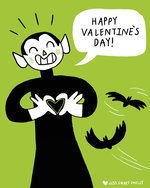 • James Kochalka does Tumbler.
• Jennifer Hayden has started a daily comic diary called Rushes, ala James Kochalka's long-running American Elf. Frankly, most diary comics are pretty weak, but Jennifer understands this medium in a way that too few cartoonists get. A fine addition to the genre of autobio comics.
She writes: "Rushes is my way of returning, for fifteen minutes every night, to a looser drawing style, and to view the 'rushes' of the 'inner' filming of my day."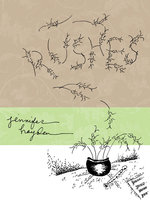 • Long time friend Christine Norrie is doing a yoga comic, called New Yoga City! Sweet. I've been practicing for about 5 or 6 months myself, and i must say, it's been a sublime experience thus far. Christine does a wonderful job translating the experience into comics.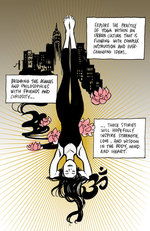 • Kagan McLeod continues to astound, with another kick-ass video, Infinite Kung Fu—Master of the Flying Guillotine time lapse drawing. If you haven't seen or read Infinite Kung Fu yet, you're really missing out. This is one our most high-flying awesome action epic gargantuan books ever. [No, really…]
• AX cover artist Akino Kondoh's smart, stylish little trailer for, i think (?), a new book. Maybe an art show?

Planète Manga ! du 11 février 2012 au 27 mai 2012 by centrepompidou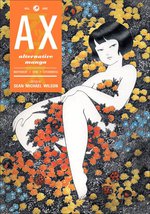 • Finally, here's some Fan Fiction from Dark Horse editor-whiz Scott Allie's kid. (Who happens to be in my kid's first-grade class.) No less than Korgi #4! Christian Slade, look out, dude!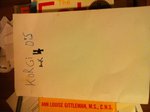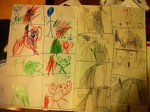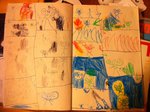 ---
From a recent Book Brahmin column in Shelf Awareness, check out this cool drawn questionnaire from Nate Powell. (Large version via the link.)


• Eric Reynolds at Fantagraphics sent me the news about an upcoming show in Seattle at their store called Funny Valentines: A Tribute to Jack Davis… man, this sounds cool. If you live in or near the Emerald City, head on over.


• Finally, i have to chime in on the new Van Halen album, A Different Kind of Truth. I've listened to it three times now, and i'm digging it big time. I've heard some haters already who, frankly, i'd wager never liked Halen in the first place. Whatever.
This i know: Los Bros Eddie and Alex can still kick out the monster mammojams with anyone. Eddie's style has evolved without losing the signature sound that makes him a household name with any true rock guitar fan. And Alex, well… he is THE thunder god drummer-of-choice in my book.
Wolfgang, Eddie's son, does solid work on base, even though i do miss Michael Anthony's chops. Where Mr. Jack Daniels is really missed is his classic squeeze-your-balls, high-note vocal harmonies.
Which brings us to Diamond Dave. I'll be the first to admit a love/hate relationship with this guy, but no matter how you slice it, he's the best suited front man for Eddie of all time. David does a pretty damn good job here, and sounds terrific… except for occasionally struggling to hit some of the falsettos that were his calling card of yore. Overall, i'm impressed at how he's able to adapt his aging pipes to still keep it bluesy.
Now, unlike some, i liked the Van Hagar era and think Sammy was great with the boys, although i really considered them a whole different band altogether. That said, it's great to hear Dave again back where he belongs.
The sound of this record stylistically and tonally is probably closest to the Van Hagar record, FUCK (For Unlawful Carnal Knowledge), from way back, which is not a bad thing. Great production values and balance as a whole.
Van Halen. One of my favorite bands ever. Back from the grave!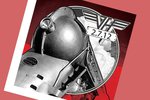 ---
February 5, 2012 / More →
This in the current new Diamond Previews, in comics shops now, and online.
Staff Pick: Pterodactyl Hunters in the Gilded City
Publisher: Top Shelf Productions
Item Code: FEB121159
SRP: $9.95
PREVIEWS Page #328
In Shops: 4/25/2012
"Brendan Leach spins a remarkably powerful fantasy short story in the dinosaur-infested urban sprawl of the early 20th-century. With no lengthy explanation of how and why there are still thunder lizards hunting humans in the New York City streets, Leach drops the reader square in the middle of a hunt. Adrenaline runs high while three men in a tiny hot air balloon basket fight an aerial battle against a predator that far outclasses them in speed, size, and maneuverability. Yet, it's the aftermath that makes this such a subtle and intriguing read!
"Eamon and Declan are brothers by blood and by shared membership in a heroic profession. Yet Eamon's the one up in the basket every night, while Declan remains in the watchtower. Declan's young still, and he does understand rationally that he's not ready — but the pterodactyls are nearing extinction. Eamon and the team are very good at their job, leaving Declan with little hope for his own shot at heroism. Worse, no matter who slays the final beast, the City will disband the Hunters and leave Declan and his brother without prospects or the safe legacy of his family's traditional trade.
"A brilliant and totally immersive one-shot, this is a must read! But that's not just my opinion. It was honored with a Xeric Grant and inclusion in 2011's Best American Comics (AUG111091). This stand alone release was a long time coming and more than well-deserved."
~Sarah Martinez
There you have it folks! Sarah at Diamond would not let you down, so order a copy from your LCS (local comics shop) asap!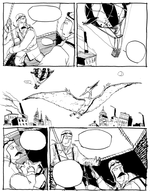 • Top Shelf alum Rick (Shuck Unmasked) Smith has been busy with his terrific cycling comic Kickstand, online and in print, and has launched a new Kickstand Club.
Check it!

---