September 17, 2008 / More →
with Brian Heater has wrapped at Daily Cross Hatch.
And speaking of Nate, geez, does this guy ever sleep? He just launched a smashing new website.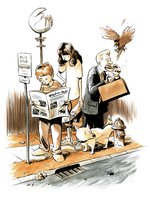 • In the better-late-than-never category, after what seems like years, i've finally found a day to pour over a ton of convention purchases, submissions, and what have you that have been piling up. A book Rex, by Danijel Zezelj was in the mix. I've read some of this guy's short form material in anthologies here and there. I thought it was o.k. but not so much as to live up to the hype. Well this sucker is like a fucking roundhouse kick to the face, pumping with high energy jams. And his art here seems MUCH more nuanced... a better use of grey tones that what i've seen before. Big thanks to publisher Jason Thibault at Optimum Wound comics for the hook-up.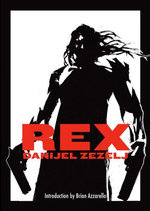 • Our Top Shelf pals at Grass Hut are fishing for an intern. These cats are as cool as it comes, let me tell you. (Two weekends ago i attended a terrific opening for the brilliant L.A. based artist Andrew Brandou. Local Southern-style restaurant Screen Door made waffles peach-foster style... i thought i'd died and gone to heaven.)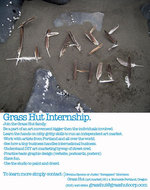 Join the Grass Hut family. Be a part of an art movement bigger then the individuals involved. Learn the hands on nitty gritty skills to run an independent art market.
-Work with artists from Portland and all over the world.
-See how a tiny business handles international business.
-Understand DIY art marketing byway of street cred.
-Practice basic graphic design (website, postcards, posters)
-Have fun.
-Use the studio to paint and drawl.
To learn more simply contact Bwana Spoons or Justin "Scrappers" Morrison. Grass Hut (Art Market). 811 E. Burnside. Portland, Oregon. (503) 445-9924.
Grasshut@grasshutcorp.com
• Max Estes sure is staying busy, and cranking out choice pieces of art. Go. Buy.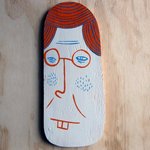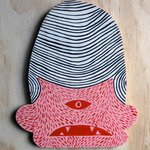 • Veeps gets reviewed in the new issue of webmag, Comics Waiting Room, and at Omnivoracious too.


---
September 11, 2008 / More →
can be read at Comics Should Be Good.
• Nate Powell's book tour for Swallow Me Whole had a couple slight changes. Here are the final tour dates, as well as some boss art he created for this too.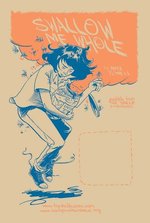 *10/4-5 @ SPX, North Bethesda, MD
*10/7 @ Ada Books, Providence RI. 7pm.
*10/8 @ Million Year Picnic, Cambridge MA. 5pm.
*10/9 @ Giant Robot, New York NY.
*10/10 @ Rocketship Comics, Brooklyn NY.
*10/17 @ Boxcar Books, Bloomington IN.
*10/18 @ Quimby's, Chicago IL.
*10/25 @ Floating World, Portland OR.
*10/26 @ Comics Dungeon, Seattle WA.
*10/29 @ Comic Relief, Berkeley CA. 5-7pm.
*11/1-2 @ APE, San Francisco CA.
*11/1 @ Isotope, San Francisco CA. night time.
*11/13 @ Bizarro Comics, Athens GA. 3-6pm.
*11/22 @ Vintage Phoenix, Bloomington IN.
*11/28 @ Collector's Edition, North Little Rock AR.
• David Chelsea has a beautiful new web site.
Here's some art i nabbed from it.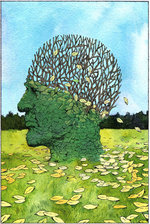 • Steve Lafler has been painting like a fiend! Check it out!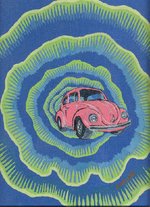 • Here's a nifty little movie from Grass Hut.
• A tip of the hat to Benton Jew (one half of the outstanding and criminally underrated Jew Bros.) for the lead on his blog about the vintage Space Ghost dvd set, which features a documentary on the legendary Alex Toth. The doc isn't perfect by any means (cheesy effects, maudlin music, etc.), but it was a wonderful window into one of comics' masterminds. Well worth watching.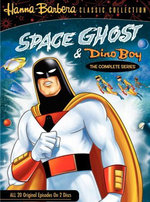 • Previews Picks for the month of September. (If it's not too late to make a difference.)
-Land of the Giants lunchbox. I saw one of these at San Diego, and man are they cool.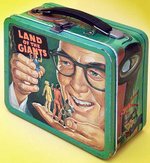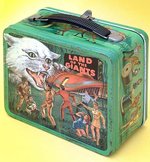 -Vintage illustration lovers (like myself) should be palpitating with the news of two forthcoming hardcovers; monographs for Norman Sounders and Reynold Brown.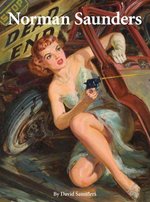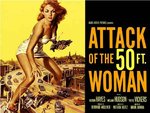 -TwoMorrows continues with two more creator spotlights in their Modern Masters series. And while i only have roughly half of the series thus far, i will indeed be picking up the new ones featuring Mike Ploog and Kyle Baker.
-Sweet! The Adventures of Tintin, Hardcover Boxed Set!
-Stan's Soapbox. Verily, True Believers, all of Stan Lee's hyperbolic editorials from the late 60s and 70's in under one cover! I freaking lapped these up as a kid... Kudos!
-Fuzz & Pluck: Splitsville, by Ted Stearn. (Fantagraphics.)
Well, this series took forever and a day to be completed, but this great book is well worth the wait. Awesome awesome stuff.
-OMFG! The complete Blazing Combat Hardcover! Holy crap, this is great news! Also, from the fine folks at Fantagraphics.
-The Venice Chronicles hardcover, by Enrico Casarosa. (AdHouse Books.) I've had the pleasure of reading this, and it's gorgeous! Buy this book.
-Rejoice!! The second mammoth oversized slipcased hardcover of Kirkman, Adlard, and Rathburn's Walking Dead is coming. One of the greatest comics of all time. Serously.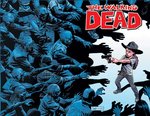 ---
September 4, 2008 / More →
Now that both Obama and McCain have announced their VP picks, the media are stuck on 'em 24/7... but we know a couple of guys who have been Veep-crazy since Sarah Palin was modeling swimwear!
The hilariously cynical Bill Kelter, author of the upcoming Top Shelf book Veeps: Profiles in Insignificance, has been blogging up a storm over at www.veeps.us. Meanwhile his partner in crime, Wayne Shellabarger, has whipped up two more killer portraits in the style of the 46 that appear throughout Veeps, celebrating the nominations of Sarah Palin and Joe Biden. Check 'em out!
Veeps is scheduled to hit in late October... just in time for the election (and 47th Veep)!
---
• Well Bill, Wayne and myself are back from the Denver location shoot on Road to Insignificance, the film about the life & times of Veeps author's Bill Kelter and Wayne Shellabarger. And while we didn't get to attend any actual events, the streets were alive with activity.
With principle shooting wrapped, i'm now totally stoked to see a rough cut of this baby, although editing won't begin until November. We've been playing this close to the vest somewhat, and as a straight documentary, but it's bound to come out sooner than later that while the core of Bill and Wayne's friendship is the real deal, we're straying from the truth in this film. Oh, and i'm the director.
Meanwhile, Bill made yet another guest appearance a few days ago on KPOJ, the Air America affiliate here in Portland. Awesome!
• Top Shelf 2.0 contributor Joe Decie put up this terrific strip on Webcomics Nation.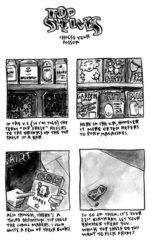 • James Kochalka did this freaky fun Fantastic Four page (issue #9, page 17) on commission.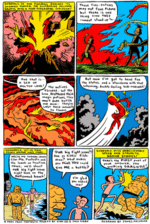 • Peter Kuper is editing the next issue of WW3. I do believe it's a wordless issue. This stunning Eric Drooker cover boggles, as his covers always do.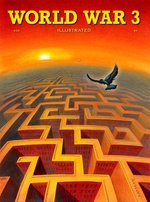 • Rich Koslowski informs me that Top Shelf is well-represented in a new book called 500 Essential Graphic Novels, by old Top Shelf friend Gene Kannenberg, Jr.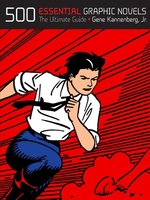 The following Top Shelf books made the cut:
• THREE FINGERS in the "Fantasy" category (Rich Koslowski)
• BOX OFFICE POISON & TRICKED "general fiction" (Alex Robinson)
• GOODBYE CHUNKY RICE "general fiction" & BLANKETS "non-fiction" (Craig Thomspon)
• HEY MISTER "humor" (Pete Sickman-Garner)
• HUTCH OWEN "humor" (Tom Hart)
• LOST GIRLS "general fiction" (Alan Moore and Melinda Gebbie)
• MONKEY VS ROBOT "humor" (James Kochalka)
• OWLY "adventure" (Andy Runton)
• SAME DIFFERENCE "general fiction" (Derek Kirk Kim)
• Besides that his work kicks serious quantities of ass, Nate Powell is every publishers dream. He arranged and schedule the following promotional tout in support of the forthcoming Swallow Me Whole, AND is designing and producing a 2-color screenprinted poster for this as well. Here is his tour schedule, and a rough design for the poster.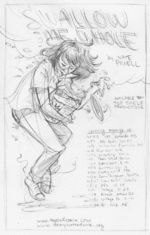 9/26: gallery show, Sweet Hickory, Bloomington IN (featuring pages from SMW and other stuff)
10/4-5: SPX
10/7: Ada Books, Providence RI
10/8: Million Year Picnic, Cambridge MA
10/9: Giant Robot, New York NY
10/10: Rocketship Comics, Brooklyn NY (TBC)
10/11: Desert Island, Brooklyn NY (TBC)
10/18: Quimby's, Chicago IL
10/19: Boxcar Books, Bloomington IN
10/25: Floating World, Portland OR
10/26: Comics Dungeon, Seattle WA
10/30: Comic Relief, Berkeley CA (TBC)
11/1-2: APE
11/1: Isotope, San Francisco CA
11/11: TBA, Savannah GA
11/12 or 13: Bizarro, Athens GA
11/22: Vintage Phoenix, Bloomington IN
11/28: Collector's Edition, North Little Rock AR
---
August 14, 2008 / More →
I've been very VERY busy as of late, so apologies for the long wait between updates. I've been following a documentary film crew around, which is making a film about Bill Kelter and Wayne Shellabarger, the authors of our very own non-fiction history book, Veeps: Profiles in Insignificance. It's been a great deal of fun and i'm having a terrific time, but wow am i exhausted. I have a brand new appreciation for filmmaking, and how hard these crew members work. We'll try and get a teaser and/or trailer for the film up soon. Working title — Road to Insignificance.
And speaking of Bill Kelter, his and Wayne's book just got some more props on nothing less than the uber-wonky Congressional Quarterly!
• Meanwhile, old pal and wonderful cartoonist Josue (Broken Fender) Menjivar got some ink for his more recent work at Pretty Fakes. Check out Josue's site Fresh Brewed Illustration.
• I don't read Spanish, but i did receive an email from an outfit in Spain called Polaqia, i think via an aquaintance name Kike Benlloch. These covers for some new comics sure looks swell though.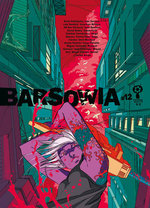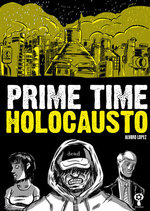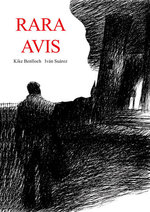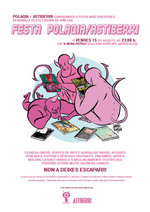 • Marc Mason of Comics Waiting Room interviews Jeff Lemire at ComiCon!
• James Kochalka's nifty new American Elf ad for an upcoming issue of The Comics Journal.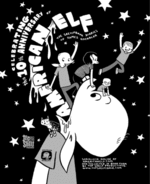 • More Pat Moriarity goodness:
"Here's where you can get the brand new Crustacean Records double DVD featuring my package design, poster, and a 10 minute video featurette about me, plus about 5 HOURS of high quality video footage of killer midwest rock acts. (Bands like MAD TRUCKER GONE MAD, AWESOME SNAKES, THE SKINTONES, DRUNK DRIVERS, LADY BEARD and more.)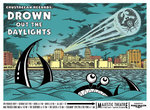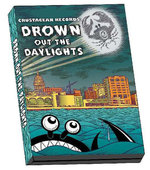 • Scott Campbell is a busy busy man. You can see his work in three different shows. Here. Here. And here.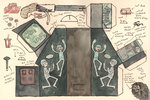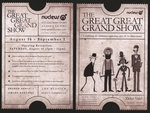 • And finally, i saw that the Swedish anthology we're doing sub-distro for (From the Shadow of Northern Lights) hit stands yesterday. Great stuff. Check it out!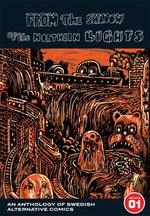 ---
August 1, 2008 / More →
• Veeps writer Bill Kelter scores a piece on the front page of Politico! Sweet!
Then, on the same day he was interviewed on Portland's Progressive Talk Radio, KPOJ with Carl Wolfson.
Shooting starts next week on the documentary being made about Bill and Veeps illustrator Wayne Shellabarger, with (YIKES!) me at the helm. Oh, and speaking of which, Bill's co-worker Bill Lovejoy sent me this image recently. What the fu?@!!!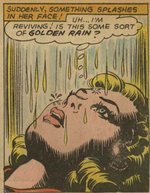 • Tom Spurgeon's 50-Plus thoughts about ComiCon 2008.
• I scored some great shit at San Diego this year, rabid fanboy that i am. Krazy & Ignatz 1935-1944 by Chris Ware, from Fantagraphics. I couldn't find a link to this on their site, nor an image for it, but this is the second mammoth volume of reprints and it's insanely gorgeous. Even more so, however, is the French edition collecting the entirely of the classic crime series Torpedo by Abuli, Bernet and Toth. My French isn't particularly great, but holy crap this is one of the most impressive all-in-one collections i've ever held in my sweaty little paws. Richard Starkings gave me the terrific, lush Art of Ladronn hardcover. His editorial is an inspirational account of how he met Ladronn working together on the (still fun) Cable comic years ago, and ended up giving him free reign to do comics as he sees fit, in his own time. Yes, the timetable has been glacially slow, but as i was then compelled to buy the first two hardcover Hipflask collections of three, the results are sooooooooo worth the wait. Dizzyingly beautiful. I got so much more, which i'll mention soon, but for this update, i also scored two more awesome hardcover art books: Michael Golden's Heroes & Villians, published by Little Eva Ink, and Retroactive: Darwyn Cooke 1998 - 2008, published by BrandStudio Press. Two of my favorite cartoonist. Two bitchin' books. (Now we just need an Art Adams hardcover to round out the list.)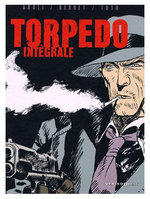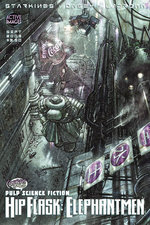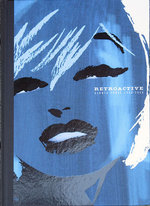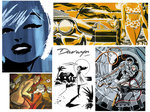 Oh yeah, and one of the inserts in the Con Bags was this funny-as-hell Watchmen parody, courtesy of Mad Magazine.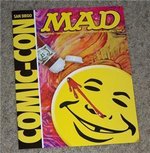 • Jed McGowen's lush strip Ritual of the Savage is now up on Top Shelf 2.0. And it rocks! Meanwhile, here's a piece of fan art Jed received by Teemu Matinlauri. This too shall rock.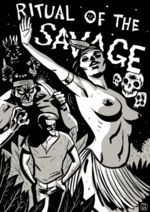 • Indigo Kelleigh, best known as the founder of the Stumptown Comics Fest here in Portland, is also a great cartoonist. He's just launched a new strip called Ms. Ellie Connelly. He rocked my world years ago with his air-tight mini-series Chutney Point, and so far this looks as good or better. Good to see you back, Indy!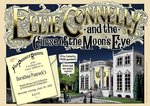 • My longtime friend Dave Vlasaty (we met on the crew team back at University of Oregon back in the day), just road tripped to the tip of Baja with his kick-ass sons Aiden and Angus... oh, and Owly!!!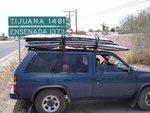 • Last but not least, Calling All Aspiring Animators!... Top Shelf is looking for cheap talent who will work for lots and lost of free comics to help us build some animated trailers for various projects. Must already dig Top Shelf (otherwise, i mean.. what's the point, right?) and be serious and committed. There's no paycheck involved, but really we do take care of our family.
Contact me at brett@topshelfcomix.com if interested. Please though, no attachments. Links to url portfolios ideal.
---
July 23, 2008 / More →
• This showed up in my po box a while back, and i just got around to reading it... what a stunner. Clearly a loving Frankenstein homage with nods to comics of old and stuff like Warren's Monster's of Filmland, this oversized comic is a real formal masterpiece. The art is multi-media collage pasted up on newspapers. The look feels gritty and intense, and the narrative is a wild pop-culture tour de force. Great stuff.


• Mr. Max Estes has some cool new stuff available at Made by Max.




• Heads-up from Vancouver cartoonist, and Top Shelf 2.0 contributor Don King, who tipped me off to a terrific sounding show in Vancouver, B.C.


• Had this terrific submission-envelope art hanging in my workshop for forever... figured i show it to the world.


• I've been dipping into my enormous to-read pile a little lately. Standouts include:

Eschew #1 (mini-comic), by Robert Sergel. Apparently this guy has been making comics for a long long time, yet i'd never heard of him until he sent me this mini. And it's really solid. Using a "clear-line" style, the work i've read is of the shorter, poetic style, more than long narratives. In any case, one could spend days reading the plethora of comics he has on his website. So get to it, people!

I lifted this comic from his website.


Nerd Burglar (comic), Free Comic Book Day book by Tugboat Press, Teenage Dinosaur, and Sparkplug Comics. A potpourri of comics fun, this puppy feature's an awesome twisted story by legendary punk cartoonist Bobby Madness and an appearance by the always-good-to-see and sadly underrated ink stud Chris Cilla. What really rocked me though, was a strip called "Fifteen Variations on The First Day We Met," by Sarah Oleksyk, which plays with formalism to wonderful effect. Too hard to describe, i recommend you just order this book. It costs one penny, plus postage, cheap-wads!!


• From comics cognoscenti Craig Yoe:
"Yo, Comix Fan!

"I'm joining the San Diego Zoo, i.e. the San Diego ComicCon. I'll be signing my new books Clean Cartoonists' Dirty Drawings and Comic Arf, and I'll be on some panels."

Last Gasp
July 24th, 1:30-2:30
Clean Cartoonists' Dirty Drawings book signing at Last Gasp booth 1616.

Fantagraphics
July 24th, 6:00-7:00
Comic Arf book signing at Fantagraphics booth 1716

Drawing Demo: Spotlight on Dean Yeagle
July 25, 3:30-4:30
Room 30CDE
I will be the panel moderator.

Fantagraphics
July 25th, 5:00-6:00
Comic Arf book signing at Fantagraphics booth 1716

Fantagraphics
July 26th, 11:00-12:00
Comic Arf book signing at Fantagraphics booth 1716

Last Gasp
July 26th, 1:30-2:30
Clean Cartoonists' Dirty Drawings book signing at Last Gasp booth 1616.

The Launch of Abrams ComicArts
July 26th, 3:00-4:00
Craig's book will be announced!

• And once again, because i can... here's Cfunk doing his Happy Dance.



---
July 18, 2008 / More →
Hey LEAGUE fans!
The new issue of Entertainment Weekly just hit the stands. It looks like THIS:
And inside is the FIRST-EVER look at THE LEAGUE OF EXTRAORDINARY GENTLEMEN (VOL. III): CENTURY (published by Top Shelf in 2009)!
Here's a tiny version -- for a better look, you gotta buy the mag!
---
July 15, 2008 / More →
It's been years since i last updated here. My bad. Catching up.
• First, Slovenian-produced anthology Stripburger #47 arrived in my po box last week, and it's a beauty. While many of the essays are in the native language, the comics themselves are all in English, and they are ample. The whole affair kicks off with a stunning wraparoud cover and lead feature and interview with French cartoonist Matthias Lehmann. Other standouts include Filipe Abranches (Portugal), Marcelo D'Salete (Brazil), Bendik Kaltenborn (Norway)Thomas Vielle (France), Mawil (Germany), and Gunnar Lundkvist (Sweden).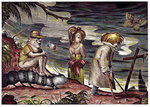 One of their best issues in a long while, this issue is really worth tracking down. Ostensibly Top Shelf is the North American distributor, but i just looked, and i don't see anything on our site. I'll look into this and get back.
• Merry Mike Dawson (Freddie and Me) sent me a link to a terrific new strip, title "Max, Get Out of My Room!" What happens when super-powered tween brothers get in a fight? Read on...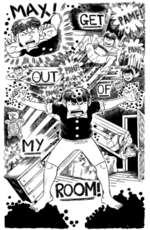 • Strange and Stranger: The World of Steve Ditko. Wow wow wow wow!!!! Author Blake Bell actually pitched this book to Top Shelf several years ago, and i just couldn't get Chris (Staros) interested in backing me in my desire to pick it up. I was bummed, but that is the nature of our partnership, so i let it go. Having ravenously devoured this book, and reading the author's notes on the evolution of it's development, this is probably a good thing. The content and narrative thrust changed radically. Moreover, the design by Fantagraphics designer Adam Grano is astonishing.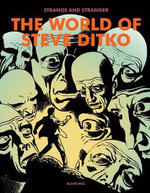 It's a wonderful companion volume to the recent Kirby! coffee-table art book. Except that where that book mostly regurgitated information about Kirby and his work that has been around for years, the wealth of information regarding Ditko's background and the analysis of his life's work, in Bell's book, make for an engaging and riveting read, covering ground virtually unknown heretofore. I want to pull it off the shelf and start reading it over again already.
I will state right now, that this book will easily end the calendar year 2008 in my Top Five books of the year, if not Number One. Very highly recommended.
• How cool is this cover art for our (as yet unannounced) one-shot by Top Shelf 2.0 contributor Brecht Evens. The book is titled Night Animals. More on this soon.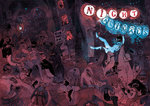 • Totally not comics, but incredibly cool. I was tipped off to an amazing video of (from the website) "world-renowned kayakers following the banks of Africa's White Nile River with one mission: to discover uncharted whitewater."
A spine-tingling short film, made by the writer of the article Aaron Retting, can be linked to at Flux magazine. (A student magazine of my alma mater, University of Oregon.)
---
Ink-stud extraordinaire Steve Lafler writes:
"Just a heads up -- my new book TRANNY: Boys Will Be Girls is in the current Diamond Previews catalog on Page 330 (listed with Sparkplug Comic books). Now is the time to pester your favorite comics retailer to order the book!"
• Things i scored at MoCCA and am just now getting around to dive into:
Love/Pain by the artist named Ephameron, published by Bries. Not comics, but rather, wonderful and beautiful drawings, photos, portraits and what have you, in a terrific hardcover package. Sublime. The artist was actually working the Bries table (in place of our old pal Ria Schulpen, who wasn't there for the first time in many years), so i got a wonderful drawing inside as well.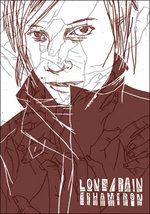 - Skyscrapers of the Midwest, collected hardcover, by Josh Cotter. Published by AdHouse.
Awesome. I have to admit that black humor in comics is pretty hit or miss for me. Some of the more misanthropic ones are just plain juvenile or creepy as fuck. On the other hand, in the hands of some — like Ivan Brunetti — self-loathing has never been more raging with humanity. Enlightenment through hitting rock bottom and rolling in the muck.
Josh Cotter is something different altogether. Dark as it gets, but the humor is wacky and dare i say, joyous in it's affection. I'm not sure what scares me more, Josh's comics themselves, or the fact that on the surface this guy seems like a "normal" human being, when clearly this is not the case. No matter, this book rocks. Many thanks to Chris Pitzer and Josh Cotter. I owe you one, kids.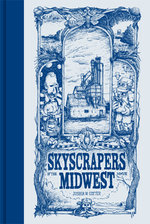 - While i was in Montreal on the way to New York, we stopped by a bitchin' store called Planète BD, which blew my mind. No other North American store has this much French Bandes Dessinee. (French comics, mostly as oversized albums, or new format graphic novels.)
Anyway, i picked up two volumes of a crime story called RG written by Pierre Dragon (who was a special agent himself, before becoming a writer) and drawn by the incredible Swiss inkstud Frederik Peeters. (Peeters is most known here for his book Blue Pills, published by Houghton Mifflin.)
GREAT looking stuff.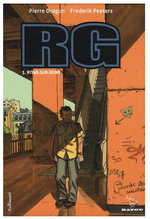 - And down the street (in Montreal) i picked up a gorgeous new Blutch graphic novel, C'était le BonheurC'était le Bonheur. Stunning comics. I'm reminded here of Jules Feiffer's older Village Voice strips stylistically. It's pretty depressing that no one's really made any inroads getting his material into print here in the U.S. Ah well, c'est la vie.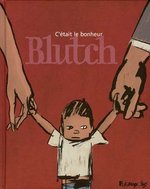 - Last BD i picked up was Daniel Blancou's delightful Le Roi de la Savane, a terrific athrpomorphic treat.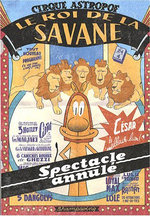 • Charles Hatfield and his cohort Craig at Though Balloonists give careful consideration of Eddie Campbell's Alec graphic novel, How to Be An Artist. Good reading to prepare the world for the mammoth all-in-one Top Shelf Complete Alec tome next year.
---
Wow! Jeremy Eaton's new "Cartoon Jumbles" are awesome!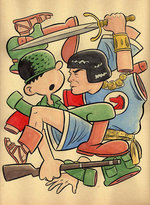 • From the desk of Eric Reynolds:
"Rhea and I returned home late last night with a new little member of our family, after spending the weekend in the hospital. Clementine Bean Reynolds was born Saturday afternoon (June 21) at 3:15 PM in Ballard's Swedish Hospital. She weighed 7lbs, 2 oz, and is 20 inches long. Rhea and Clem are both doing great and we're overwhelmed but happier than we could have imagined. Clem has strawberry blonde hair and a prodigious appetite, and a birthday one day before her daddy's, which is likely for the best since it means she's a gemini instead of a crabby cancer like her pop."
Big congrats, kids. Now get some sleep!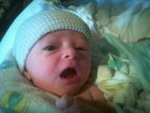 • Cool video podcast at "The Stack" (at Newsarama) featuring an interview with Alex Robinson, talking about his bitchin' new book Too Cool to Be Forgotten.
• Here's a nifty little strip Noah Van Sciver did, an interview he conducted with Jeffrey Brown.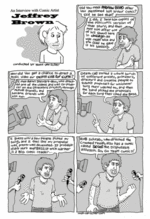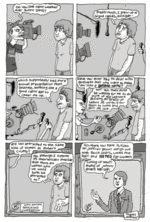 • The incredibly talented Ulana Zahajkewycz has a new blog. Yah!!!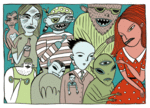 • Finally, here's a sweet promo postcard Rob Goodin whipped up for his forthcoming Top Shelf comic book called, appropriately, The Man Who Loved Breasts.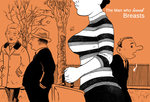 ---
June 14, 2008. Email from Jeff Lemire:
"Just got back from the Schuster awards ceremony, and I won Best Canadian Writer/Artist! It was the nights "big" end of the night award and I was up against Darwyn Cooke, Brian Lee O'Malley and Julie Doucet! It is a gorgeous award, and I'll likely get some print in the local newspapers on Monday. Anyways, I thanked all of you and gave my props to Top Shelf...so way to go team! See y'all soon."
Whoo hoo!
On Lemire's Shuster Award, good pal Gary Butler (Quill & Quire, Rue Morgue) said, "A well-deserved win for a brilliant talent." And the subject header for the same email read: The Lemire the Lemerrier. Ha! Love it! Thanks, G.!
• The new Strapazin arrived in the mail. Whoo hoo!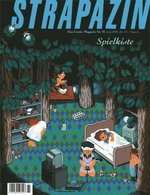 • Alex Robinson's new Too Cool to be Forgotten scores HIGH in New York Mag's "The Approval Matrix." In the "Brilliant/Lowbrow" category there is the cover of Too Cool!!! The text says: "Alex Robinson's endearingly uplifting graphic novel Too Cool to be Forgotten." He shoots, he scores!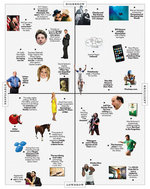 • Top Shelf alum Max Estes' online comic strip My Life as a Bunny is being published in Spain! Congrats, Max!
• Big props to Top Shelfers Matt Kindt, Jeff Lemire, and Christian Slade on their 2008 HARVEY AWARD NOMINATIONS!!!
SPECIAL AWARD FOR EXCELLENCE IN PRESENTATION
Super Spy, Matt Kindt
BEST COLORIST
Matt Kindt, Super Spy
BEST NEW TALENT
Jeff Lemire, Essex County
Christian Slade, Korgi #1: Sprouting Wings
• It's no secret i love Wizard mag, and they love us right back! The newest issue (#201) has FOUR Top Shelf plugs! Page 20 had Five Questions with Robert Venditti (for The Surrogates); Matt (Super Spy) Kindt shows up in the "Future Superstars" section on page 79; Alex Robinson's new Too Cool To Be Forgotten, on page 101, is a recommended Summer Read; and it's all good words about James Kochalka's Johnny Boo Volume 1 on page 106.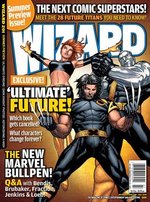 ---
MoCCA kicked ass, like it always does, even though i came down with a cold, and it was as hot as sin in The City. After three nights in Montreal, living la Vida Loca with mon ami Patrick Jodoin, i stayed at Gregory Benton's swanky new studio loft on Flatbush in Brooklyn.
-Christine Norrie gave me three tiny little piece of printed ephemera that are just exquisite. They are garment tags, with subtle yellow, stamped text, and gorgeous illustrations by Christine printed in red ink. One each for bra, panties, and slip. The style reminds me of a classic line-art style circa 1965 fashion ads. (Or if memory serves, like the packaging that came with sew-your-own fashion patterns like my mom used to make.)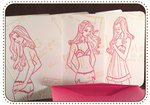 -Will Dinski continues to be a leader in the oft-ignored field of mini-comics, with two new books i was given: Errand Service, a re-packaged clever little ditty about the service-provider who does the minutiae of everyday life and so much more, as work for hire, and a super-mini held together by a metal fastener, called Shift. I'm going to keep singing this guy's praises until he becomes a household name, damnit all!!
-Lilli Carre gave me her exquisite new mini Dorado Park. Lilli is emerging into one of the next generation's brightest stars.
-Good friend Jose Villarrubia introduced me to two of his illustration students whose work literally boggles. Check this shit out!
Kali Ciesmier. Both do amazing work, and i'll be very surprised if i don't start seeing there work all over the place soon. Kali also handed me a delightful little mini-comics titled Paige Turner and the Midnight Curiosity, which amply displays here ability to tell a sequential narrative in pictures as well.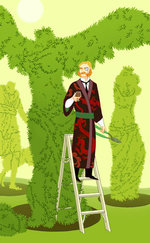 -On the way home (flying over the majestic Rocky Mountains) i had a chance to read How to Love, the new anthology by Israeli ink-studs, Actus. I've known all of them for upwards of a decade now, and have always been a fan, and with this latest, they continue to impress. Greg McElhatton has a review posted here at Read About Comics. This is a book you can order right here from yours truly, if your local retailer can't or won't stock it.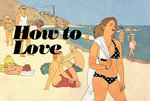 -Sam Henderson gave me the new Magic Whistle (Number 11), also which had me laughing out loud on the flight home. Thanks, Sam!!
-Picked up Danny Hellman's new anthology Typhon. Some great stuff can be found therein, including two strips by Gregory Benton, some nice new work by the likes of Dalton Webb, Pat Moriarity, Chris Cilla, Pshaw, Grant Reynolds, and geez, so many more. All wrapped up in a sweet cover by R. Sikoryak.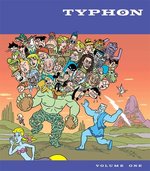 -I did get more stuff from MoCCA, but i left it in the hands of Rob Venditti, to ship back to me from Atlanta... stay tuned.
• Jeremy Eaton has a link to three and a half years of his weekly editorial cartoon, A Drawn Perspective. Great stuff!
• Top Shelf 2.0 contributor Lizz Lunney has a terrific new comic out titled I Love Dinosaurs and They Love Me.
• This is not about comics. Read on ONLY if the idea of Challenging the Militarization of US Energy Policy grabs your interest. Good stuff.
---
June 4, 2008 / More →
Off to Montreal to visit my friend Patrick — and also to flirt with the bevy of cute French-speaking girls — on route to New York for MoCCA. Y'all won't hear from me for at least a week (not uncommon, sadly), so i wanted to throw out my picks from the current Diamond Previews. (I think for items shipping in December.) In order of appearance:
DARK HORSE
Bernie Wrightson's Frankenstein (new hardcover edition!!)
Dean Motter's Mr. X Archives. Fun old stuff. Style over substance, but beautiful all the same. Come on... early Jaime Hernandez and Seth?
Hellboy Library Edition vol. 2. Volume one is drop dead gorgeous. These are as good as it gets.
DC COMICS
-DC Universe Illustrated by Neal Adams. His shit still rocks.
-Teen Titans Archives vol. 4. Part of my Holy Trinity. Starfire was as big a crush as any "real" girls up to that point in my teens. And probably as available to Mr. Nerd.
-Y: the Last Man Deluxe Edition vol. 1. I loved the first few trades, and if the package is as tight as the new Starman Deluxe books, i am all over this.
MARVEL
Criminal #6. As always.
Marvel Masterworks: Amazing Spider-man vol. 10. I know this is sacrilegious to many, but i'm actually a bigger fan of Romita's Spidey than Ditko. (Of course, Ditko is a god, but Romita's Mary Jane... are you KIDDING me?!!!)
Immortal Iron Fist tpb vol. 2 (The Brube, Fraction, etc.) The first volume in this series surprised me how much i enjoyed it.
BODEGA
- Dave K.'s Neverland. Almost everything Dave touches is gold. He's like the best teen drama tv show as imagined by John Porcellino.
DEVIL'S DUE
- Oh yeah!!! Jeffrey Brown's Incredible Chabge-Bots character "Balls" action figure!! I can't handle how cool this is... it actually TRANSFORMS!!
DRAWN & QUARTERLY
- Against Pain, by Ron Rege Jr. Another member of the circa mid-90s generation whose work is always worth reading.
FIRST SECOND
- Eddie Campbell's The Amazing Monsieur Leotard. Eddie makes comics. The world rejoices. 'Nuff said.
GEMSTONE
- EC Archives: Haunt of Fear vol. 1. The best reprint project going on currently, alongside Terry and the Pirates.
iDW
- Complete Dick Tracy vol. 5. Choice vintage comics. We truly are in a Golden Age of reprints.
ONI
Local hardcover edition. Brian Wood works magic on the page. And coupled with Ryan Kelly's insanely good art on this series, i've devoured every issue to date.
Love the Way You Love (Jamie Rich and Marc Ellerby). I've yet to read this, but i dig Jamie's stuff.
Sharknife vol. 2: Double Z. Corey Lewis' manic fucking madness. Over the top, ADD, and high octane.
VERTICAL INC
- Tezuka's Dororo vol. 3. Tezuka, duh...
And there's more in the book section, including a collection of Frazetta comics, a collection of Will Eisner's PS Magazine, and a series of toys of the old Rankin & Bass characters classic, Rudolph the Red-Nosed Reindeer. I showed this to Carter this last December, and he flipped his wig.
• Boo Ya! Charlito and Mr. Phil are hosting an Indie Spinner Rack party this Saturday night, ladies and gents. Yahoo! Me loves me a good party, and these cats are as cool as cucumbers.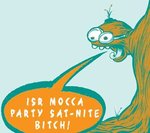 FREE DOOR PRIZES, DJ WACKY WACK, FREE LOVE & Perhaps Mr. Phil will take his shirt off!
Swing by the ISR booth to get your Raffle ticket NO CHARGE. FREE.
OFFICIAL IZZER MOCCA PARTY
Saturday June 7th
9pm START TIME....who knows how long.
BAR M-15!
• Pat Moriarity made this awesome poster for the Horror film Paper Dolls. It will be showing in Seattle for the STIFF Film Festival, Tuesday, June 10th. 8:00. Jewel Box Theater. Nice work, Pat!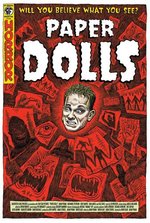 ---
June 1, 2008 / More →
Guest blog by our man Rob Venditti, writer of the graphic novel The Surrogates:
"This past week, Chris Staros, Brett Weldele, and I were invited to visit the set of the upcoming SURROGATES movie, currently filming in Boston. It was a trip for the ages, and I left having learned a lot about what goes into the making of a big-budget film. What surprised me more than anything else was the sheer enormity of the production, which involves hundreds of cast and crewmembers, as well as multiple sets scattered around the metro area.
"I was equally surprised at how much they went out of their way to make us feel welcome. I expected us to spend the two-day visit scrambling to stay out of everyone's way and keep our nuisance quotient at the lowest possible level, but the people we met were genuinely interested in showing us what's in store for the film adaptation. On the first day, the location scouts took us on a tour through the various sets in downtown Worcester—it's crazy what the set dressers are able to accomplish in a relatively short time, taking a run-down room in an abandoned building and turning it into a fully realized space. I couldn't see for certain who the artists were, but some of the local concert posters hanging on the wall in one set smacked heavily of the Fort Thunder crowd.
"On the second day we visited the main production office in Woburn, where the production designers were bent over their drafting tables, sketching out concepts for sets and props that are yet to be built. The level of detail they're going into is beyond reason—one of the particularly impressive props we saw was about the size of a phone booth. I stepped closer for a better look and saw a small sticker, maybe twice the size of a business card, on which were typed the user instructions, as though the prop were a real mechanism and not something created for a film set. I can't imagine that it'll be filmed close enough to actually read the instructions or even notice them, but they're there anyway. That's just one example of how carefully the designers are thinking this thing through.
"We spent a good amount of time watching the actual filming as well. We saw Bruce Willis do dialogue. We saw him do action. Even better, we saw him do the quiet moments where it's just him and the camera as he pieces together the film's mystery. Everything we saw only reinforced what I've said from the beginning—Willis is THE guy to play Greer.
"To the slater who let me work the 'sticks,' thank you. To craft services, who kept us in cookies, pizza bagels, and bottled water, thank you. To the lunch caterers—I went in expecting chicken strips and tater tots, and you gave me shrimp scampi and shepherd's pie—thank you. To everyone who took the time to show us around, thank you. Our visit was every bit as enjoyable and informative as a school field trip, except instead of visiting the planetarium, we, you know, saw our story getting turned into a feature film.
"The question I've been asked more than any other over the past year is: 'Does it feel like this is really happening?' Hollywood is always in such a state of flux that it's hard to ever know definitively where things stand. So it never really felt real—not after seeing the screenplay, or even after hearing that Bruce Willis had been cast in the lead. But when I was on set and saw the slate, on which were the words SURROGATES and beneath that DIRECTED BY JONATHAN MOSTOW, PHOTOGRAPHED BY OLIVER WOOD, that was a different story. Now it feels real."
Robert Venditti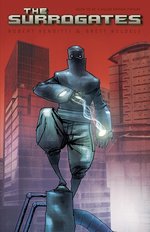 (And here's the cover for the upcoming sequel graphic novel, Surrogates: Flesh and Bone.)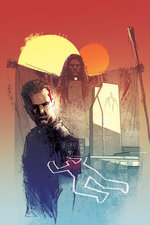 • RELEASE PARTY FOR DAVID CHELSEA'S 24x2!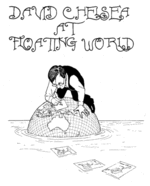 THURSDAY, JUNE 5, 2008
6-10 PM
FLOATING WORLD COMICS
David Chelsea will appear at Floating World Comics, in Portland's historic Chinatown district, celebrating the release of his book 24x2, published by Top Shelf Productions. 24x2 collects two 24-page stories, each created over the course of a 24-hour period!
The party will also celebrate the opening of a gallery show at Floating World, featuring the art of legendary alternative cartoonists Peter Bagge, J.R. Williams, and Mats!?. The show will run through June 30th.
David Chelsea is a Portland-based cartoonist and illustrator. His graphic novels David Chelsea in Love (1992) and Welcome to the Zone (1995) have earned him a cult following. His hybrid graphic novel / textbook Perspective! For Comic Book Artists (1997) has helped cartoonists create realistic worlds for over a decade. His illustrations for the "Modern Love" column greet readers of the New York Times every week.
But perhaps his most unique achievement is his history with the 24-hour comic book — a complete 24-page comic book story, created from start to finish in 24 hours. Since his first 24-hour comic experience in 2004, Chelsea has returned again and again to this comic-book crucible, completing his stunning TENTH 24-hour comic on April 5, 2008.
Now, Top Shelf Productions presents the cream of Chelsea's crop: two hand-picked 24-hour comics from the reigning champion of the form.
WHO: David Chelsea, Peter Bagge, J.R. Williams, Mats!?, and the public!
WHAT: Gallery show, opening reception, book release party for David Chelsea's 24x2
wWHEN: Thursday, June 5, 6-10PM
WHERE: Floating World Comics
20 NW 5th Ave #101
Portland, OR 97209
(503) 241-0227
• I recently picked up one of the coolest books EVER. Hats off to editor Charlie Kochman at Abrams for spearheading a stunning collection of the brilliant old-school Wacky Packages stickers. Featuring an interview with art spiegelman, who worked on these waaaaay back in the day, and an afterword by contributing artist Jay Lynch, this tight little tome showcases every single Wacky Packages bubblegum card of Series 1-7 back in the early 70s.
Holy crap, this is a seriously fun blast from the past. Highly recommended!!!

• Finally, i'm leaving for Montreal in just a few days (on route to MoCCA in New York City)... i'm hoping to post a list of items i'll be seeking out from the current Diamond Previews before i leave. There is a freaking boatload of great stuff coming out this Summer!
---