May 28, 2011 / More →
Nate Powell has an art show going up for the month of June at The Owlery vegetarian restaurant — 212 S. Rogers St., Bloomington IN 47404. There'll be an opening on Friday, June 3rd from 10pm-1am. He'll be exhibiting work from Any Empire, The Silence Of Our Friends, and a few other things he's been doing from 2009 to now.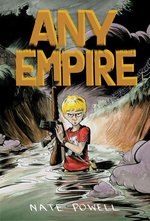 • Steve (Bughouse) Lafler just announced some excellent news! He's releasing NEW Dog Boy comics!! Head over to co2 Comics. Updates every Saturday. This is great news, to any cats out there who fancy themselves fans of mind-bending stories and terrific cartooning. (Or fans of Terence McKenna.) Steve describes it best himself:
"Dog Boy is pure Id, a lad with an enormous Golden Retriever head. He stands in for everyman and quests for the meaning of life, often with the aid of copious amounts of cheap beer. This singular series is wholly improvised by Lafler, with unscripted flights of fancy at turns running into dead ends, or courting the sublime."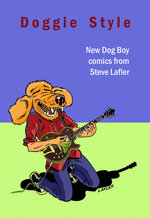 HIGHLY recommended!
---
May 19, 2011 / More →
make sure to hit Eric Skillman's release party at Desert Island in Williamsburg for his swell crime noir graphic novel Liar's Kiss.
And here's an interview with Eric at none other The Criterion Collection. (Where he works on staff as one of their ace designers.)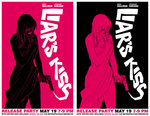 • Our editor on the Veeps film (which is nearing the final edit in post-production), Dusty McCord, has a hilarious new web series called Dumb Geeks, and Episode 1 just debuted on YouTube. This is funny f*cking stuff...
---
May 18, 2011 / More →
tomorrow, Thursday, May 19th, at Desert Island in Williamsburg, Brookyn, 7-9 PM. Free beer! [Not free] books and hand-pulled silkscreens!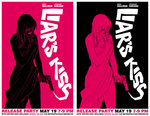 And check out these sweet banner ads he made.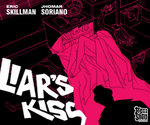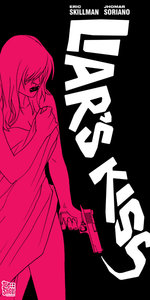 • Update to the Swedish Expedition... Andres Lundgren wrote in to help fill in some blanks, regarding the wild night of of mai tais and dancing:
"...some additional info for your excellent festival report: Linda "something" = Borgstrom.
"...two folks who's names i don't recall" = also present were Sara Israelsson, Ola Hellsten and Esteban Meiko (yeah, we drank quite alot so understand if some names slipped your mind.)"
Tack så mycket, Anders!
• Greg Means and Alec Longstreth kick out another winner from Tugboat Press, this time with the FREE Dragons! Comics and Activities for Kids!
I loved it and my kid did too!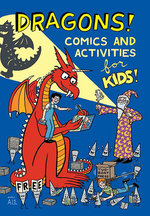 • Francois Vigneault released the second awesome issue of Elfworld, under his Family Style label. This is such a cool book. If you're half as big a fan as i am of indy cartoonists taking on superheroes or sword & sorcery, then you'll want to pick this up. PLUS it features a strip by the long lost Dylan Horrocks!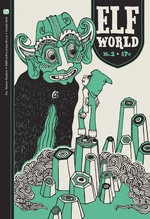 Props also to his bird-zine, Bird Brain. I'm an amateur naturalist myself, so stuff like this puts a big ol' smile on my face.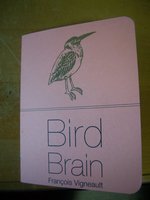 ---
May 12, 2011 / More →
Great to see our Swede pals Kristiina Kolehmainen, Johannes Klenell, Simon Gärdenfors, Kolbeinn Karlsson, Mats Jonsson, Joanna Hellgren, Fredrik Strömberg, Knut Larsson, and more at the Swedish SPX in Stockholm this last weekend.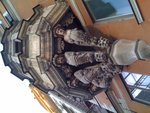 The Americans were out in force again, this year including Vanessa Davis, Trevor Alixopulos, Shannon O'Leary, MK Reed, Hope Larson, Bryan Lee O'Malley, Eric Reynolds, and Gabrielle Bell.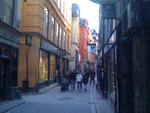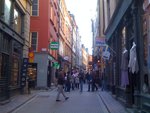 Non-Swedes i enjoyed seeing again or meeting for the first time included: Mari Ahokoivu (Finland), Bendik Katelborn (Norway), Nicolas Mahler (Austria), Kati Rickenbach (Switzerland) and Ulli Lust (Germany), and, well, that's all that comes to mind right now.
Mari gave me a boss little mini-comic, Batman #1: The Sad Issue [Adventures of The Batman including Bad Friends, Hipsters and other depressing things.] Nicolas Mahler gave me one of the comics from his new comics line called Kabinett Passage. (His own, titled Mahlermuseum.) Also met an expat named Brendan Monroe, who gave me an oversized mini titled Islands that both Eric Reynolds and myself were marveling over. Turns out he's a sweet painter too. (Evokes the fantastic realists Beksinki and Yerka, but with a more contemporary flavor.)
[From Mari's Batman]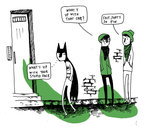 Friday night i ended up with most of the American contingent at, of all places, expat Austin English's girlfriend's (Clara Bessijelle) mom's house a short walk out of downtown for a civilian (i.e. not comics based) house party. Met another expat named Juliacks. Unplanned and unimaginable events like this are one of the things that make my job so awesome. Priceless.
[Austin and Clara]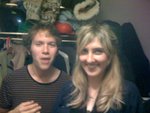 [Clara's mom Sonia and her boyfriend]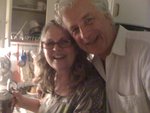 [Art by Clara]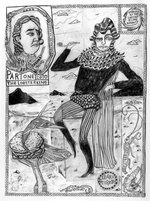 The Saturday night party was a hootenanny! Chris and i started the evening out with Anders Lundgren, Freddie Kaplan, Linda ("something," from the sci-fi bookstore in oldtown) and two folks who's names i don't recall, sucking down mai tais at a bitchin' Tiki lounge, then ended up dancing for four hours at the official festival party. I'm pretty sure it was Johannes DJ'ing no less! Gods, what a fun night.
[Chris, Anders, Freddie, and ?...]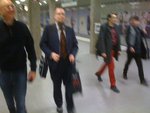 Our pal Anna Petterson took this snap of myself and Chris on the last day of the show. Great to see her!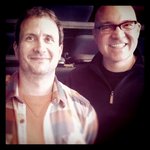 So i didn't have to carry extra weight, the single book i purchased at the show was Tour d'Europe ("The story of two aspiring yogis on a bike ride through Europe"), by Kaisa & Christoffer Leka. Kaisa produced my favorite pick-up from our last visit two years ago, On the Outside Looking In. And they're both in English! I'm not quite sure how to acquire it, but if you can, seek Kaisa's comics out... i love her work sooooo much.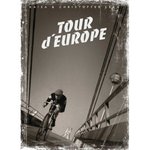 • The mighty Tom Hart is having a fund-raising campaign through Indie Go Go to launch his new comics school — The Sequential Artists Workshop — in Florida! Tom is a rock-star, and no doubt his school will be as important to the medium as James Sturms' outstanding Center for Cartoon Studies.
• Alex Robinson has a brief interview on MTV dotcom. That's rad.
• Jeffrey Brown's Change-Bots art show kicks off Friday, the 13th, in Brooklyn, at the Scott Eder Gallery. Hit it if you can.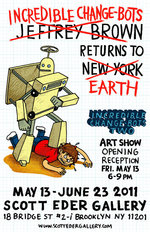 • Matt Bors has been cranking out some awesome strips called Idiot Box, that i think are up there with Tom Tomorrow's This Modern World and Lloyd Dangle's late Troubletown. Smartly written, gorgeously drawn, and funny as hell.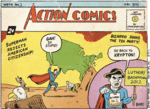 • Finally, back to the Swedes, our pal Simon Gardenfors is soooo close to their Kickstarter goal to fund a pilot episode of Paco the Judo Popcorn! Help them reach their goal, please please please?

---
May 3, 2011 / More →
• Former Top Shelf intern and current ink studress Jen Vaughn posted a news item on the CCS blog about the Vermont House Resolution formally declaring Kochalka the first Cartoonist Laureate of Vermont.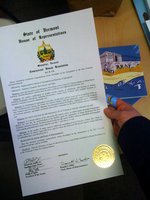 James transcribed some of the fine-print legalese:
"Whereas in a recent edition of his American Elf cartoon series, in which James Kochalka humorously depicts his own life, he acknowledged to his thrilled agent the importance of being designated the first Vermont cartoonist laureate, but then refused to discuss the matter further citing an immediate preoccupation with making grapefruit-peel candy with his sons Eli, 7, and Oliver, 3"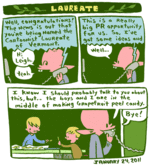 • Heading to the printer NOW, in hopes of a San Diego ComicCon release: Chris (Elio) Eliopoulos' Okie Dokie Donuts; Ray Friesen's Pirate Penguin vs Ninja Chicken; Nate Powell's Any Empire; and Kagan McLeod's epic Infinite Kung Fu.
• Meanwhile, i got a wee little way into my pile of comics picked up at Stumptown. Here's some micro-reviews. As always, if you read about it here, it comes recommended. By them now and thank me later.
First, Little Otsu doesn't really have a prolific publishing schedule — in fact, much of their output are blank artist journals and such — but what they do put out is usually amazing. Case in point, volumes 2-4 of the Living Things series. (I already gave huge props to #1 a while back.)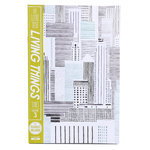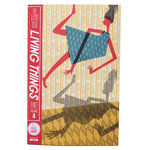 These are all excellent, but my favorite of the three is titled Pheromones: A Chemical Conversation, by Jo Dery. As a budding naturalist myself, books like this that explore the natural world can't come out often enough.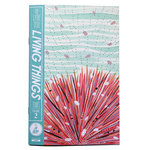 Next up, What, Were You Raised by Wolves, by Vera Brosgol. This is a very affecting little tale, with a surreal and dark twist that reminds me of the twisted tales of Graham Annable. Vera's art and storytelling are simple, in the best way. Gorgeous.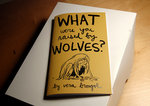 From David Lasky (drawn, anyway) comes Soixante Neuf (that means "69" in French), written by Mairead Case. This is a terrific little flip-book about the May/December romance between Serge Gainsbourg and Jane Birkin. ("She was 21, he 40. Jaws dropped. Eyes popped.") Lasky could draw the phone book, or the menu at a cheesy diner, and it'd be a gem. This is just good stuff all around. Released by Light in the Attic Records.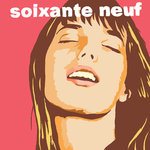 Finally, in the It's-About-Time column, Secret Acres has released the first collection of comics, I Will Bite You!, by the brilliant Joseph Lambert. I've raved about Joe's comics several times before, and here's where you can get most of his output to date in one volume.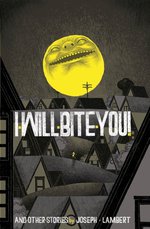 • Catch you kids when i get back from Stockholm!!
Skål
---