Head spinning... Just home two nights ago from Vermont, and a trip to The Center for Cartoon Studies. I think there's something in the water there, because this was one of the most fun trips i've had in years, and y'know, i think i'm truly the luckiest guy in the world. Unburdened with the task of selling comics, it was a pleasure to swim in comics on an academic level with a posse of very enthusiastic students.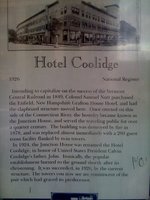 Hanging out with Chris Duffy (and family) and Peggy Burns and Tom Devlin (and kids), and faculty member Jason Lutes (and his daughter), and meeting Calista Brill (from First Second), and meeting none other than Stephen Bissette (who inaugurated my new Twin Peaks sketchbook), and Super duper big thanks to James, Michelle, Robyn, Stephen and Alec. And all the students and staff. Oh, and small-town stragglers like Joe and Cat. And thanks to Jen for the link to her flicker set.
Here we are checking out the original art collection of virtual unknown master cartoonist and illustrator Denys Wortman. This is a wonderful story unto itself, as told by James Sturm. I do believe that in addition to curating this art show, that CCS will be editing an art book of Wortman's exquisite drawings.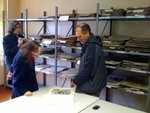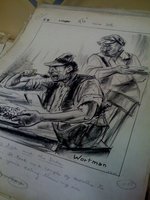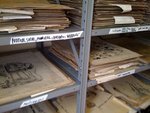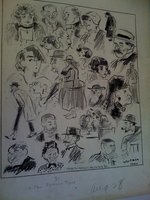 White River Junction was beautiful. Gorgeous countryside.
Here's some photos of a group of us trekking up to James house for dinner. (Including my bearded pal Alec Longstreth.) The weather was just right. Brisk.
I will be reviewing a handful of the books i was given by faculty and students as soon as they arrive, and i find time to read them.
• And what seems like a year ago, but was just last weekend, Emerald City now recedes in the rearview mirror. Another fine show. Well done, Jim. (Demonakos, of course.)
• Meanwhile, Stripburger #48 is now available... a fine anthology of international comics, originating in Slovenia. These Stripburger cats are doing the comics world such an enormous service... worth checking out. Order right here at Top Shelf.
stripburger-blog.blogspot.com/
• Leonard Wong (who runs the Vancouver Comicon) recently put out another issue of Comix and Stories, an anthology of cartoonists from Vancouver, BC. There's some fins stuff in here... my favorites include Papa's African Adventure, by Don King, Mario's Lament, by Josue Menjivar, Diary of a Bread Delivery Guy, by David Lasky, and Belated (an appreciation of Kate Worley, author of Omaha the Cat Dancer), by James Lloyd. The comics also sports a beautuful cover by Ron Turner.
mypages.uniserve.com/~lswong/Comicon.html
---
April 2, 2009 / More →
Emerald City Con beckons... And this is just the beginning of my crazy April, over the course of which i'll be in Seattle (Emerald City), White Junction, VT (Center for Cartoon Studies), back home for Stumptown Comics Fest, and then to Sweden for the Kulturhuset comics festival. Yee ha!
Anyway, this weekend in Seattle, James Kochalka will be on hand, singing copies of his new Johnny Boo: Twinkle Power. He'll also be bringing painting and CDs, as well as his son Eli's crazy minicomics.
Nate Powell is coming too, and will have his mini-comic Cakewalk, as well as his collection of older work called Sounds of Your Name on hand. Plus music and posters. (Oh, and of course, his L.A. Times Book Award-nominated Swallow Me Whole.)
Matt Kindt rounds out the party, with lots of fun stuff for sale, including original art, cyanide capsules and secret-code puzzles.
• Partied hard last night with Sarah-Grace McCandless and Jamie Rich. (Thanks for the cocktails, Sarah-Grace!) Jamire and i were talking about film noir, of course, and he told me about these two bitchin' pieces of art, commissioned by Ian Shaughnessy (writer of Shenanigans and co-writer of Strangetown for Oni) for a Billy Wilder sketchbook. Here they are.
• Here is a stunning piece or work by Aaron Renier, for a recent issue of Portland's Willamette Week weekly newspaper. (About legislation to ban exotic pets.)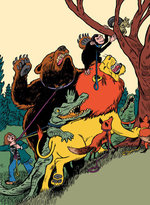 • Christine Foye sent me this terrific link to an Onion article.... ha! "So say we all, Barack!"
• This just in... Jeffrey Brown's cover for Sulk volume 3: The Kind of Strength That Comes From Madness.

Sulk (Vol 3): The Kind of Strength That Comes From Madness explores the world of fantasy and science fiction, and turns it on its head. Or rather, just kind of tilts it slightly to the side. Stories include "Being Awesome Is Its Own Reward," where two brothers deal with a giant monster rampaging through their city, and "Mighty Malcum," in which an 11 year old genius and his robot best friend attempt to adjust to college life. There's also stories of pirates, time travelling babies, martial arts masterminds and an all new short story from Elfworld.
• NOT comics. A fat slice of a wake up call, by Chris Hedges: America Is in Need of a Moral Bailout.
---
Top Shelf 2.0 contributor Box Brown has a new Xeric-award winning 96-page book of comics listed in Diamond Previews, called Love is a Peculiar Type of Thing. As you may or may not know, with Diamond's new listings policies in place, he needs to sell a boatload of copies of this baby, in order to get the book distributed.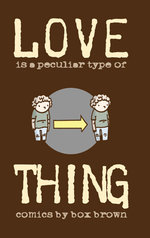 Learn more about the book at Box Brown, and if you like what you see, make sure to pre-order a copy from your local retailer, and spread the word, baby!
You can also read his comics right here on Top Shelf 2.0!!
• Andy (Fox Bunny Funny) Hartzell is with Telltale Games working as a designer, and his first effort as "writer/director" is about to go live. Wallace & Gromit in "Fright of the Bumblebees" is now available for PC download, then on XBox Live Arcade in a couple weeks. It's the first of a series of four games, to be released monthly (he's lead designer on the first and fourth).
Trailers, images and downloadable demo can all be found at Telltale Games.
• Paul Hornschemeier is touring, and he's coming to Portland!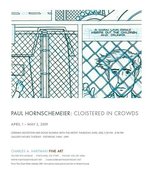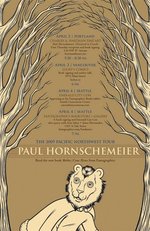 • Yet another Top Shelf 2.0 contributor Chris "Elio" Eliopoulos presents Balanced Breakfast, with music by Michael Deforge.
• Nikolas Mahler has a new blog!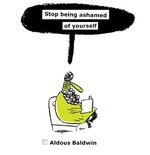 • Here's a nifty site, Comicon Road Trip, promoting the upcoming Emerald City Con in Seattle, a mere two weeks away. Make sure to double-click on the comics pages to check out the video links... fun stuff! Thanks to Evan Long for the heads-up.
• Matt Kindt scanned the bitchin' spread he had featured in the last-ever issue of Comic Foundry.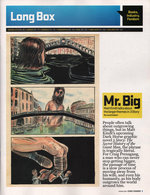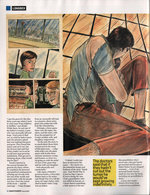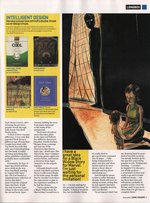 ---
Matt Kindt's Super Spy makes the grade at Unshelved.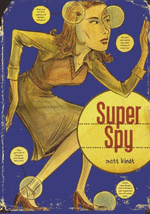 It also makes GQ magazines Top 20 Graphic Novels You Should Read list!
• Don't let anyone tell you otherwise, but i'm an "editor" of our comics section, Top Shelf 2.0, in name only. Leigh Walton is The Man. His work recently received some well-deserved props over at 4th Letter.
• Jeff Lemire is interviewed at Wizard!
• Was sent this link to a terrific short film titled Have You Ever Wanted Superpowers? I don't know much about it, but it's really fun.
---
March 8, 2009 / More →
• Jeffrey Brown has a new website!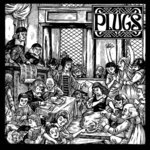 • Ha! Thanks to Jim Valentino for linking me to The Saturday Watchmen (cartoon) intro! Awesome.
• Max Estes keeps cranking out bitchin' paintings. Available for sale at Made by Max.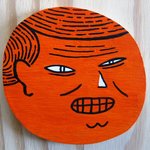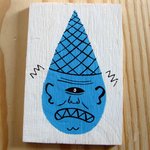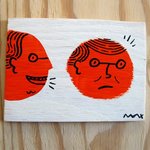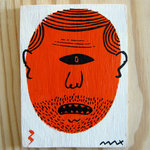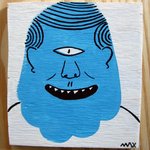 And don't forget, Max has two terrific graphic novels available for purchase right here at Top Shelf, Hello, Again and Coffee & Donuts.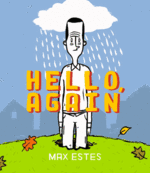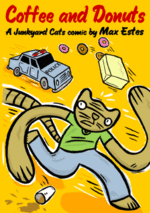 • Oh, and the pundits can suck it — i LOVED Watchmen. Can't wait to see it again on a high-def screen.
• Forget Batman... Comic Foundry R.I.P.!!! Last issue was a beauty. With Wizard magazine firing staffers right and left, it seems like that mag is on its last legs. And while i've been an unabashed fan of it since Jemas & Quesada reinvented Marvel Comics, the magazine has really lost its magic — none of which has to do with changing content within the industry itself. By the same token, while i still lovingly read The Comics Journal every issue, i only really devour a fraction of the content, whereas in it's heyday i read every single word within its pages.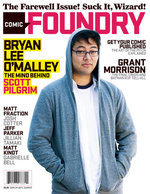 Tim and Laura... thanks for a wonderful, if all too brief a ride. I'll really miss ya!
• Finally, a seriously big tip o' the hat to Amid (Cartoon Brew) Amidi, who penned the recently released The Art of Pixar Short Films. I'm a big fan of the "art-of" (fill in Pixar film) books, and indeed the only one i don't own is Art of Cars. (Loved the movie, but i'm not a big auto guy at all.) The series as a whole stands head and shoulders above the competition. Qualitative comparisons between Pixar films and the competition aside, the Pixar art-of books are luscious affairs that dig deep into the Pixar archives to provide a rich understanding of the idea-generating visual process behind their movies. But for all their glory, none of the art-of Pixar books to date have taken us behind the creative process, and deeper into the history of the company, the men and women who made the company the juggernaut it is today.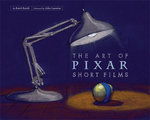 That has changed with Mr. Amidi's terrific The Art of Pixar Short Films. A lovingly packaged and in-depth look at not only the films themselves, but also a de-facto history of Pixar, and their critical importance in the development of digital animation in general. From their early day-jobs at Lucasfilms, this is the story of a handful of crafty idea-smiths (including widely known John Lasseter and Ed Catmull, father of comics' own Ben Catmull), who changed the face of animation.
In the front of the book, Amidi delves into the teams behind each short film, which provides wonderful context into the development of the company as a whole. This section is a veritable treasure trove of process for both aspiring professionals and armchair animation fans like myself. Amidi tells a broader, less personal story here, so on this level the book even holds its own against the "definitive" To Infinity and Beyond: The Story of Pixar.
The back two thirds of the book is chockablock full of art art art, the stuff that we're used to lapping up in the backlist of Pixar art-of books we've all come to love.
An interview with Amid about the book can be read here at the Pixar Blog.
Par for the course too for anything coming from Chronicle Books, the book is exquisitely designed and laid out. File this under "Must Have."
---
March 4, 2009 / More →
The L.A. Book Prize nomination is a big deal, and i'll be the first to tell you, Nate's book is well deserving of the accolades.
• Meanwhile, we here are Top Shelf are in what we like to call, FREAK OUT MODE, as we gear up for the Summer season. Books to rush off to the printers, conventions to prepare for, and maybe — just maybe — i'll be able to take my 4-year old kid camping once or twice. Plus i've got a handful of side-projects i'm working on as well. Besides a couple reviews i'm obligated (and happily so) to write up, the blog updates might get scare around these parts. Not like anyone is holding their breath or anything.
• Local artist Summer Hatfield, is having an art show. Her shit rocks! She writes:
"I'm having my first real gallery show this Thursday, March 5th. Its at The Darras gallery, which is in the Everett lofts, on NW Broadway and Flanders. I have painted a mural on the wall of the gallery and will be showing several new paintings along with some prints and drawings."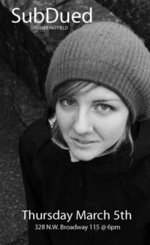 TheDarras
328 NW Broadway, Suite 115
Portland, OR 97209
503.358.1418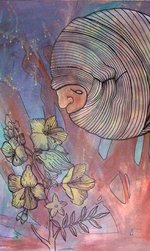 ---
March 1, 2009 / More →
Lots to talk about, true believers, so listen up.
• First up — if you're enlightened enough to order your comics in advance through the Diamond Previews catalog, two items of special note stand out this month, both of which y'all need to pick up.
First, Top Shelf alum Jeff Lemire's first original graphic novel for Vertigo, titled The Nobody. I can't tell you how stoked i am to read this! Page 116 in the current Previews. And Jeff's even provided sample pages here at his website.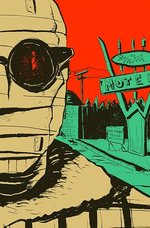 Next up, the sophomore issue of a magazine that's been so long between issues, i forgot entirely about it. But forget no more, as Illo #2 explodes onto the scene with a cover feature on the sweet-ass illustrator & cartoonist, Toronto-based Michael Cho. I'm not talking him up just because i get his tweets every day. (LOTS of them, in fact.) He's the real deal, and really worth checking out.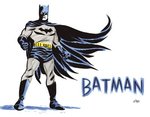 • Local cartoonist David Chelsea hosts 24-Hour Comic Benefit for ailing cartoonist S. Clay Wilson. Yep, another 24-Comic event at Portland's own Cosmic Monkey Comics.
Cosmic Monkey 24 Hour Comics Event
5335 NE Sandy Blvd
Portland OR. Phone:503-517-9050
Saturday April 11th 10am to Sunday April 12th 10am.
• Veeps gets some love at Bookmarking.
And speaking of Veeps, master illustrator Wayne Shellabarger will have five of his Vice-presidential portraits from the book on display at the Factory Party in San Francisco!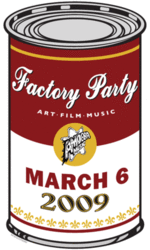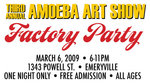 • Cool shit alert, picked up at Grass Hut on East Burnside: The Whimsical Works of David Weidman, published by Ginko Press. I'd never heard of this guy, and WOW, his work is amazing.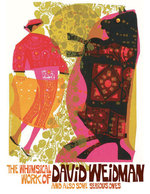 Grass Hut's next epic art show is this forthcoming First Friday, March 6th, titled Curio-Logicals. No info on the site yet, but their promotional postcard features this stunning painted image from exquisitely talented illustrator Elizabeth Haidle... this is one of the coolest images i've seen in months.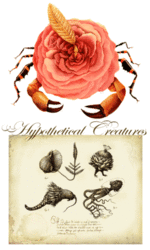 • Scary-talented illustrator and Criterion Collection staff designer Eric Skillman blogs here about two projects he's recently wrapped up. Amazing stuff.

I'm still flabbergasted that we've started a working relationship with this wunderkind, which kicked off with his astounding Alec: The Years Have Pants covers, and followed-up with his template design for the AX manga compendium series due to start early next year. Whoo hoo!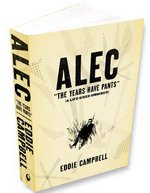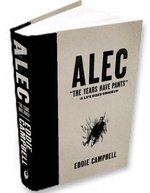 Here's the final design for the AX template. Check out his process, and his entire slate of ideas. Great shit!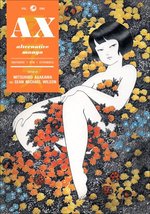 • Finally, stay tuned for a meaty review of Amid Amidi's terrific new coffee-table artbook, The Art of Pixar Short Films. It's a beaut!
---
February 24, 2009 / More →
My favorites are:
Evergreen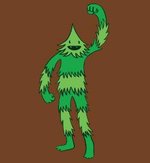 And God is Cute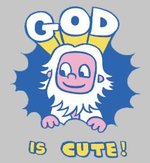 • Ah geez... geek alert! Geek alert!! Norman Saunders Hardcover. Published by The Illustrated Press. Wow. What a mind-bogglingly stunning book this is. For my money, gimme a pop-culture master over the so-called "fine artists" any day. 'Nuff said.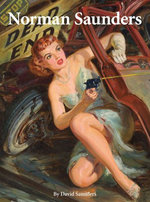 • Jeremy Eaton continues to impress. He's got some rockin' new paintings available (including this Luke Cage) on his website. If i had some extra coin i'd buy 'em all!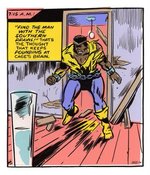 • If you happen to be in Terni, Italy the weekend of March 14 / 15, you could do worse than go see Pat Mills and Kevin O'Neill at the Fumetterni Comics Festival. And if you happen to speak Italian, read more about it here. (Thanks to Leigh for the tip.)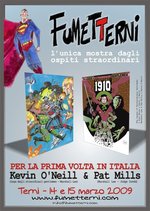 • Jeff Lemire's newest addition to his trading card collection.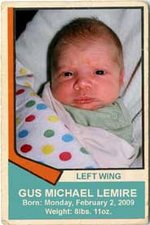 • Diamond's own Jenny Christopher turned me onto this silly little motion comic, via Twitter.
• I barely have the time to read my cereal box every morning, let alone comics. Sad but true state if affairs. But i have read three new books recently, that by their inclusion here (in lieu of actual reviews), are hereby considered officially endorsed by me, for whatever that's worth.
Jin & Jam, by Hellen Jo. Published by Spark Plug. Another entry into the neo-manga fight comics made popular by the likes of Corey Lewis, Brandon Graham, and Bryan Lee O'Malley. Narrative is all over the place, but book succeeds on mad energy and killer art alone.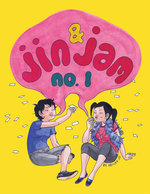 Shitbeams On The Loose. Various. Published by Tender Loving Empire. In the school of art-brut comics like those one might find from Picture Box (except for the most part better), this anthology is packed with cool art and stories. Stand out is the lead story by Mike Bertino, "Below Us." In a just world, Bertino would be a household name. He's not nearly as prolific making comics as he should be (instead, opting for a "real" career making money as a painter), so any opportunity to root out his work is worth the effort.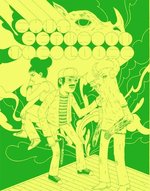 Mouse Guard, by David Petersen. Published by Villard. Gorgeously drawn fantasy comic. Story is not as strong as i was hoping it would be, but is a load of furry fun. Carter LOVED it, and i'd say there's no better endorsement than that.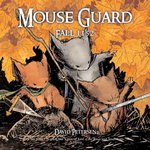 • Finally, here's a sneak peak at a swanky new Jeffrey Brown cover for the forthcoming Ethan Frome reprint, by Edith Wharton. Published by Penguin Classics.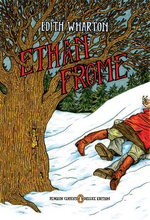 ---
Surrogates fever is high!
Agent Leigh Walton was in the field at New York Con all weekend, and took this snap, a giant poster overlooking the main lobby entrance to the show, next to a big poster of the Pixar Up movie.
Slash Film has a post about it, and so does io9.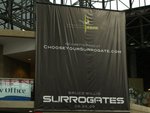 But how wicked cool is this new viral site for Virtual Self Industries!
• Buzz abounds also for the forthcoming AX Manga anthology. A nice post on cover artist Akino Kondoh at Electric Ant Zine Blog.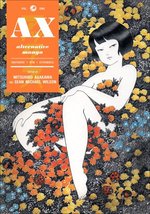 This also links to a Manga Cast entry showcasing older cover art by contributing artists in AX.
Meanwhile, Same Hat Same Hat! has a feature on Tatsumi's A Drifting Life, forthcoming from Drawn & Quarterly.
• Renee French has been driven to draw with her off-hand because of a pinched nerve... and her art still rocks! (Take care of yourself, Renee!)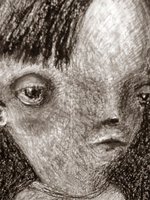 • Some Kochalka love at Devil Vet.
• Tim O'Shea interviews Todd Klein for Robot 6 at Comic Book Resources! Todd is most widely known (and justifiably so) for his masterful lettering skills. What many people don't know, is that he's also an exquisite designer as well. In fact, in addition to lettering and title logo design, Todd is packaging League of Extraordinary Gentlemen Vol. 3: Century entirely on his own.
• Finally, here's some not-comics fun as sent via email to me by Politico editorial cartoonist Matt Wueker.
Ben & Jerry have created "Yes Pecan!" ice cream flavor for Obama. For George W. they asked for suggestions from the public. Here are some of their favorite responses:
Grape Depression
The Housing Crunch
Abu Grape
Cluster Fudge
Nut'n Accomplished
Iraqi Road
Chock 'n Awe
WireTapioca
imPeach Cobbler
Guantanmallow
imPeachMint
Heck of a Job, Brownie!
NeoconPolitan
RockyRoad to Fascism
The Reese's-cession
Cookie D'oh!
Nougalar Proliferation
Death by Chocolate... and Torture
Freedom Vanilla Ice Cream
Chocolate Chip On My Shoulder
Credit Crunch
Mission Pecanplished
Country Pumpkin
Chunky Monkey in Chief
WMD-licious
Chocolate Chimp
Bloody Sundae
Caramel Preemptive Stripe
I broke the law and am responsible for the deaths of thousands . . . with nuts
---
Super duper congrats to Jeff and Leslie-Anne Lemire! Wee lad Gus Michael Lemire was born last night, weighing in at 8lbs, 11oz!!
Best of luck, kids. And grab as many naps as you can squeeze in!
---
Jeff Lemire's Essex County Trilogy ranks as Greg Burgas' Best Graphic Novel of 2008, on his Comics Should Be Good column over at Comic Book Resources! (Full reviews here.) Nate Powell's Swallow Me Whole comes in third! (Full review here.)
Oh, and here's a sneak-peek at Matt Kindt's first design for the collected Essex County volume coming out this Summer.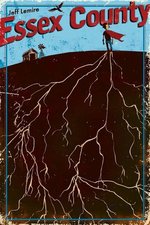 • Jeff also scores an interview with Chris Arrant at Newsarama about his forthcoming Vertigo graphic novel, The Nobody.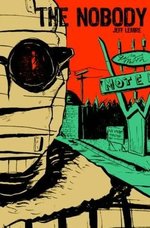 Jeff has a sneak-peek on his blog!
• Belgian cartoonist, and Top Shelf alum, Jean Bourguignon has a terrific new website! Even if you don't read French, it's a delight for the eyes!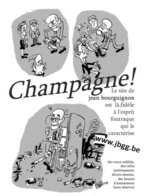 • Previews is out (i have yet to pick it up) bu i'm told that Mike Dawson's new book from AdHouse is listed — Ace Face: The Mod with the Metal Arms. I've read some of this stuff in Project: Superior, and it is awesome!! Buy it! Read it! Love it!
ISBN 978-1-9352330-0-8
Shipping April 2009
Diamond Order Code: FEB094014
You can download a preview PDF from the AdHouse website here, and read an interview with Mike by Tim O'Shea at Comic Book Resources.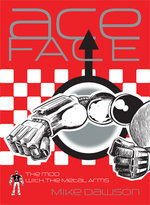 • Matt Kindt has some preview pages at his own website for his forthcoming Dark Horse book, Giant Man.
• Portlander Jamie Rich is interviewed at Newsarama!
---
Liz Prince is interviewed in comics form by Noah Van Sciver in the new issue of The Comics Journal. (Brian K. Vaughan cover feature.)
• My very very good friend, and one of my mentors in comics, Diana Schutz has a 2-part interview here and here at Comic Book Resources. Check it out, or burn in flames!
• Also, just heard that my other mentor in comics (and oddly enough, Diana's ex-husband and best friend) Bob Schreck was laid off by DC. I just don't know enough details to comment on this, but if this was out of the blue for Bob, and not of his choosing, all i can say is that whoever makes the decisions at DC has their head shoved very firmly up their ass. Bob is a legend in this industry, and justly so.
Best to you with the next chapter, Bob.
• On a brighter note, how amazingly cool is this Wolverine cover homage by Renee French. (Done for Rob Goodin's wicked cool Covered blog.)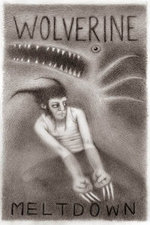 ---
January 16, 2009 / More →
well, from Vancouver that is (right across the Columbia River) for yet another reading from VEEPS: Profiles In Insignificance. This marks Bill's second event here in the City of Roses (although sadly sans his partner-in-crime, Veeps illustrator Wayne Shellabarger) to promote his book, and as it's on the Eve of The Obama Inauguration, this stands to be a doozy! So if you're in P-Town next week, come out and see what the fuss is all about!
Monday, January 19, 7:30 p.m.
Powell's Books on Hawthorne
3723 SE Hawthorne Blvd.
Portland, OR 97214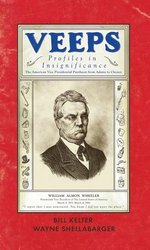 • So my son Carter (just turned four) and myself are almost wrapped up watching the complete adventures of the original Johnny Quest, and hot damn i gotta tell ya, this is some kick-ass shit! Granted, by today's standards some of the ethnic characterizations or nonchalance towards environmental & wildlife considerations might not be considered very PC, but it's never mean-spirited in any capacity. Especially if one keeps in mind this was aired in 1964, near the peak of the Cold-War.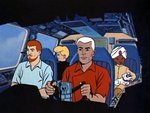 Created by comics vet Doug Wildey for Hanna-Barbera, the locales are exotic, the technology awesome, the adventures are fun and exciting, and the Bad Guys drown, catch on fire, or get blown up all the freaking time! Networks could never get away with this today. Y'know, usually when i watch old television for nostalgic reasons, it rarely holds up, but Johnny Quest is really quite solid. (I think it actually stands toe-to-toe with it's mutant grandchild, The Venture Bros.)
One thing cracked me up in a recent episode though... Johnny and Hadji get kidnapped, and the ransomer asks for $60,000. (What a small mind.) Anyway, Doctor Quest says, "But how can i raise $60,000?!!" What the fuck? This from the guy with tropical island research labs, hover craft, private live-in sailboats, personal jet-packs, giant laser cannons, etc etc.?? Then i dawned on me... duh. Cold War. High-tech. Do the math. Of course, he's got to be on retainer by the U.S. military, no two ways about it.
Sure the animation is limited, but still, this beats the crap out of most of it's competition of the day. (Or today, for that matter.) I mean, really, who can watch an entire season of Scooby Doo or the Jetsons? (Four-year-olds excluded.)
• Jed Alexander has a new website! I met Jed, oh man, at least a decade ago at SPX, and this gentleman's work rocks. See for yourself at Top Shelf 2.0!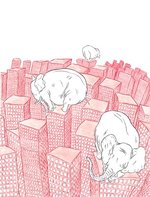 • It's come to our attention that we've got a new celebrity plug for Nate Powell's recent masterpiece, Swallow Me Whole. Turns out someone from the tv show Heroes? Her name is Brea Grant? Now, i've never seen a single episode of the show myself (i'm a wait-for-the-series-to-wrap, and then watch it all in one big go kind of guy), but after checking out the website of this absolutely stunningly-hot hottie, i think i'll jump the gun on that. How cool. (I wonder if she's looking for a Soul Mate?)
• Finally, a day late and a dollar short, here's some holiday art from Christmas and New Year's past.
By Aaron Renier: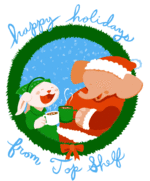 By Brian Biggs: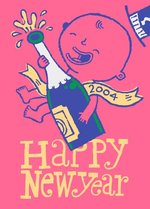 ---
January 9, 2009 / More →
• From a Grass Hut newsletter, i've learned that toy design team Gargamel is in town. This show comes highly recommended, if you'll be in Portland this weekend. It's gonna be packed: "We'll be handing out tickets/numbers anytime after noon on Friday. 6pm doors open and at 6:15 we'll call the first number and so on. For everybody else — around 8pm we will offer up the remaining stock, exclusives customs, ect online."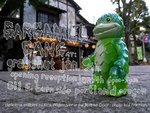 Here's a few sneaks, and more picks here...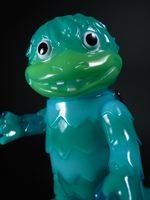 Bwana will be debuting another one of his own kick-ass toys, Dolly the Dolphin, and what's more there will be guests Chanmen, Kiyoka Ikeda, Naoya Ikeda, and Koji Harmon bringing custom sofubi, paintings, exclusive releases.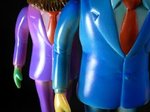 Oh, and Rick Widmayer of the Screen Door (Brett's FAVORITE restaurant in Portland, hands down) will be providing some very tasty eats.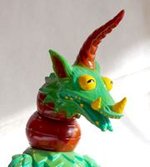 Art shows don't get much better than this!
---
January 3, 2009 / More →
Just when a couple feet of snow melted from the last storm, the West Coast headquarters here in Portland got dumped on again last night. Then, driving around today i was pelted by a brutal shower of hailstones. Yeesh!
So, in any case, as per usual this time of year, it's been a slow week. Not much to report, except that almost twenty years after the fact i felt obligated to finally watch the highly touted television show Twin Peaks. (Spurred by my budding interest in episodic entertainment, rooted in a desire to create/oversee various iterations of web-specific content.) I'm roughly halfway done, and to be honest i was expecting to loath this. Well hellfire, anyway, but i love this so far! All of the noise i heard at the time about it being weird for weird's sake is downright wrong. Granted, it may have been complex for its time, but if anything, it may have been a blueprint for the currently hot trend of meta-television. That is, shows that take an entire season (or more) to tell a story. Kyle MacLachlan as the unflappable Special Agent Dale Cooper is a freaking hero for the ages. The rest of the cast, and the characters they play are spot-on. Plot unfolds at rapid pace, as the whodunit rolls along, all the while characters making growth from episode to episode. What really boggles, however, and something i don't associate with David Lynch, is the heart and triumph of the human spirit that shines through. Wow. Ahead of its time.
• Meanwhile, Top Shelf veteran David Yurkovich has recently self-published volume 2 of his superhero rumination Altercations. Altercations volume 1 was the very first book i ever read in the Yurkoverse, and i became an instant fan, thereafter publishing two collections of (remastered) previous material. It's terrific to see this finally complete, and i'm stoked to read it. If you like you men-in-tights flavored with a serious dose of humor and weird, check this out. Available at Indy Planet or by way of his own site, Sleeping Giant.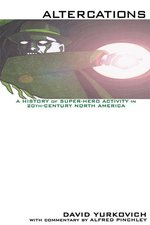 • And here is a bitchin' Batman illustration nabbed from Lukas Ketner's blog. This guy can draw. DIg this, and spread the good word.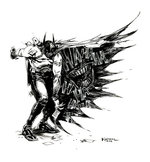 • I'm out. Y'all have one hella kick-ass 2009!
---