January 22, 2006 / More →
After several years Ivan Brunetti returns with a fabulous new issue of his comic Schizo. This fourth issue has been a long time coming, and i'm here to tell you it is well worth the wait.
The cover here is a reprint of a strip Brunetti did in appreciation of one of his heroes, Charles Schulz, after Schultz announced his retirement. No coincidence either, i would imagine, since, while Schulz was never as nihilistic as Brunetti, both share many of the same themes throughout their work. As Brunetti puts it in the strip in question, "The hurt, the depression, the loneliness, the rejection... Schulz has generously laid his psyche bare."
Not since Crumb has an alternative cartoonist put it all on the line like Brunetti has is in oeuvre. The encouraging thing about this fourth issue for is, specifically that Brunetti has Gasp!, found his soul. There is a decided attempt to grow as a man, to reach for and realize who and what he is.
Indeed, the inside cover relates what seems to be a typical day for Ivan. Near the end we see him sitting in Buddhist prayer, followed in the last panel by a shot of him walking down a rainy street with a smile on his face. In a strip called "You Wanna Fight Me?" we see Brunetti assisting a group of kids who have lost their ball, after which he says to himself, "I want to be filled with boundless love for all things living. (I'm working on it.)" Bravo, Ivan!!
And while the self-loathing is still here, the seething raging hate for all of mankind seems to be on the want. Gone are the knives, guns, and assorted weapons of torture. Brunetti seems to be somewhat at peace with his fellow man, or at least quite a bit more tolerant. No more casting down on humanity, or the sadistic maiming, killing and/or torturing.
Also of note is a newfound appreciation and noticeable externalization of themes in a series of strips dedicated to the lives and work of various (in)famous literary greats, philosophers, and artists, as well as a handful of strips featuring nondescript painters and their process (whose muse seems more often than not to be a result of unrequited love), all of which reflect Brunetti's own worldview. It's this externalization which leads this reader to believe that Ivan seems to have made a great leap not just as a cartoonist, but as a man.
Last, Brunetti's line has taken on a new style in this more recent work... a thinner wispy line, reminiscent of his contemporary, the great Steven (Ribs!) Weissman. All very very good stuff.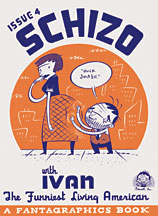 This oversized book is hard to miss, if a given retailer chooses to stock. Do yourself a favor and pick it up. If your retailer doesn't have it, ask him to get it for you. Otherwise, go to the source at Fantagraphics. www.fantagraphics.com
---
January 20, 2006 / More →
Oh man... did anyone see the best West Coast rivalry in basketball tonight in the Lakers / Kings game. Stellar performance by many (Kobe with 51 points? This guy cannot be stopped, damnit!), but crucial to the Sacramento was the play of Kenny Thomas.
L.A. is up by SIX with 35 seconds to go, badly timed errors by L.A. followed however, then Bibby and Miller drain threes to tie it up at the end of regulation, and kicked L.A.'s ass in O.T. First career triple double for Kenny Thomas (who i really like playing on this team... wasn't he in Philly forever?). Nice to see signs of life in Sacto... i've been a fan of theirs for years.
Gotta dig the hoops.
---
January 15, 2006 / More →
Welcome, dear reader, to the Top Shelf blog "Hey,Bartender." Not ones liking to be left behind in this mad digital world, i just felt it was time. No using being Beta while the world goes VHS. (Or is that... VHS while the world goes DVD?) Who out there remembers the 8-track cassette player?
In the Hey, Bartender blog you might find some Top Shelf news, but generally not. That after all, is what the news section is for. More likely you'll get convention reports, my thoughts on new comics happenings, reviews of comics, film, and cds and the like. There'll be a healthy dose of my son Carter too, i would imagine. (Really though, i'm not entirely sure what this might evolve into. Stay tuned.) If you've ever sat down over a few beers with me, you know i'm prone to ramble.
First things first, some thanks are in order. Kudos of the highest order are due to our webmaster, Nate Beaty, who is at this very moment typing away feverishly on my left flank. This guy really knows his shit. And he's a fabulous cartoonist to boot. You can find his work at www.brainfag.com. Also, big props to Aaron Renier for drawing the header image for this new section. Aaron's brilliant graphic novel Spiral-Bound is tearing up the charts, and he's at the moment working on a pirate story for Scholastic Books. Aaron also drew a phenomenal cover for, and feature story in Greg Means' smashing new anthology Paper Cutter. Check it out at www.tugboatpress.com. (Said website also beautifully designed by Nate Beaty.) And thanks to my lovely wife Lisa for editing this very first post. I love you, Lady.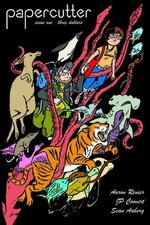 Also, besides a new batch of fine new strips in our comix section, may i direct your attention to another new feature on our site, Matt Kindt's stellar weekly comic strip called "Super-Spy." Matt is the creator of a few of my very favorite graphic novels that we've ever published, the two Pistolwhip books (with Jason Hall) and his epic spy story 2 Sisters. Welcome aboard, Matt!
Before i sign out on this first blog, i apologize for any weird tech issues that may arise in the future, when Nate is not sitting here at my side to answer my every question. I'm not a tech-moron, but neither am i particularly tech-savvy either. This is huge learning process for a 40 year-old dinosaur, so bear with me until i get the feel for this gig.
Peace,
Brett
---
/ More →
The world of comics lost a legendary champion today, when news broke that Rory Root died. I learned via Warren Ellis' email newsletter, who himself learned from Ed Brubaker. I'm pretty sucky at eulogies, but i can tell you that the Rory was one of the coolest guys i've ever known in this biz, and his store Comic Relied has been one of the top five stores in North America for as long as i've been reading them.
Rory, i love you man. Rest in peace, buddy.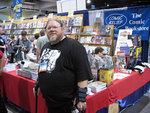 ---