January 28, 2006 / More →
I realize this isn't exactly breaking news, but in case you didn't hear, Dylan Horrocks been appointed a Literary Fellow at the University of Auckland, in New Zealand.
From the media release:
"Dylan Horrocks, award-winning graphic novelist and comic artist, has been appointed University of Auckland / Creative New Zealand Literary Fellow 2006.
"Mr Horrocks is the author of "Hicksville, an award-winning graphic novel, and many shorter works in comic form that have been published around the world. He has lectured on writing, art and the history of comics, has presented papers at academic conferences around the world, and has written extensively on graphic novels, comics, art and literature for magazines and journals in New Zealand the US."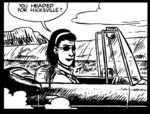 What this means is that Dylan will be freed up financially to spend a year just drawing comics!! And in case you weren't aware, we've had an original graphic novel by Dylan, Venus: the Secret Comics of Arthur Holly, on the Top Shelf docket of future books in our publishing schedule for over five years.
If by chance you're not familiar with Dylan's work, i highly recommend you RUN out and buy his graphic novel, Hicksville. Originally published by Black Eye, and now with Drawn & Quarterly, this graphic novel is widely (and justifiably) regarded as one of the shining stars in the canon of graphic novel greats.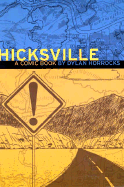 We suggest you support your local retailer and buy this there, but Hicksville is in fact available on this very website, in case said retailer doesn't stock it. http://www.topshelfcomix.com/catalog.php?title=128
As a huge fan of Dylan's brilliant comics, i cannot tell you how fabulous this news is to hear. Welcome back to the fold, Mr. Horrocks. We've missed you.
---
January 27, 2006 / More →
Only a few responses have trickled in to my query on who cares about political discourse, and who doesn't. Maybe i should have included my email address. brett@topshelfcomix.com.
At any rate, my good pal Gary Butler (comics columnist for the horror mag Rue Morgue) wrote back:
"How about a compromise? Hulk vs. Alito in Battle-Suit Luthor armor?"
To which i say, coupled with a Dem filibuster... bring it, Alito!!
Gary also asks why i don't have a comments link-through on my site, where people can post replies. The truth is, i'm too busy to even validate writing a blog itself, let alone managing a comments section. I thought a post might take me 10 or 15 minutes to draft, and so far the average is over an hour per blog. I just don't have the time.
Part of what occupies my waking life is little Carter Grant. (See exhibit A.) As a stay-at-home dad of a 13 month old boy, with no day care whatsoever, plus a household to run while my lovely wife Lisa is at work, plus at least an hour or two spent with the family around dinner time, PLUS the demands of Top Shelf, well, you might guess that i have little to no time to spare.
Exhibit A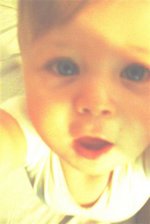 This is why, as much as i love sites like the Warren Ellis ENGINE forum... i simply can't; each time i log in merely to read a handful of threads, i look up and two hours have gone by. I don't understand where people find the time for this. What gives? Clones? Are they blogging on "company time."
---
January 26, 2006 / More →
Barely a week into the blog, and i'm already catching flak for a brief comment on the Supreme Court nomination situation. How sad that we live in a country where any dialog about politics is considered anathema. As if said issues don't affect our daily lives, let alone our very medium/industry. I'm sorry, but as our civil liberties are continually assaulted, who knows when a First Amendment crisis might cause a crippling blow to our industry. The cultural/political climate today smells a lot like the conservative tone of the Wertham days in the early 50's, when comics were branded as the cause de jour of juvenile delinquency, and subsequently turned into so much milk-toast. Seduction of the Innocent. Look out! Comics bad...
I had envisioned this as a personal blog more than a mere Talking Points bulletin for Top Shelf, or a comics newblog, like the indispensable www.comicsreporter.com/. If we live in fear of pissing somebody (anybody) off, then we also lose our passion, our reason, our voice. We're no more than autotrons. All the same i'd really be curious what anyone thinks about this. A small Top Shelf care package to anyone who emails me back with any sort of considered critical response. If i find that, really, nobody wants to hear my thoughts on politics, then i'll reconsider doing so. I'm not particular suited to it in the same capacity of the great policy-wonk bloggers anyway.
For political discourse, i'm a regular reader of the news dump http://www.truthout.org/ and the daily blog http://www.dailykos.com/. In the comics fold, i appreciate Steven Grant's thoughtful political ramblings in his regular Permanent Damage column at http://www.comicbookresources.com/. (His moniker for Bush is "The Handpuppet!" Damn i love that.)
So then, who's stronger, the Hulk or the Thing? Gamma radiation or mere cosmic radiation?
Oh, i know! Since i now feel compelled to talk comics, i have to say i was quite sad to see Pa Kent bite it tonight on Smallville. And on the eve of his State Senatorial election victory! That sucks. I mean, come on, Pa Kent was a stud. A real stand-up guy. It was Ma Kent who was the annoying parent; but i still wouldn't have wanted to see her take a dirt nap. I was rooting for Lionel Luther to go... what an asshole. And clearly they couldn't eliminate the wonderfully complex Lex. Even Wizard mag had ace reporter Chloe Sullivan pegged most likely to go, at 5:1, since she's not even really part of the comics Supes mythos.
Ah well, the funeral scene was nicely done, very austere and surreal. Tension abounds as Clark -- rocked by his dad's death -- also loses Lana, after going back in time to save her, and she drifts closer towards his (future) arch-enemy Lex Luthor. Ha! Awesome!
(However, tonight we saw a serious pet peeve of mine in television and film; and that is when a heart attack victim has the misfortune of receiving truly inept CPR on the scene. Even worse, on Smallville tonight, Clark and Ma didn't even make an attempt to resuscitate Pa!! What the fuck? They don't teach CPR in Kansas?)
---
January 25, 2006 / More →
I've been following the Supreme Court nomination process for Alito for several weeks, and it's been a disturbing ride. This guy's record is a laundry list of judgments in favor of powerful interests, at the expense of the common person. Almost certainly he'll pass the Senate vote.
Watching C-Span right now, and listening to some of his judgments is downright frightful. Really, some freaky decisions. Do some googling on it... scary. This guy will certainly tip the balance on the Supreme Court heavily to the right, and the sad thing is that very few people in this country are even paying attention.
Too bad the Dems are such wussies, and don't have the cajones to do anything about it but whine. No filibuster. Spineless chumps. The current incarnation of the GOP is pure evil, they are riddled with scandal, leaving wide openings to the Dems to swoop in and provide an alternative, but... they suck. (Man, i'm glad my wife is an Australian citizen. I scolded friends for threatening to leave the country after the '04 elections, but if things keep getting worse, i might think they're onto something.)
My main concern is Alito's support of expanded Presidential powers. Hello Big Brother, good-bye civil liberties.
Bummer.
---
January 24, 2006 / More →
Yes, people, it's that time of year. The air miles start piling up. The long road-trips on the odometer. The junk food. The drunkenness. Rabble rousing with the peers. Laughing at the ponytailed mullets and full-length, black leather trench coats. I LOVE convention season!
Oh, and there's the comics. Between Chris Staros, Rob Venditti, and myself we'll be hitting upwards of 20 conventions this year. Chris and Rob do the bulk... since they live in Atlanta, they can hit up all the east coast shows, most of which they drive to.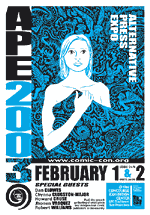 Smaller shows we can separate out one man at a time to represent Top Shelf, while others … big guns like Chicago, San Diego, SPX, and MoCCA … demand a staff. We're a few shows down from some previous years, but we've whittled them down to the one's that are either "must-attend" shows, because of their history, and/or conventions that can turn a profit. (Comics conventions do take in almost a third of our gross income, after all.)
We hear a lot of grief from some in the retailer community who claim that we're "stealing" money from them by attending conventions, more specifically by launching new books at them. Forgive me, but i beg to differ. The truth is that if Chris and myself had not been attending these trade shows so aggressively since the minute we started publishing (even before we teamed up to form what is now Top Shelf) … meeting the fans, making the connections, and pimping our wares… we literally wouldn't today have any books of whatever value for the retail community to sell. We simply would not have survived as long as we have, the cons are so key to us.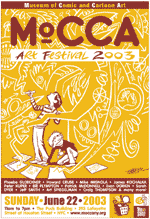 Moreover, for each one of the world-class retailers we have in this biz (to whom i'm eternally grateful and most of whom i'm pals with), there are fifty who have never even heard of Top Shelf, let alone ordered any of our books. These are the people who think that Neil Gaiman's Sandman is "alternative comics." And it's because we don't get the volume of support on our advance orders to often times even cover the print run on a given book, that we are obligated to launch certain books at conventions. This not only helps cover up-front costs, but i would posit that it ultimately helps retailers by building buzz around certain books. Buzz that might turn a one-time sale into a perennial seller.
To the retailers who know from good comics, i salute you. You know who you are. If you're scratching your head, wondering "who the hell is Top Shelf?," then i invite you to swing by our booth at any one of the following conventions and talk shop. We've got some pretty good stuff. And we're always makin' deals.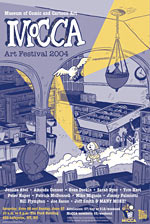 Here's a list of all the shows we plan on attending in 2006. topshelfcomix.com/news.php?type=2
Meanwhile, i'm gearing up for the first of two 10-hour drives i'll be making from Portland to San Francisco this year, for WonderCon, February 10-12. comic-con.org/wc/
I'm looking forward to this show. Last time i went was pretty fun. I got to meet Robbie Robbins at iDW, a swell guy, a hoops fan, and a heck of a designer. (Although i do believe recently he's been promoted.) Also, i shared a room with, and partied my ass off with, Charles Brownstein, the main man at the Comic Book Legal Defense Fund. Charles knows all the haunts, and is a tour guide supreme. cbldf.org/
After WonderCon i'll be driving up to Seattle for the Emerald City Con (April 1 & 2), then the following weekend (April 8 & 9) i'm driving back down to San Fran for APE. (Which i've been to since APE II, way back in 1996.) Said road trips behind me, i'll be flying to MoCCA, San Diego, Book Expo, and SPX. Last on the slate is the Stumptown Comics Fest, right here in Portland, sometime in October.
A great link to info you might need for almost any convention you can imagine:
comicbookconventions.com/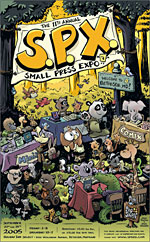 ---