May 1, 2006 / More →
Well i still haven't had much time for extracurricular entertainment, and i haven't been able to keep up with juicy comics industry developments either, but i did read just now a very inspirational (if somewhat depressing) essay by the great investigative journalist Bill Moyers, A Time for Heresy. If you have any interest in reading more about the real world in which we live, this essay might open some eyes. Especially as it pertains, given Moyers' professed and upstanding Christian Values, to the hypocrisy of the movement of the modern religious right to marrying church and state, all the while acting against the very values they profess to hold.
Oh, and i suppose, in all fairness, i can't say i haven't seen anything... during this final stretch of pre-production on the New & Improved edition of From Hell, i found myself rather enjoying a 48-Hour Nickelodeon Marathon of Miami Vice. I know, i know... i'm dating myself (hey, i am 40 years old, after all), and yes much of the trappings of this show are dated as well. But that said, if you can get over the pastels and Phil Collins tunes, it holds up pretty well. You can see where Michael Mann cut his teeth on this tv show, and episodes from the early seasons especially have plenty of gritty goodness. (Including the offing of Crockett's original partner, Jimmy Smits, the sacrificial lamb, whose death was necessary to bring in the laid back Tubbs.)
Plus, in just the several episodes i caught, there was a plethora of guest stars (who at the time i originally watched these, back in college, i had no idea who they were), including: Frank Zappa, Pam Grier, Steve Buscemi, Willy Neslon, and the latino crew-member from the second-to-last (and lame) Star Trek spinoff. Oh, and Edward James Olmos as Lt. Castillo was just a supreme bad-ass.
I really can't believe i liked watching these again as much as i did. So sue me.
---
April 28, 2006 / More →
Yes, it's been too long since i last posted. Post-APE has been chaos. I've had nary a moment to enjoy much tv, film, or reading as of late. Good news is … GASP!! … Lost Girls actually went out the door to our printer in Hong Kong over a week ago!! I seems like forever that we've been working on this book, and given the nature of its content, i'm VERY curious to see what kind of reaction it will get.
Meanwhile, i did pick up the newest Marvel Masterworks yesterday, compiling the last run of X-Men comics, before it was turned into a reprint title, and then relaunched and turned into the mega-franchise it is today. Neal Adams may be off his rocker now, but back in the day, this guy could freaking draw like nobodies business. I LOVE this stuff!! (This brings the reprinting of Adam's Marvel and DC work almost up-to-date, at least as far as his "big runs" go. But he did a plethora of stunning covers, one-shots, fill-ins and what have you... i'd love to see this collected as well one day.)
But what surprised me in this X-Men collection, was how much i enjoyed some of the work by Werner Roth and Don Heck. I'm guessing it must have been the solid inking, because both of these guys are pretty hit or miss for my tastes. The only drawback to the collection was some very poor reproduction, especially the line art, which is noticeably jaggedy. No surprise here though... Marvel has long been the weaker of the Big Two with their reproduction quality. (Although DC handily loses the production values game to Marvel, what with their shitty newsprint for the bulk of their trade paperbacks.)
Anyway, enough inner fanboy. I'm just hoping that this post will inspire me to get back to this on a regular basis again. Until then, enjoy this recent photo of The Kid, at a family event last weekend.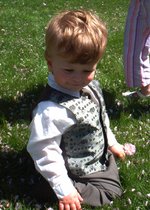 ---
April 17, 2006 / More →
Back at the ranch, life is back to sort of normal. Deadlines. Sick kid. More deadlines. Etc.
To recap the last couple weeks, i'll try and make it short:
• Emerald City Con. Seattle. Pretty good day one, not so good day two. I still love the show, and will continue to attend. Shows promise.
•Â Three day break.
•Â APE (Alternative Press Expo). San Francisco. ROCKED! Best APE ever, easily. Good to see The City back on its feet again.
• Co-pilot for both trips, Bwana Spoons chokes on water and pukes in my car, when we're a mere two hours from home, at the end of the long-ass roadtrip.
• Adjustment from chiropractor, Dr. Jay. Ahhhh.....
•Â Lost Girls.
I've only had a chance to read a couple items that i scored on the road, with many MANY more still unread. Kazmir Strzepek's The Basilisk, a fabulous fantasy mini-comic with a nifty screenprinted cover and thread stitching, is a hoot. Kaz's work in generally is really strong stuff. In fact, his super tiny mini-comic The Mourning Star, is the best comic no one's read in the last two years. Just fabulous sci-fi fantasy weirdness, with great characters an a fun compelling story.
You can find samples of his work here.
(Note: The Basilisk is a short strip that was originally drawn for Jeffry Brown's now-defunct Elf World.)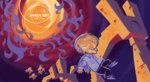 Also, Scott Morse generously (no surprise there) gave me a copy of his stunning new board book, Noble Boy, a biography of animation legend Maurice Noble, told in a similar children's book manner as the Kurosawa parts of his Top Shelf book, Barefoot Serpent. This is a truly deluxe package. Kudos to Scott and co-publisher Chris Pitzer over at AdHouse Books. I'm pretty sure this is Scott's first release for his newly formed company Red Window.
(Here's hoping that one day we'll see Scott dive into his "next" Top Shelf book, Lyrical Whales.)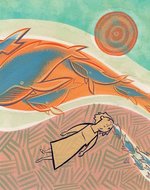 Oh, and i also picked up and read the Joss Whedon/John Cassaday 12-issue masterpiece run on Astonishing X-Men. Holy god what a fanboy's dream this book is. It's got everything: the return of Colossus; Kitty Pride; the Fastball Special; the Danger Room; the Danger Room gone all Hal on us. I'm actually only a recent convert to Whedon, getting the bug first (or actually, last) with his most recent film, Serenity. This ass-kicking film led me to the abandoned tv show Firefly, which in turn led to Buffy, the Vampire Slayer, which i now have even my wife addicted to as well. (We're into Season 5.) I saw a t-shirt at WonderCon this year that pretty much sums up how amazing a visionary this guy really is. It read, "Joss Whedon is My Master Now." No truer words can be spoken, as the once mighty George Lucas falls from grace with his absolutely abysmal new Star Wars travesties.
But the beauty of Whedon's vision could only have been realized by the jaw-dropping panoramic artistry of artist John Cassaday and colorist Laura Martin. This powerhouse duo could be working on the lamest book ever …Â say, Power Pack or something … and i'd pay for the opportunity to see it. I'm out of superlatives. Trust me, this is great stuff for any X-Men junky (different yet on par with the mind-bending Grant Morrison run), super-hero fan, or acolyte of the new "widescreen" school of comics.
I can't wait to see their next run.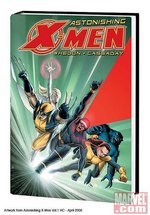 ---
April 6, 2006 / More →
Yeesh, i feel like i'm 60 freaking years old. Having a bum back really sucks, eh? Anyway, off yet again early in the morning, mi amigo Bwana riding shotgun. Being a ten-over the speed-limit driver, i can blast from Portland to San Francisco in ten hours. Then on Friday morning, i'm picking up a mini-van, so i can tool on south to Santa Cruz, for a signing at Atlantis Fantasy World with Alex (Tricked) Robinson and his wife Kristen, Renee (The Ticking) French and Jeffrey (Every Girl) Brown. It'll be an all-day affair, so i suspect i'll be pretty beat by the time we get back to the city. In fact, we'll most likely roll in too late to make the Last Gasp pre-APE mixer. I think it's at their warehouse; if you've never been, it truly is quite the experience to walk the isles.
APE itself is Saturday and Sunday. Should be fun, since we'll also have several other Top Shelf peeps showing up, including Jeremy (Cry Yourself to Sleep) Tinder, Aaron (Spiral-Bound) Renier, Liz (Will You Still Love Me?) Prince and Jennifer (eponymous) Daydreamer.
Saturday night should be a kick too, given that i'll be Guest Bartending at Isotope Comics in the early evening. I'm really looking forward to this, since i haven't given the old can a shake in a long while. Also, i haven't been to the new location yet (since they moved from the Sunset District); James & Kristen are some groovy folks, and i heard the new store rocks.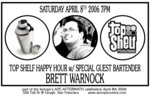 Swing on by, i'm making my favorite cocktail, la margarita!! Ai ai ai!
Coming home on Monday, and then … get this True Believers!! … i'm putting Lost Girls together and sending it TO THE PRINTER!!!!!!
Wrapping up the office now, followed by the Daily Show, and maybe i'll be able to drag myself to bed.
Later, kids.
---
April 4, 2006 / More →
Home late last night from Emerald City Con in Seattle and home for three days before i hit the road again for San Francisco and the Alternative Press Expo.
Left Portland early on Friday. My co-pilot, Bwana (Pencil Fight) Spoons, who has been on more road trips with me than anyone, ever. Bwana is an incredible painter, zine-maker, cartoonist, publisher, and just all around cool cat. Check out his goods at the tres chic Grass Hut Corps.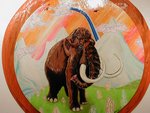 The sun was out, so the drive was smooth. Seattle was gorgeous. (Seattle is fun when it's murky and damp, which is most of the time. But when it's sunny, it's absolutely one of the most beautiful cities around.) First stop Zanadu comics, downtown, so i could deliver a small re-order. Zanadu (which has a second location in the U. District), is an amazing pair of stores. Incredible overall range of books …Â almost exclusively books, with only the most recent floppies … where i'm always guaranteed to find some rare funky book i've been looking for.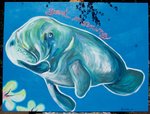 Another incredible store in the U. District, is Comics Dungeon. It's a little dingier and low-fi, but just as full to brimming with comics goodness. Check 'em out if you're ever in the Emerald City... but make sure you allocate at least an hour, because there's so much to take in.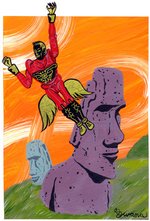 Next in our downtown leg, a brief visit to three trippy little shops in a row, right next to the Moore Hotel, Fancy (which sells jewelry), Schmancy (toys), and Pants (ladies undergarments and accessories). Lots of nifty hand-made items, and nifty retail spaces in themselves.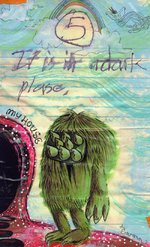 After a quick bite, Bwana and i headed over to the football stadium and got our table set up. And i'm a dumb-ass, because now that i'm blogging, i should be taking the digital camera for snap-shots.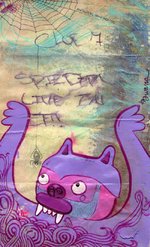 Finally, Bwana left to go stay with Shawn Wolfe (yes, the smoking hot designer), while i went to spend some Q.T. with my old pal Dave (who was on the crew team with me back in college), and his delightful family, Julie, Aiden and Angus. (The boys are a kick, and attended their first comics convention this weekend, costumes and all.)
Saturday, the show itself started out gang-busters. There was a giant line snaking around the building to start, which always bodes well. The mood was generally good, and the sales, while not brisk per se, were steady... until about 3:00 p.m. or so. (Which was, coincidentally, the same time as tip-off for game one of the Final Four games.) But overall, decent first day.
That night, however, was one for the ages. Off to Pike Street Brewery for dinner with Garret Izumi, Scott Mills, and my old intern (and current freelancer) Carlos. Sure, Pike Street is a little lacking in charm, but their beer is outstanding, as was the heaping pile of nachos i consumed. Plus, we got to catch the second half of the UCLA game, as they stomped on LSU. (Only to get crushed just tonight in the finals, by Florida.)
Stumbling out of the restaurant and into Post Alley (a freaking awesome cobblestone alley which reminded me of old European streets), we immediately ran across a true spectacle, which i christened The Gum Wall. Like a veritable rainbow, literally thousands of wads of gum were plastered over about a ten foot square section of the alley wall. It seemed like a good omen, so we stopped for a "break."
At which point we noticed a darkened, inconspicuous doorway, with a sign which read The Alibi Room. We said what the hell, and went in for a peek. Wow, what a slick little restaurant/club this was. The decor was something right out of a New York Style magazine, but the clientele was just regular folks. Even the Pretty People seemed down to earth, and without raging egos. We drank scotch, and it was good. Recommended.
After that, Garret and Scott split back to their hotel, while Carlos and myself trekked around a break in, and then back into in Post Alley again (where the Pike Place Market stands), and into yet another magical little place called The White Horse. Met up with some pals at Image, Joe and Eric (Stephenson), comics super-star Rick Remender, and his lovely wife Dani. I also met the very friendly and unbelievably talented Luna Bros. Really really nice guys. The clientele here was decidedly more "sophisticated" seeming, the small room surrounded by dusty books, and the bar menu with only a small handful of bottled beers and a few wines by the glass. Being more of a draft beer guy myself, i chose an interesting sounding beer, and... fell in love. Some kind of Scottish heather ale. Big full nose, and a soft, malty-sweet roundness that tasted simply divine. I wanted to stay for another, but this was our night to "leap forward" into daylight savings time …Â i would be losing an hour of sleep. Not wanting to work the show the next morning with a raging hangover, i decided that discretion was the bettor part of party valor here, and went back to Dave's for the night.
And speaking of, it's already after 2:00 a.m. now... so to make a longer story much shorter. The show on Sunday was a bit slower. The sun was out, and when the sun comes out during early Spring in Seattle, people tend to opt for sunshine. Got to catch up a wee bit with various peeps. Bob Schreck, Matt Wagner, Diana Schutz, Scott Allie, the Image crew, Jason Hall, David Lasky, Gary Groth, Eric Reynolds, and Zuniga & Jen from Fantagraphics.
Also, salivated over a super-rare hardcover edition of Dan Clowse' masterpiece collection called Pussey!, culled from his brilliant Eightball comic book. This is the only book i don't of his oeuvre, most of which i have in their hardcover editions. Alas, this baby was priced at $200. A little too rich for my blood. (I do belive Eric told me that Fanta is planning on a new softcover reprint later this year. This material is funny-as-shit, and come recommended.
The show ends, Bwana and myself grab a bite at a tasty pan-Asian place, and head back to P-Town. To wrap, the consensus amongst those i polled is that Emerald City has great vibe, gets good guest, and yet still has room to improve. Certainly, with such a low overhead for myself to attend, it's a gimme. Thanks to Jim Demonakos, and the rest of those who make this show one of the good guys.
---